120 Brooklyn Students Get Glasses After Mobile Eye Clinic Visit
April 23, 2014 10:33 pm Last Updated: April 23, 2014 10:45 pm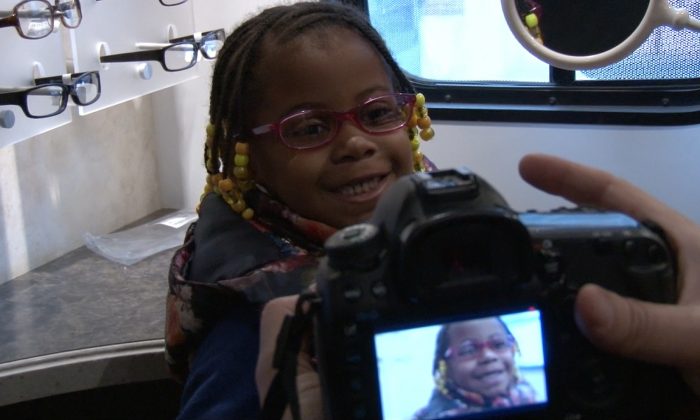 Hundreds of school children in Brooklyn were given eye care in a mobile vision center and optical lab on Wednesday. The services were provided by the United Federation of Teachers and LensCrafters charity group OneSight.
The services were provided with a vision to bring eye care directly to schools. 
"Approximately 30 percent of the kids across the city of New York have undiagnosed vision problems and how we, you know, we are asking child to read that can't even see the board or the words on the paper or book in front of them," said Michael Mulgrew, President of the United Federation of Teachers.
About 500 students got eye care exams on Wednesday, and about 120 of them ended up with glasses.
The United Federation of Teachers and Onesight are also working with the Department of Education to start two permanent vision clinics inside schools in Coney Island and South Bronze next year.
"American Ophthalmological Association has found that one in four children in the United States have undiagnosed vision problem, so how can we expect children to fulfill their opportunity in life and their educational experience if they cannot see well?" said Jason Singh, Executive Director, OneSight.
According to Singh, children who see better are more likely to achieve their full potential in school and in their community. 
Kindergarten children were seen getting excited at the sight of the new glasses. They were informed about the need of eye care by OneSight volunteers.
"I want to keep my eyes safe," said Timia Madix, an elementary school student who got a pair new pink glasses.
OneSight's mobile vision center and optical lab was parked outside Brooklyn elementary school P.S. 335 and Middle School M.S. 584. Screening was done within the school and the glasses were assembled at the optical lab. 
Venus Upadhayaya is a special correspondent in New York.