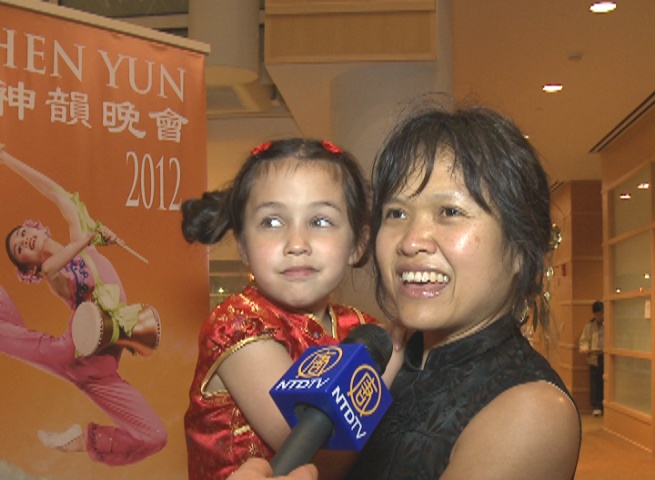 DAYTON, Ohio—"This is better than a trip home [Thailand], a two thousand dollar ticket to go back there and come back here, to get culture all packed in one, in two hours, in such a short period of time," she said of the classical Chinese dance and music company. Jewel Nichols, a native of Thailand, brought her 7-year-old daughter to see Shen Yun Performing Arts in order for her to experience authentic culture.
"This is her 7th birthday and she had never been to a place like this before and seen a performance this large. So this is a special gift from Mommy to her," Ms. Nichols explained.
New York-based Shen Yun tours the world bringing the beauty and grace of classical Chinese dance.
Ms. Nichols, who owns a catering company, got everything she expected from the performance and more.
She felt, given her own experience, that the performance was authentic and traditional. Since her daughter had never been to Thailand, she hoped "this … culture that appears in a couple of hours explains a whole lot …  And I was very impressed that [the show] explained about the Monkey King … I grew up with that and I didn't know how to explain it, but I'm glad that the show very cleverly [explained it]," she said.
The Monkey King is the main character in the classical Chinese epic novel Journey to the West. Shen Yun depicts legends of ancient China and stories of modern times.
Mentioning the caliber of the dancing, Ms. Nichols was amazed by the way the dancers seemed to hover in the air: "The way that he spins in the air and the twists in the air—there is a couple of seconds of delay where he is airborne. If I do a flip, it would take about a second; when he flipped in the air, it looked like he was there for a couple more seconds and that takes a lot of power and a lot of strength and control.
"And at the same time—beauty. It's beautiful—especially the silk dance, that's amazing, especially the costume, the eye popping costume, the scene, the backdrop."
Many have commented on the beauty of Shen Yun's handmade costumes and the sublime way the colors coordinate with the projected backdrops. The projected backdrops contain animated effects that show figures flying on the screen who seem to come alive when real performers take over onstage.
Ms. Nichols loved the juxtaposition between traditional past and the very modern high-tech. "That's very traditional, very clever to put both worlds together," she said.
"I couldn't even tell when [it was] the picture in the background or the actual person coming up. I couldn't [tell] the difference. The illusion is very effective—very real, very modern. So you put the modern world into the past."
Mother and daughter thoroughly enjoyed the beauty of pieces such as Snowflakes Welcoming Spring. In this dance, maidens spin dazzling handkerchiefs. They throw the handkerchiefs in the air, do difficult dance techniques, and then catch them.
"I did not know how they spin it. There's no handle I don't know how it can stay on a hand," Ms. Nichols wondered.
"I think they just used their finger," her daughter suggested.
"That was fascinating," Ms. Nichols said.
Similarly, Ms. Nichols enjoyed having her daughter exposed to a model of femininity: "Through the dance, the women are very delicate and very pure and very shy, and that is something that is very rare to find in a Western world, so to me that showed a lot of traditional Asian woman—that showed a whole lot. And to be polite and to be humble and to be poised—the way she walks, the way she dances, is very graceful and I enjoy that very much and I wanted [my daughter] to see that also, what is it like to be a lady."
About the theme of the dances, Ms. Nichols said: "We loved it and [it was] unexpected. I didn't know there was going to be a theme to follow. I thought it was going to be simply a lot of dancers."
For Ms. Nichols, the theme was "about the battle between good and evil. We are talking about the past and present at the same time. It's very clever, [they] switch scenes between both worlds between the past … [and present].
But perhaps the most compelling part for Ms. Nichols was how the dancers managed to get complex ideas across to a child so young.
"That a child would be able to understand—and she understood the gentleness of [their] nature and at the same time she understands a whole lot about good and bad. To do good and be rewarded and to do bad, actually—not such a good plan," she said.
In one dance, the performers depict participants caught in a persecution currently underway in China. Ms. Nichols explained that her daughter got the message: "It was a man who protects his best friend and it ended up he got killed, and she [the friend] prayed and then Buddha came and raised him, woke him up from the dead, and when he died that's when [my daughter] just came into my chest and started to sob and was very sad and she understood the story—just the music and the dance and the expression of the dancers, everything all combined in harmony very well.
"I was very impressed, because for me, I understood very well as an adult, but to get that from a 7-year-old, that's pretty good. That's very good. I appreciate it very much."
"Without me really sitting down and explaining it to her, she can see, she can feel the sorrow when somebody passes away, and she can feel the anger. She can feel all those and she was crying and I thought that provoked an emotion from a child … doing very well without using words, through dancing expression—that takes a lot of talent."
Would the pair promote the performance to friends? Ms. Nichol's daughter said "that they should come and visit here and see how they dance."
Ms. Nichols said is was a once in a lifetime chance: "I hope [Shen Yun] comes back again, so then we'll see the new show."
Reporting by NTD Television and Sharon Kilarski.
Shen Yun Performing Arts, based in New York, has three touring companies that perform simultaneously around the world, with a mission to revive traditional Chinese culture. Shen Yun Performing Arts International Company will next perform in St. Petersburgs, Florida, on May 5.
For more information visit ShenYunPerformingArts.org
The Epoch Times publishes in 35 countries and in 19 languages. Subscribe to our e-newsletter.