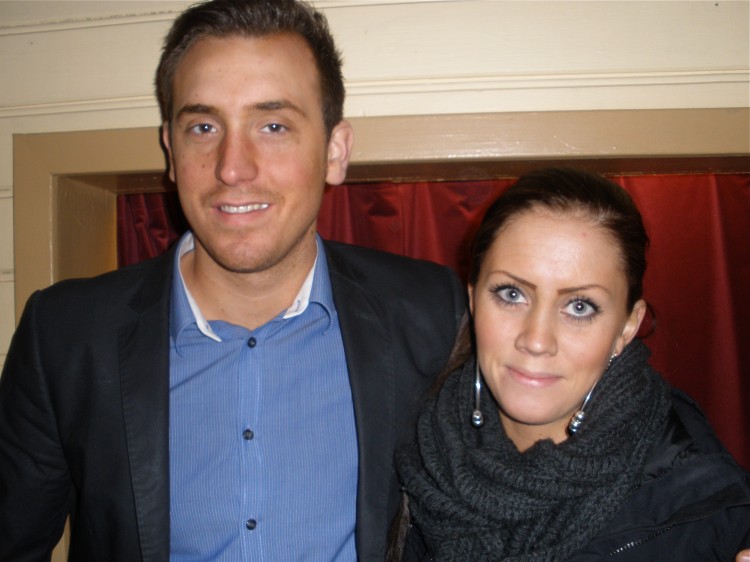 STOCKHOLM, Sweden—In the audience at Shen Yun Performing Arts' final show in Stockholm was a young couple, Linda Persson, a visual merchandiser, and Patrik Embermark, a key account manager. They are both in the business of color, shape and communication, working for major national companies.
New York-based Shen Yun made its fifth visit to Sweden. Ms. Persson said it was "awesome" to see a show that had a positive message and also displayed traditional Chinese culture, which is lacking in Sweden.
Mr. Embermark appreciated the many aspects of the performance. "I've actually never seen anything like it. I think it was very well presented … It's an amazing show, they're incredibly agile, great body language, everything. It was just great," he said.
Classical Chinese dance is said to have a history of several thousand years and was passed down through each Chinese dynasty, the company states. Over the years, it has become a comprehensive system of dance that boasts a variety of unique rhythms, movements, and meanings.
"It seems like a very natural and spiritual culture," Mr. Embermark said.
As a visual merchandiser, Ms. Persson was inspired to use more daring color combinations in her work.
"That's something to learn from, daring to mix colors; the way they get it together with the colors is something I would never have done myself. It was cool to see how they made all the costumes work, it was really beautiful," she said.
Mr. Embermark said that he had a good feeling after watching the show, but that now his conscience bothers him a little.
A Shen Yun performance includes scenes in contemporary China that carry messages about the suppression of the freedom of belief in China as well as themes of spiritual renewal and hope.
"There is so much more to find out. … I'm going to educate myself about this, thanks to the show," he said.
Ms. Persson said that the performance had brought out her compassion towards others.
"You want to help influence the situation, help spread their message, so their situation [in China] can improve. I feel I want to help somehow," she said.
Shen Yun Performing Arts, based in New York, has three touring companies that perform simultaneously around the world, with a mission to revive traditional Chinese culture. Shen Yun Performing Arts International Company will next perform in Paris at the Palais des Congrés de Paris on April 10 and at The London Coliseum, April 12-15.
For more information visit ShenYunPerformingArts.org