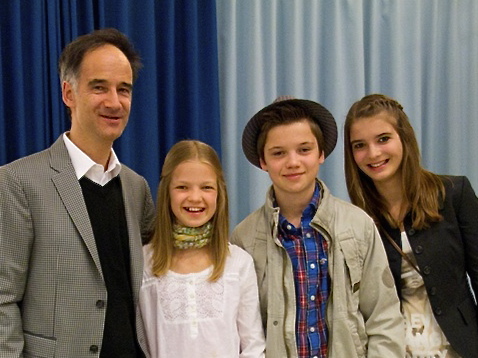 ZURICH—The New York-based Shen Yun Performing Arts International Company's fourth performance at the Kongresshaus in Zurich on March 24 was attended by Dr. Armin Junghard, an ophthalmologist, and three of his children, Berenike, Benjamin, and Beatrix.
Dr. Junghard saw "perfection" in the Chinese Shen Yun show, and the theme that "goodness will always win, and never those that are evil."
"The entire family loved the show," said Dr. Junghard.
"Everything was so amazing—the culture, the colors, just about everything. Yes, the show was very impressive."
"Everything is so different from what we are used to, and yet, it is fantastic what we saw tonight. We learned about the art of other cultures, their music and the different types of instruments. It was very fascinating.
One of his daughters, who is a ballet dancer and has performed for the past five years, said that it was rather interesting to see the how the Chinese dance differs from Western ballet.
Dr. Junghard was astounded by the Chinese and Western instruments' tonal quality.
"I play the oboe. It was fascinating how the oboe fit in with the Chinese instruments. I specifically listened to the tones, and the tone wasn't the same when we play it here. This was amazing."
"It appears that the same instrument in the hands of a Chinese person elicits different tones as when played by a European. It is the same world, and yet it sounds different. Yes, it was a great evening."
The family found the costume colors and the backdrop fantastic.
"Watching the linking of reality and film brought together imagination and reality. This is totally new to us, but perfect as it was presented."
All four of them took home the message, "Good and evil will always be at war, but goodness will always win the war."
Reporting by Alexander M. Hamrle and Rosemarie Fruhauf
New York-based Shen Yun Performing Arts has three touring companies that perform simultaneously around the world. Shen Yun Performing Arts International Company will next perform in Frankfurt, Germany from March 30-31.
For more information, please visit ShenYunPerformingArts.org.