The Cadillac Escalade has always been about doing things big – not just size-wise, although the fifth-generation model is indeed an impressive physical specimen, and the most spacious yet with an additional 264 millimetres of third-row legroom. But the redesigned vehicle is also making a splash in the digital department, offering some segment- and even industry-first technological innovations.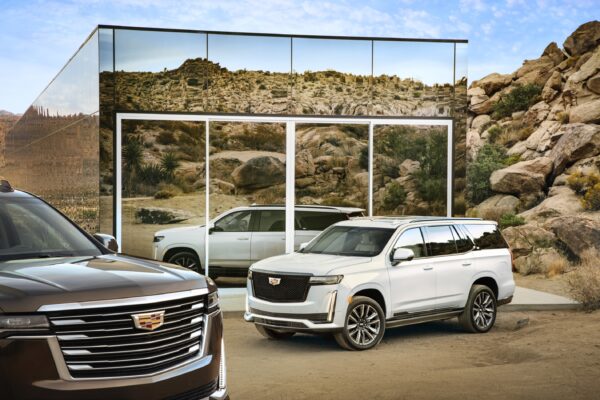 "We're taking 20 years of Escalade, 20 years of luxury SUV leadership and raising that to a whole new level," said Cadillac president Steve Carlisle at a presentation shortly before the official reveal on Feb. 4. "We summarize in the following way Escalades' exclusive new technology features: see and be seen, hear and be heard, move and be moved." He added.
The interior of the 2021 certainly needs to be seen in person to be believed. Big screens have been in cars for some time now, but not a curved, paper-thin OLED (Organic Light Emitting Diode) unit appearing to surround the driver like a high-end gaming monitor or TV.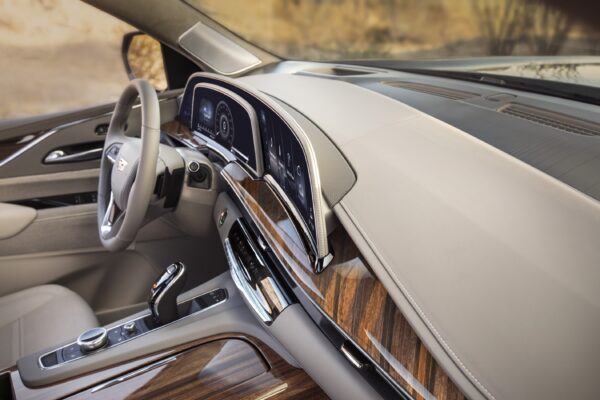 Unlike a traditional backlit LCD display, this one permits the control of individual LEDs, translating into crisp images where the blacks appear pure black, rather than a hazy grey, and vibrant colours pop out from virtually any viewing angle.
Thanks to a generous 38.3 diagonal inches of real estate, the touch-sensitive panel is fully customizable and can display things like cool augmented reality-enabled navigation, which overlays directional arrows on top of live street views to perfectly point out the proper route.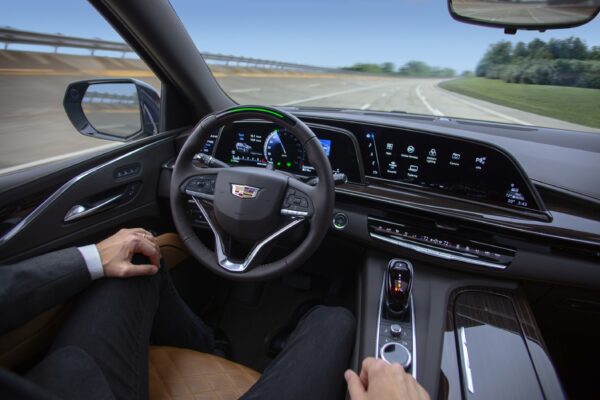 It's not only the advanced GPS making the drive much easier. Similar to the system originally launched on the CT6 sedan, an advanced version of Super Cruise driver assistance is available. Being introduced here is automated lane change: when in traffic, simply flick the turn signal lever and various cameras and sensors help automatically guide the SUV safely over one lane.
Tech aside, the interior of the Escalade is nicer than ever. As mentioned earlier there's a lot of extra room for passengers in the back due to the total overall length growing approximately 180 millimetres. Cargo capacity, too, has become enlarged, increasing an incredible 80 per cent to 773 litres behind the rear bench.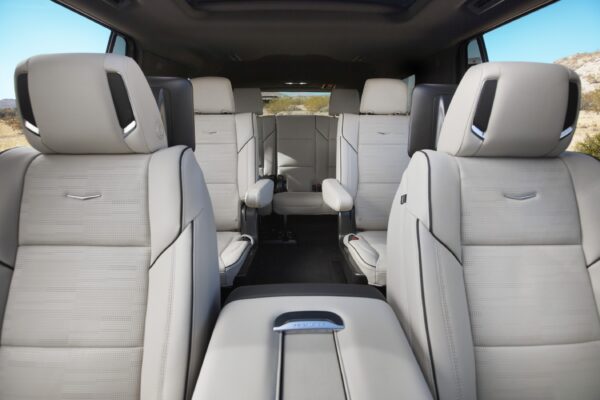 Packing a rockin' stereo is a given for the iconic model. And the team at Cadillac really went all out partnering with acoustic equipment manufacturer AKG. Working alongside these makers of professional-grade microphones and headphones, the result is a 36-speaker setup in select trims (19 speakers plus a subwoofer are standard) engulfing listeners in high fidelity sound.
Although there were no vehicles available yet to test, the specs seem promising. A 420-horsepower 6.2L V8 gasoline engine and a 277-horse 3.0L turbocharged six-cylinder diesel engine will be sold, both producing 460 lb-ft of torque and mated to a 10-speed automatic transmission.
Independent rear suspension and optional adaptive air suspension with magnetic ride control should ensure a smooth and comfortable experience for occupants at all times, as the latter is capable of constantly reading road conditions and self-adjusting to mitigate any bumps encountered.
And how about the looks? Well, the difference between the outgoing SUV and the new one is night and day. Split into two pillars: Luxury, Premium Luxury, and Platinum Luxury grades focus on what the name suggests – think lots of chrome detailing – while Sport and Platinum Sport go in a more performance-influenced aesthetic, embodied for example by the black mesh front grille.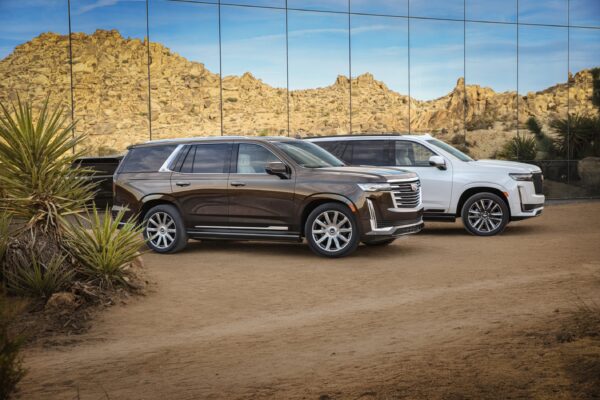 All Escalades share razor thin horizontal headlamp housings, stacked overtop complementary vertical signature LED daytime running light on either side of the front bumper. Massive 22-inch alloy wheels are standard, as are dual exhaust tips.
Pricing and supplementary information is expected closer to the official production release later in the summer. In addition, an extended wheelbase ESV variant will follow closely behind.
Benjamin Yong is a freelance writer from Vancouver, B.C. and a member of the Automobile Journalists Association of Canada (AJAC). Follow him on Twitter @b_yong.