Democratic candidates for 2020 presidential election said they would raise taxes on the middle class to pay for their healthcare proposals during the first night of a two-night debate on July 30.
Many declined to answer yes or no, and instead opted for longer answers.
Sen. Elizabeth Warren (D-Mass.) declined to answer directly, saying the "total costs" would go down. She later said that companies don't have a "God-given right" to deny access to healthcare and added that hospitals are weighed down by a bureaucracy perpetuated by insurance companies.
South Bend, Indiana, Mayor Pete Buttigieg said that it's a distinction without a difference, indicating people would pay higher taxes but would pay less for health care when they're doing the opposite right now. He said he didn't mind being called a socialist and that the label wouldn't affect his policy proposals.
Author Marianne Williamson said that she would fight for healthcare but was cut off by moderator Jake Tapper.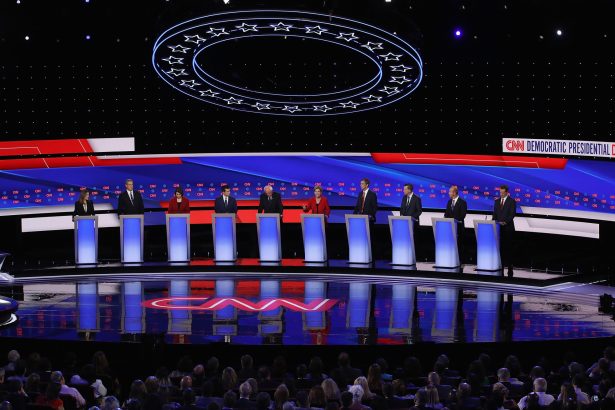 Sen. Bernie Sanders (D-Vt.) claimed that drug companies and insurance companies have spent billions of dollars in recent years in lobbying and campaign contributions, contrasting insulin costs in Canada with costs in the United States.
Rep. Tim Ryan (D-Ohio) said that union members who gave away wages in order to get good healthcare would be shafted "because Washington is going to come in and tell them they'd get a better plan" when it wouldn't necessarily be better for everyone. He said that businesses should be allowed to buy in to reduce healthcare costs.
When asked if Medicare for All would be better for union members, Sanders said yes.
"You don't know that, Bernie," Ryan responded. "I do know, I wrote the damn bill," Sanders said.
"These union members are losing their jobs, their wages are stagnant … the only thing they have is possibly good health care and the Democratic message is we're going to come in and take" the healthcare," Ryan said, asserting Sanders is not familiar with all union members contracts.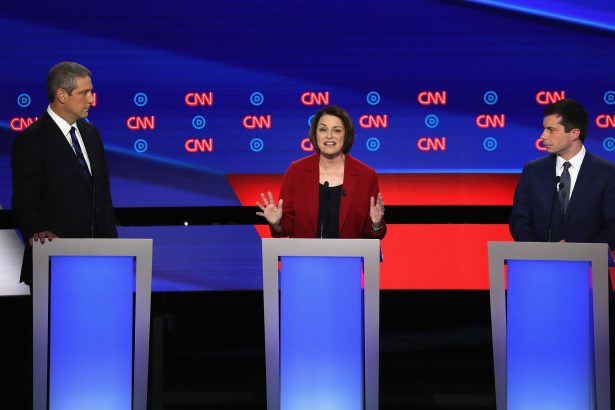 Former Rep. John Delaney (D-Md.) said that Medicare for All would underpay healthcare providers, creating a "two-tier market" where rich people would pay for better healthcare. "Many hospitals in this country would close," he said, noting he went to rural hospitals and asked administrators about the payments outlined in Sanders bill, and that the payments would not be adequate.
Sanders has said before that the government takeover of the U.S. health care sector could cost up to $40 trillion over a decade. In comparison, the total current government spending over the next decade is projected to be roughly $60 trillion. Sanders has said that one option for paying for part of that hefty price would be a 4 percent tax increase on families making more than $29,000 each year.
The first debate night featured the following candidates: Montana Gov. Steve Bullock; South Bend, Indiana, Mayor Pete Buttigieg; former Rep. John Delaney (D-Md.); former Colorado Gov. John Hickenlooper; Sen. Amy Klobuchar (D-Minn.); former Rep. Beto O'Rourke (D-Texas); Rep. Tim Ryan (D-Ohio); Sen. Bernie Sanders (D-Vt.); Sen. Elizabeth Warren (D-Mass.); and author Marianne Williamson.
The second night, July 31, will feature the following candidates: Sen. Michael Bennet (D-Colo.); former Vice President Joe Biden; Sen. Cory Booker (D-N.J.); Julian Castro, Housing and Urban Development Secretary during the Obama administration; New York City Mayor Bill de Blasio; Rep. Tulsi Gabbard (D-Hawaii); Sen. Kirsten Gillibrand (D-N.Y.); Sen. Kamala Harris (D-Calif.); Washington Gov. Jay Inslee, and businessman Andrew Yang.
The lineups for each night were decided in a live and random draw. Candidates had to meet one of the following thresholds: receive at least 1 percent support in three polls from certain pollsters; or receive campaign contributions from 65,000 unique donors, including 200 donors each from 20 different states.
Candidates who will not participate in either of the debate nights include Rep. Seth Moulton (D-Mass.), Miramar, Florida Mayor Wayne Messam, billionaire investor and activist Tom Steyer, and former Rep. Joe Sestak (D-Pa.).
From NTD News