Back in the first week of July in 2017, Volvo made an announcement that seemed to set the automotive world on its ear—if only for a very short time. Some pundits misinterpreted the news and the world thought that the upstart Chinese-owned Swedish-based automotive manufacturer had taken leave of their senses. All Volvo models sold after 2019 will have an electric motor, making Volvo the first "conventional" car company to establish when and where the "old world" ends and the "new world" begins. As stated, there was some unfortunate confusion. The addition of an electric motor to a more "traditional" internal combustion engine (ICE) was overlooked. Some thought all Volvos would be all electric–battery electric vehicles (BEV). No, that was not to be the case. Volvo planned on augmenting fossil-fuel powered engines with electric ones—in most cases, through a plug-in option.
Our vehicle provided by Volvo Canada was the very latest in the S90 sedan lineup and featured an additional electric motor, making this car a plug-in hybrid electric vehicle (PHEV). What this means is that with a full charge, the vehicle has a maximum additional capacity of 34 kilometres. While this may not seem like much, it should be noted that it is feasible to "add" to that electric "tank" through normal driving and regenerative breaking.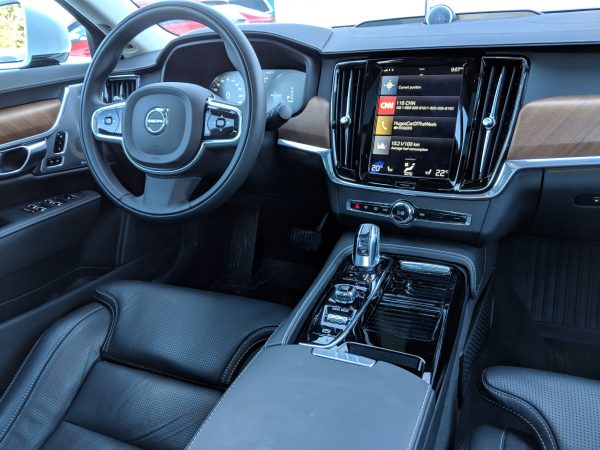 Not only does this vehicle look great, it handles roads with ease and makes driving quite pleasant. Stepping out of this sedan after a few hours behind the wheel leaves the driver feeling pretty good—rested, engaged—and eager to drive some more! Thanks to a clean, streamlined design, an intuitive cabin with a tablet-like infotainment system, an excellent transmission and engine combination—as well as some of the most comfortable seats available in the driving world. My wife loved the adjustable seat cushion, heated seat options, and the optional massage capabilities. She wondered aloud how this technology could be easily transferred to our family room!
From the outside, the S90 has a sleek look with the sloping rear roofline giving it an almost coupe-like profile. The front has the by now ubiquitous "Thor's Hammer" daytime running lights/headlights and standard waterfall grille.
As always with Volvo, safety is No. 1 and our T8 tester included as standard fare the City Safety system. It gives you low and high-speed collision mitigation with pedestrian/cyclist and large animal detection and run-off road mitigation and protection.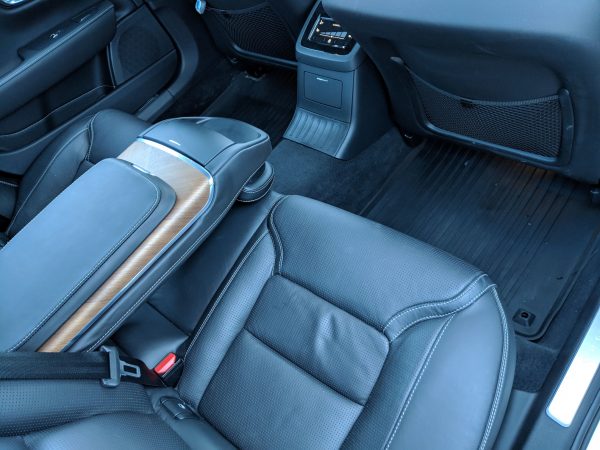 On the road, the S90 T8 is both smooth and powerful. In town on EV alone, it is quiet and sedate—if you're light on the accelerator. The gasoline engine will kick in and out on occasion, but the switch over is never jarring. On heavy acceleration, though, general engine noise and some torque steer can be evident—not annoying—but at cruising speed, the car provides a comfortable ride, handles corners well, and, as stated before, does not exhaust the driver. In fact, you can easily select from one of several drive modes using a "toggle" on the centre console. With one simple flick of the switch, one can adjust throttle, suspension, and even steering response.
For many years, Volvo was renowned for building safe cars which may not have had, pun intended, the greatest curb appeal. In recent years, all that has changed as the brand continues to evolve. Today the brand is all about luxury sedans, SUVs and crossovers, and station wagons that are stylish and forward-thinking full to the brim with unobtrusive technology and innovation. This current crop of S90 and XC90 hybrid variants amplifies this and with no less an emphasis on safety.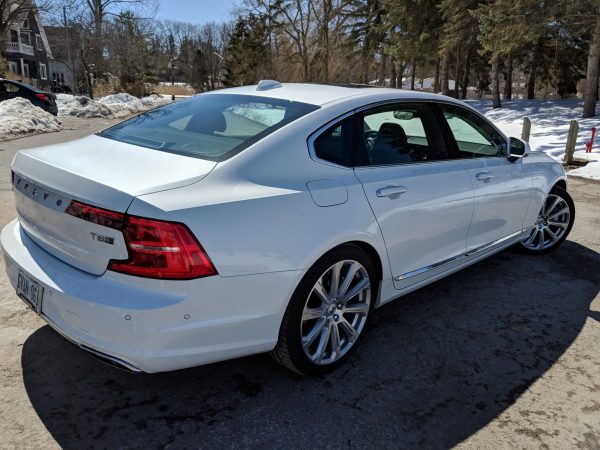 In addition, Volvo's Pilot Assist semi-autonomous driver-assist feature is optional (it is, however part of the Convenience package on this test vehicle). It works at speeds up to 128 kilometres per hour and is primarily meant for highway driving. Volvo advises that the self-steering feature, which must be separately enabled after the adaptive cruise control is set, no longer needs a car in front to follow; it works well, steering smoothly and staying centered in the lane, although it does want the driver to keep a hand on the wheel!
With the S90T8, Volvo continues to affirm its place at the table with other premium luxury brands. We are anxious to test the new XC40 crossover when it comes to market shortly. Conceivably, that vehicle could be a tipping point for this brand.
2018 Volvo S90 T8 PHEV AWD, Inscription Trim
Body Style: Mid-size premium luxury four-door sedan. All 2018 S90s coming to Canada are the built in China long-wheelbase model. Consequently,
the backseat has 4.5 inches more legroom than the outgoing model making it feel more like a full-size vehicle.
Engine: As tested, 2.0 L turbocharged and supercharged I-4 engine with electrification, generating a total of 400 horsepower for a combined 472
lb.-ft. of torque
Fuel Economy (stated): (Premium) 8.9/7.1/8.1 L/100 km city//highway/combined.
Cargo Capacity: 382 litres.
Pricing: $91,850* as tested.
*Does not include freight. PDI, HST and other taxes extra.
David Taylor is an independent automotive lifestyle writer, producer, and editor based in Barrie, Ontario who is fascinated by innovation and technology which enhance the overall driving experience. He's also a member of the Automobile Journalists Association of Canada (AJAC) and Co-Chair and Director of the AJAC Canadian Car of the Year. Follow him on Twitter @Omemeeozzie or on Instagram @hugoscaroftheweek.