After watching other markets have their (efficient) fun, Canada officially welcomes the 2018 Mitsubishi Outlander PHEV (Plug-in Hybrid Electric Vehicle).
The Japanese automaker says this model—which originally debuted in 2013—is currently the world's bestselling plug-in hybrid electric SUV, and as we experienced at a recent Vancouver product launch, the vehicle certainly offers a few things not seen in this segment before.
"The Outlander PHEV is the most significant launch in the history of our company in Canada. It represents a halo for our brand, and the direction [where we're] going in SUVs," says Don Ulmer, product planning senior manager.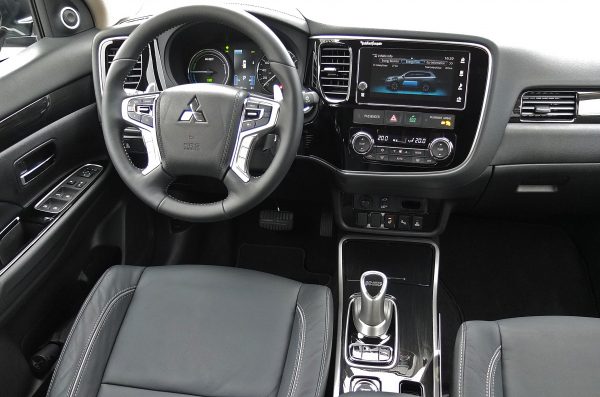 "It's the only PHEV to offer S-AWC (Super All-Wheel Control, the name of Mitsubishi's full-time four-wheel drive system). It has DC Quick Charging, something common on pure EVs but not so much plug-in hybrids, and a 10-year or 160,000-kilometre battery warranty. But, of all the things we talk about, if there's one thing you should take away, is that it's the only PHEV out there with 100 percent electric four-wheel drive," Ulmer says.
Indeed, the crossover boasts quite a unique setup. Its two 80-horsepower electric motors, mounted at the front and rear axles and powered by a 12 kilowatt-hour battery, work in tandem and provide instant-on, lossless 4WD due to the absence of a connecting shaft. A 2.0-litre four-cylinder internal combustion engine (ICE) under the hood, producing 117 horsepower sent to the front wheels, gives an additional kick as required.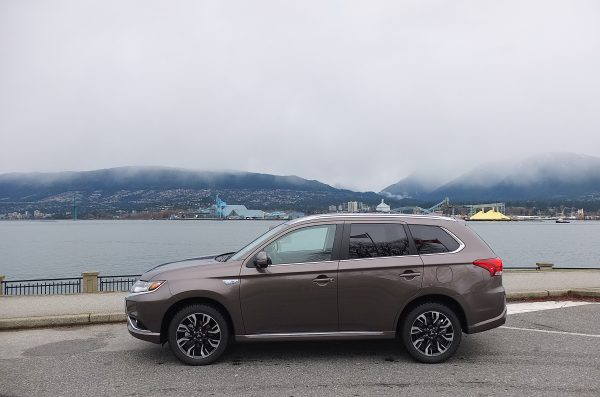 The green Outlander cycles between three driving modes that change depending on the road and load conditions. EV Drive mode is the default, where the electric motors do all the work, and is capable of yielding a maximum 35-kilometre emissions-free range. The electric motors are also the primary propulsion source in Series Hybrid mode, activating while climbing an incline for example, with the gasoline mill playing the role of generator. The third mode is Parallel Hybrid, where the compact SUV is driven primarily via the ICE such as on the highway when speeds reach in excess of 120 km/h.
In addition, there is a trio of neat operator-selectable modes to customize electricity consumption. EV Priority forces electric-only use until only one bar of battery life remains or the speedometer ticks past 120 km/h, Battery Charge utilizes the ICE to juice up the on-board battery to 80 percent in about 40 minutes, and Battery Save maintains the existing power reserves until needed, like in the city.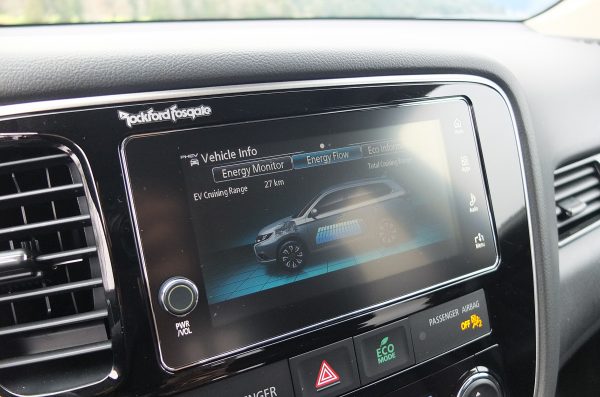 Charging is a cinch: Plugging into a standard Level 1 household outlet takes eight hours to get to full, 3.5 hours for Level 2, and 25 to 30 minutes when connected to a DC station.
I've driven both the standard Outlander and the environmentally friendlier variant, and the two behave surprisingly similar—the latter of course performing in a much quieter manner. Akin to other EVs, the PHEV has a brake regeneration system to feed unused kinetic energy back into the network. Occupants will notice paddle shifters affixed to the steering column and wonder what purpose they serve. Instead of shifting gears, they control brake regeneration strength to any of the six settings.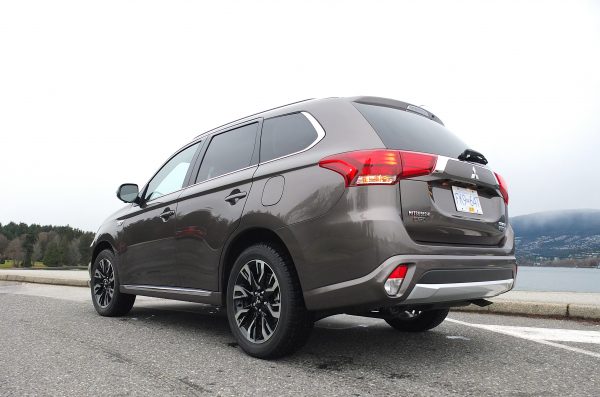 As advertised, my driving partner and I achieved some impressive fuel economy numbers, hovering between 6 and 7 L/100 km during a route from downtown Vancouver to Squamish and back again.
Pricing starts at $42,998 (SE). Moving to $45,998 (SE Touring) adds a sunroof, a leather heated steering wheel, and LED lighting. The price tops out at $49,998 (GT), which bundles a power liftgate and safety tech including forward collision mitigation, adaptive cruise control, lane-departure warning, automatic high beams, and a multi-view camera system.
Benjamin Yong is a freelance writer from Vancouver, B.C., and belongs to the Automobile Journalists Association of Canada (AJAC). Follow him on Twitter @b_yong.