No word of a lie: as I was about to park the all-new Buick Regal GS at Nanaimo International Airport in British Columbia, a gentlemen leaned into the open window smiled and stated. "Now that's not your grandfather's Buick!"
That brief statement proved two things. The power of marketing and advertising and, his observation was spot on.
The times—and Buick—are definitely changing. Designed and engineered to appeal to a broader, younger demographic, the Buick Regal is targeting an average age of around 45 with a 60/40 male to female split. Buick marketers see Regal customers being unpretentious luxury seekers with an adventurous lifestyle who value good design and a dynamic driving experience.
This new sports-oriented sedan from Buick hits all the right marks. The new Buick Regal, in either GS or Sportback version, possesses a strong style and pleasingly elegant look. All in keeping with how the brand reinforces its repositioning in the automotive environment and evolves further, experiencing greater, stronger growth—in Canada, in China and specifically, globally. In fact for 2017, Buick was General Motors second best-selling brand globally and was the fourth top vehicle brand sold in China. Sales today in Canada have never been as high since 2002.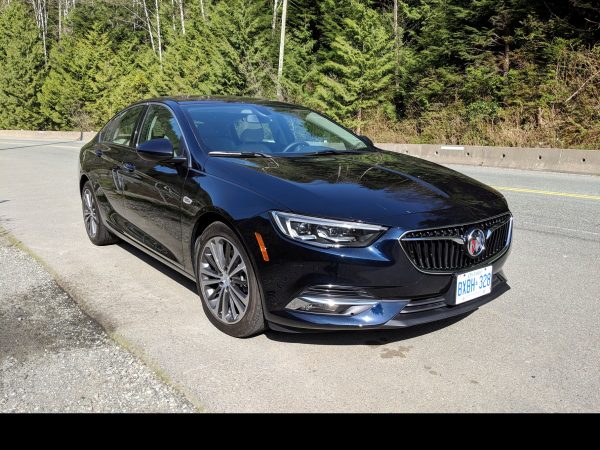 Further, to add to the accolades, J.D. Power recently ranked Buick the highest in overall vehicle dependability among mass market brands sold in North America.
At a time when many automotive manufacturers experience approximately 70 percent of their annual sales from light trucks, SUVs and crossovers, Buick's decision to introduce the Regal sedan is bold, to say the least.
Designed and engineered to appeal to a broader demographic, this new sports sedan from Buick hits all the right marks.
As a versatile four-door car loaded with innovative technology and performance-oriented features not generally associated with the iconic brand, this is Buick's most dramatic expression of design and driving dynamics to date.
We found that the 2018 Buick Regal Sportback is a very pleasant car to drive—often feeling, at times, as if it is punching above its weight class. The well-engineered suspension soaks up most road imperfections and keeps the car steady. However, we did notice some rough surfaces can be easily felt at lower speeds on secondary roads. This may have something to do with the actual tires on our test vehicle than anything else.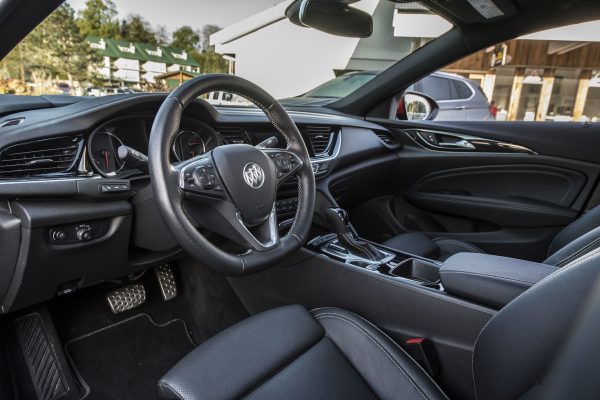 It was clear to us from the first few miles that the new Regal Sportback is a capable luxury tourer, with GM leaving the sport duties to the Regal's stablemate, the young wolf in sheep's clothing, the GS. More on that in a moment. This new Sportback feels a little softer, and the steering isn't quite as "quick" as the GS. Although the car is responsive and feels secure, overall driving excitement is not really, comparatively speaking, a part of this vehicle's general equation.
In my opinion, this Buick felt more comfortable spending time consuming open highway with comparative ease than being tossed from corner-to-corner on a twisty tree-canopied coastal road—especially when compared to its sibling, the GS.
The engine is a willing partner no matter what road the Regal is on. The turbo four-cylinder quickly spools up the power without perceptible lag whenever the driver's right foot pressures the gas pedal. In our AWD Sportback, the eight-speed automatic transmission shifts smoothly as required, with each gear change coming consistently, and without hesitation.
Like many Buicks we've evaluated recently, the new Regal is quiet. Wind, road, and engine noises are well-muted, and they seem to blend together as background white noise much as we experienced this past winter with the Buick Enclave, three-row crossover.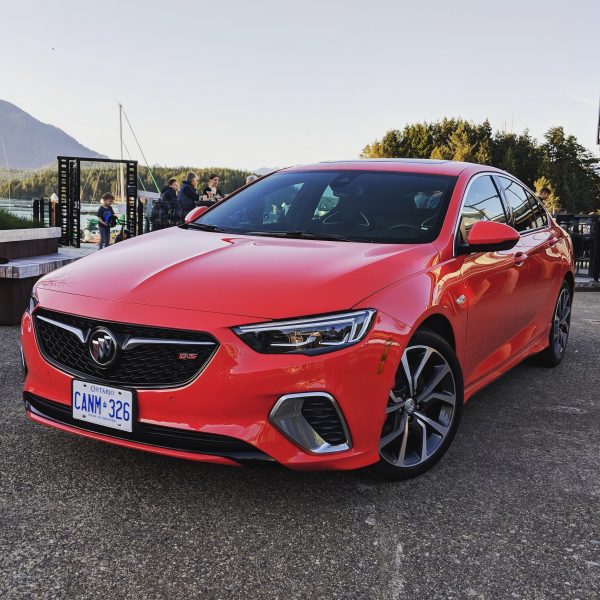 Meanwhile, the GS version is a bit of a chameleon, a changeling. At first glance, the GS is perfectly suited to driving the kids to school. Or you may decide to test its performance and handling attributes on snaking, narrow two-lane roads carved along the western Canadian coastline.
Buick engineers obviously had some fun with this model. They set out to make a driver-focused, engaging, and entertaining sport sedan without sacrificing the smooth ride and refined personality expected of any modern Buick.
But once GS driving mode is engaged at that point, all bets are off. This automobile transforms into a driver-oriented machine. This is not a track car, built for an afternoon of lapping. To be clear, the new V-6 and nine-speed transmission, intelligent AWD and Continuous Damping Control (capable of 500 adjustments per second) all work together seamlessly to deliver an excellent and even dynamic driving experience.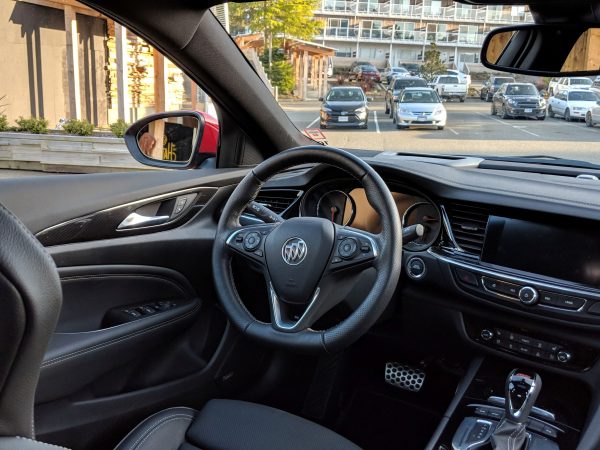 Mark Alger, Buick Canada's National Marketing Manager explained that the Regal GS's refined 3.6 L V-6 offers more power than the Acura TLX A-Spec or the Lexus IS350 F-Sport. Translation? Loads of broad smiles driving through ancient canopied forests, along rugged coastlines, and mountain valley roads between Nanaimo and Tofino, in B.C. If there was one thing to comment on it would be the lack of paddle shifters that, short of a manual transmission, would have engaged and involved the driver even more.
Rounding out the standard GS package, Buick includes: unique sport front and rear fascias, side skirts and a rear spoiler; 19-inch wheels; performance brakes with Brembo calipers; a sport-tuned exhaust system; and, a sport flat-bottom steering wheel and metal pedals.
Of course, standard safety features abound under the skin of this package. There are 10 air bags, a rear-vision camera, side blind zone, lane change and rear cross-traffic alerts.
All in all, the Buick GS will (pleasantly) surprise many with its veiled aggression and showroom looks. A no-compromise solution for budget-conscious driving enthusiasts looking for something a little different.
2018 Buick Regal Sportback
Body Style: Four-door five-passenger sedan.
Engine: 2.0 L Turbo 1-4, DOHC direct injection V6 engine with nine-speed
automatic transmission (FWD), or eight-speed automatic transmission in AWD
(260 horsepower, 295 lb.-ft. torque).
Fuel Economy (stated): FWD, 10.7/7.4L/100 km – city/highway. AWD
11.0/8.0 L/100 km
Cargo Capacity: 892 litres (rear seat up – standard 40/20/40 split fold);
1,719 litres rear seats folded.
Pricing: Starting from $31,845*.
2018 Buick Regal GS
Body Style: Four-door five-passenger sedan.
Engine: 3.6 L V6 featuring direct injection, cylinder deactivation and
stop/start technology and a nine-speed automatic transmission, standard AWD
with an active twin-clutch. (310 horsepower, 282 lb.-ft. torque).
Fuel Economy (stated): AWD, 12.4/8.7 L/100 km – city/highway.
Cargo Capacity: 892 litres (rear seat up – standard 40/20/40 split fold);
1,719 litres rear seats folded.
Pricing: Starting from $43,845*.
*Destination charge. PDI, HST and other taxes extra.
 David Taylor is an independent automotive lifestyle writer, producer, and editor based in Barrie, Ontario who is fascinated by innovation and technology which enhance the overall driving experience. He's also a member of the Automobile Journalists Association of Canada (AJAC) and Co-Chair and Director of the AJAC Canadian Car of the Year. Follow him on Twitter @Omemeeozzie or on Instagram @hugoscaroftheweek.