First introduced to an eager public with an appetite for midsize sport utility vehicles (SUV) for model year 2007, the Ford Edge has been one of Ford's better-selling vehicles in their frenetic lineup of cars, light trucks, and crossovers.
In just 10 years, the Edge has become one of Ford's big hits, splitting the crossover lineup and providing shoppers a way to spend more than $50,000 on a Ford in the Titanium! Bereft of a third row and therefore seating for seven and looking for that, then consider the larger Flex, Explorer, or even Expedition! The Edge will seat five in relative comfort so long as the three passengers are not football linebackers. Its interior cargo space allows for everyone's luggage—unless a passenger is the type to change clothing for every meal and occasion! Larger than the hugely selling Ford Escape, the second most popular crossover in the five passenger category, the Ford Edge looks somewhat refined and elegant—especially with optional 20-inch polished aluminum wheels. While highly unlikely you would look to this auto as an off-road warrior, cottage and lake access roads will generally not present much of an issue—there is, after all available all-wheel drive.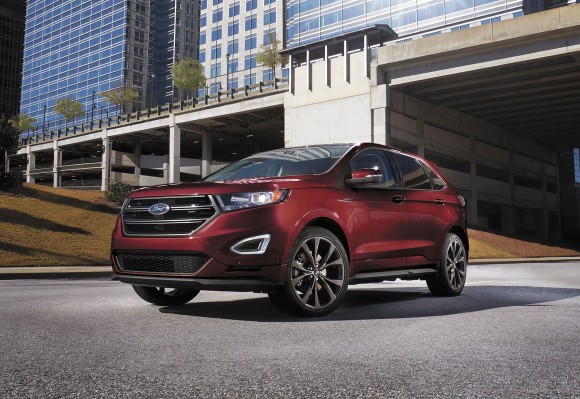 As stated, the Edge has been a steady and reliable performer, sales-wise for Ford. In fact in 2016, 20,517 units were sold representing an increase of 23.7 percent over calendar 2015. In fact, of all SUV/CUVs sold in Canada in 2016, the Edge was number nine in the all-star sales lineup. Not too shabby especially when you factor in that the top three best sellers are the smaller Toyota RAV4, the Ford Escape, and the Honda CR-V!
The Edge's large exterior and form-fitting seats yield impressive legroom for both front and rear passengers. Generally-speaking, the cabin has a fresh, premium design to it. While Ford has moved away from adaptive-touch controls, the Edge is now equipped with hard buttons for audio and climate controls. Over the course of a week, we found the various controls on the steering wheel to be a little quirky—especially in bright sunshine when dark glasses were required. Viewing a couple of keys, specifically the one for voice commands was not, perhaps in the most intuitive position. More than once another key in the immediate vicinity was pressed, necessitating the driver to look down. If the trend is to make distracted driving less of an issue, this command key needs to be in a position where it cannot be mistaken for something else! Same holds true for disconnecting the phone after a call.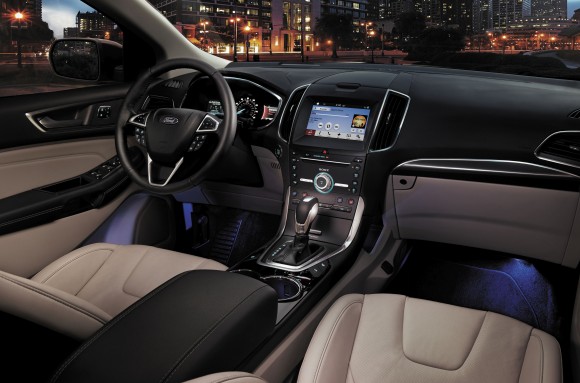 Ford's touchscreen audio and information system improves with each year, and the latest version is the best yet. In fact, for 2017, Sync 3 gets a significant update for smartphone users: compatibility with both Apple CarPlay and Android Auto. Sync 3 is standard on the Titanium-trim model. That being said, Sync 3 has come a very long way since Ford and Microsoft introduced the world to this hands-free environment intended to allow intuitive control over most aspects of a vehicle's infotainment and HVAC systems. It would appear that engineers and OEMs do, in fact, listen to customer feedback!
For a relatively tall vehicle, the Edge resists body lean while cornering or entering or exiting highway on-ramps and offers plenty of traction on the vast majority of road surfaces. Since the all-wheel drive is always active, there's also no need to worry about changing the settings when the conditions get slippery. The Edge will look after that decision for you: hence Ford's description of it being an Intelligent system.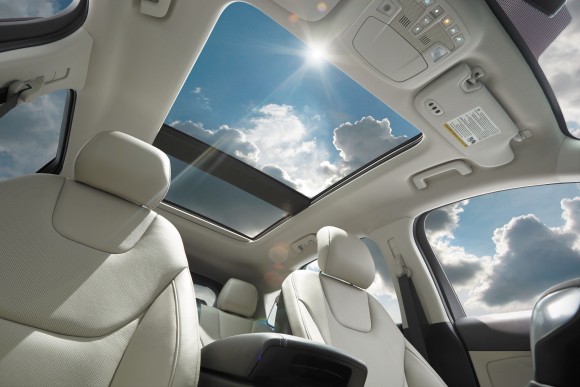 The Ford Edge comes standard with traction control (including torque vectoring for improved cornering precision), stability control, anti-lock disc brakes, automatic crash notification, and eight airbags (front, front-side, front-knee, and full-length side curtain).
The relatively new Ford MyKey system is also standard, allowing owners to set electronic limits for other drivers—a very useful feature if this vehicle is used by multiple members of a family. Optional electronic aids include a blind spot monitoring system, forward collision warning (bundled with adaptive cruise control), rear cross-traffic alert, and a 180-degree corner-view camera system.
All in all, a very capable crossover. Competition in this price category is quite fierce from Asian manufacturers. The choice is entirely in your hands.
2017 Ford Edge AWD Titanium
Body Style: All-wheel drive (AWD) midsize, five passenger crossover.
Engine: Twin-Scroll 2.0 L EcoBoost® I-4 turbocharged, direct-injection engine. 245 hp and 275 lb.-ft. of torque, six-speed SelectShift® automatic with paddle activation.
Cargo Capacity: 1,111 litres in the rear. With rear seats folded, 2,078 litres.
Fuel Economy (stated): 11.9 L/100 km city/8.6 L/100 km highway and 10.4 L/100 km combined. Actual consumption over 553 kilometres, combined city and highway, 9.6 L/100km.
Price: $52,199*
*Excludes freight and PDI. HST and other taxes extra.
David Taylor is an independent automotive lifestyle writer, producer, and editor based in Barrie, Ontario who is fascinated by innovation and technology which enhance the overall driving experience. He's also a member of the Automobile Journalists Association of Canada (AJAC) and a Director of the Canadian Car of the Year. Follow him on Twitter @Omemeeozzie or on Instagram @hugoscaroftheweek.