2014 Toyota Highlander: Safely Avoid Mid-life Minivan Blahs
April 25, 2014 9:28 am Last Updated: April 25, 2014 3:16 pm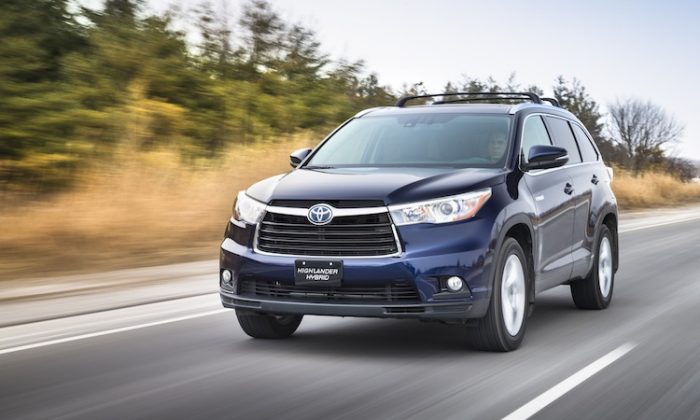 Special Feature
Minivans have developed a stigma.
Here are the rules. When women buy a minivan they immediately gain 15 lbs., feel obliged to wear UGGs and track pants at the same time, and never let their hair out of the ponytail they slept in the previous night.
In the rare event a man drives one, everything applies, but instead of a dirty housewife ponytail, you get a bald patch along with the potbelly.
Thankfully, auto manufactures have done their part to ward of the mid-life minivan curse by creating the mid-sized SUV.
On the inside, several are now available with three rows of seats like a van, but on the outside, these vehicles give off the illusion that they're getting ready to drive aggressively and youthfully off road into the wilderness. Needless to say, they are immensely popular with families who use them for the school run and groceries.
You'd think by virtue of sheer size, mid-sized SUVs would be very safe, but they've taken a hit from the IIHS this year for front collision safety. Big names including the Honda Pilot (which came dead last), the Mazda CX-9, the Ford Explorer and the Kia Sorento simply failed this years front collision test.
Only the Chevy Equinox/GMC Terrain and the Toyota Highlander passed.
Since the Equinox/Terrain has no third row seating option, the 2014 Toyota Highlander comes out looking like gold. Redesigned in 2014 to look as if it's about to say "Grrr" while still holding seats for 8 in its formidable belly, the incoming model has many improvements.
It's quieter on the inside due to improved noise reductions measures. It also handles better, less like a boat and more like a car, sharing a platform with the Lexus RX. It's fairly nimble for a vehicle its size.
Inside is also roomier than the outgoing model, with plenty of cargo space behind the third row seating, which conveniently splits 60/40.
There's been some muttering about the 270-hp 3.5-L V-6 failing to thrill but I found the power absolutely ample. Anything bigger would make this a gas guzzler. As it stands, it gets 13 L/100 km city and 9.7 L/100 km highway which is not bad for a vehicle that weighs around 4,500 pounds, and can tow an equal amount (5,000 pounds).
The important stuff like Bluetooth for your phone and rearview backup camera come standard. This year an adjustable power liftgate is also available. The fancy nanny-tech, like lane departure and blind spot monitors, and dynamic cruise control are only available in the top hybrid model.
Most of us will pick something affordable and in the middle.
According to Jon Toker, Sales Manager at Whitby Toyota, the Highlander has sold very well since its introduction at the end of March. "It's a family car, and both parents can enjoy driving it," he says. Not only will it safely get a family around, it's priced very well, starting at $31,680.
"If you want to get a Sienna, it costs $33,365…the Highlander is the most affordable way to get eight seats," Toker explained. Also, it's a little smaller than a Sienna, and easier to maneuver in a parking lot.
But what if you wanted to save even more? Consider driving to Whitby. A fifteen-minute drive could save you thousands of dollars.
"Other dealerships don't discount their cars!" says Toker. If you pay cash for a car, you should definitely be getting a discount off the sticker price! Even if a dealerships is large, that doesn't mean you will get the best deal there. Whitby Toyota does more for buyers.
"We don't charge administration fees which can cost up to $1,100," explained Toker.
When you purchase a vehicle, you also save 10% on all service costs as long as you own the car, which can add up to hundreds in savings over the years.
Whitby Toyota was voted the Durham region's number one Toyota dealership for customer satisfaction, not only for the superior prices, but because it is smaller, family-owned and they give customers a personal touch.
They currently have a Chinese-speaking sales staff, and Toker is anxious to let Chinese car buyers know they can get a better deal in Whitby!
2014 Toyota Highlander $31,680 – $52,695 (Hybrid Limited)