2014 Nissan Versa Note
Cute subcompact gets full body make over, now more docile and cheaper to feed
September 3, 2013 1:53 pm Last Updated: September 3, 2013 1:53 pm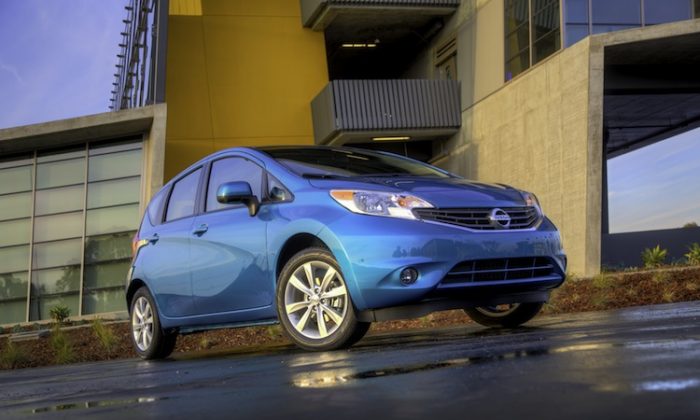 On sale since June, the 2014 Nissan Versa Note is in tune with the times. And this is where the musical puns must stop. 
Versa now insists you include her middle name "Note." It's her Japanese name, and globalizing your moniker is just, like, so cool.
On a lighter Note
Just as cute as the outgoing model, but slightly more practical in every way, she's even less expensive to own than last year. Yep, the base 1.6 S model price went down over $1,000. 
That will leave you plenty left over to buy Pink ChuChu girl seat covers and bedazzle your Kleenex box. 
She was never fat by any means but our girl has gone on a diet anyway, dropping 91 kg since last year. 
She's had a few nips and tucks as well, losing around 15 cm in length, but somehow her surgeons have managed to increase the interior space for passengers.
Her new curves have also reduced drag. Aerodynamic improvement to her unmentionables (her undercarriage, shhhh!) as well as fancy new tires have improved efficiency. 
Indeed, all of this has greatly reduced her appetite for fuel. The manufacturer claims 5.5 L/100 km combined for the CVT option and 6.5 L/100 km for the 5-speed manual, a full litre less per 100 km. For those of you over 20 years of age, that breaks the 5.9 L/100 km mark.
After some brushing up in deportment class, you'll notice a quieter ride due to double sealed doors and a sound-resistant windshield. To further her newfound discretion, you'll find a false bottom in boot that allows you to keep your laptop or purse out of sight behind the expected rear 60/40-split seating.
A pretty face and an affordable date are not enough. She's working on her technological vocabulary too. Improved mobile device connectivity, including Google sent-to-car for the Navigation system, and either rear view or around view monitor are in her updated 2014 résumé. 
The SV model can add the Convenience Package, which includes RearView Monitor, Divide-N-Hide, USB for iPod, and SiriusXM ready with a 4.3-inch display for $680 extra. 
For $720 more, the SL model can add the Technology Package. The added Nissan Connect with Navigation System includes a 5.8-inch screen, Google Points-of-Interest, Google Send-to-Car, Bluetooth hands-free and audio streaming, and Around View Monitor.
Which leads us to the downside of dieting. The results of her makeover are mostly good, though they've left her a tad anemic. 
Along with the weight loss, she also lost 20 horses when her engine capacity was reduced from 1.8L to 1.6L. The 2013 model had 122 hp at 5,200 rpm. In 2014 she's got 109 at 6000 rpm. That's a lot of revving to access very few horses.
In short, she's thinner, but a tad lethargic. If you're not poking along in city traffic, you'll want to buy her a half-dozen chocolate donuts—she needs a little sugar. 
Having driven both the manual and the CVT, I'd say either option is adequate. The CVT is still a little noisy and grasping. The manual option has dropped a gear, down to a 5-speed from last year—it's a diet thing. Either way, you're getting from A to B without fuss.
In all fairness, you can't have it all. She's good looking and low maintenance, but you're going to have to rely on yourself for fun. Okay, she'll take you to fun. The amount you have on the way will be moderate.
$13,348 – $19,018 CDN (MSRP)