2014 NBA Playoff Standings: Mavericks Drop to Ninth, Nets Clinch Spot
April 2, 2014 1:03 pm Last Updated: July 18, 2015 5:15 pm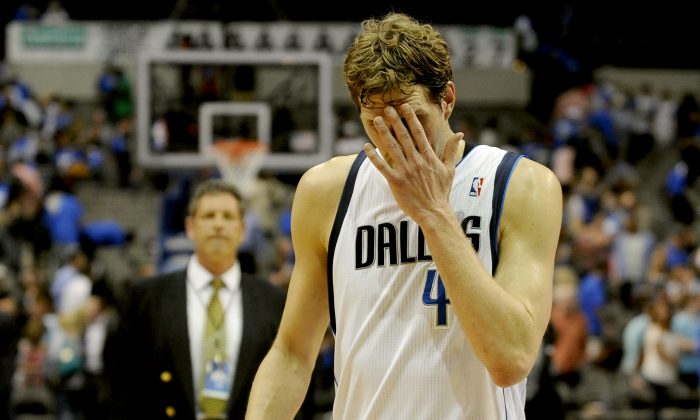 The battle for the seventh and eighth seeds in the Western Conference in the NBA is getting intense as the season draws to a close.
The Dallas Mavericks now find themselves in the ninth spot, half a game behind the Phoenix Suns and Memphis Grizzlies.
The Grizzlies face the Minnesota Timberwolves tonight while the Suns play the L.A. Clippers and the Mavericks have an off night.
In the Eastern Conference, there's several updates.
The Miami Heat have claimed the first spot after winning three straight while the Indiana Pacers have lost three straight, including getting trounced by the San Antonio Spurs. The Heat and Pacers are technically tied but the Heat are ahead. The Heat are playing the Milwaukee Bucks tonight while the Pacers face the Detroit Pistons.
The Brooklyn Nets clinched a playoff spot, after their surge in the second half of the season.
There's a big game tonight between the Nets and the New York Knicks, who are only one game behind the Atlanta Hawks for the eighth spot. The Hawks are playing the Chicago Bulls tonight.
The Bulls have climbed to tie the Toronto Raptors for the third spot in the East. The Raptors are playing the Houston Rockets tonight.
See full standings below.
Eastern Conference
1. x- Miami Heat (51-22)
2. x- Indiana Pacers (52-23)
3. x- Toronto Raptors (42-32) [9.5 games back]
4. x- Chicago Bulls (41-32) [9.5 games back]
5. Brooklyn Nets (40-33)  [11 games back]
6. Washington Wizards (38-36) [13.5 games back]
7. Charlotte Bobcats (36-38) [15.5 games back]
8. Atlanta Hawks (32-41) [19 games back]
9. New York Knicks (32-43) [20 games back] 
10. Cleveland Cavaliers (30-45) [22 games back]
Western Conference 
1. x- San Antonio Spurs (58-16) [18 game winning streak]
2. x- Oklahoma City Thunder (54-19) [3.5 games back]
3. x- L.A. Clippers (53-22)  [5.5 games back]
4. Houston Rockets (49-24) [8.5 games back]
5. Portland Trailblazers (49-27) [10 games back]
6. Golden State Warriors (46-28) [12 games back]
7. Memphis Grizzlies (44-30)  [14 games back] 
8. Phoenix Suns (44-30) [14 games back]
9. Dallas Mavericks (44-31) [14.5 games back] 
10. Minnesota Timberwolves (36-36) [20.5 games back]