2013 Buick Enclave: A Fine Luxury SUV
March 10, 2013 9:40 pm Last Updated: March 31, 2014 8:43 pm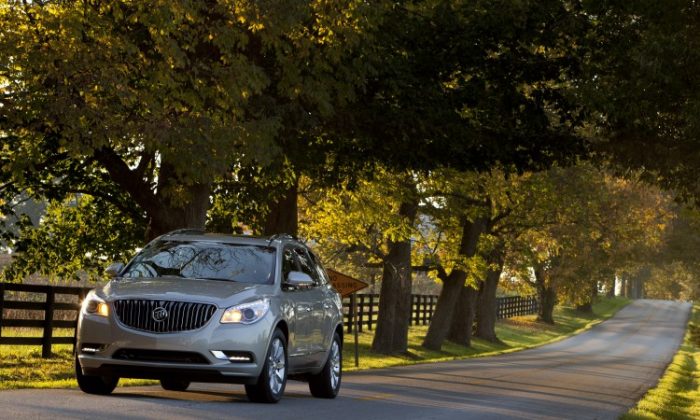 The 2013 Enclave Premium FWD is a fine luxury SUV designed to be spacious front to rear. Its sculpted lines flow in seamless strands, wrapping around LED-accented headlamps and tail lamps atop 19-inch or 20-inch wheels.
Inside, the Enclave gives a feeling of openness, while Buick IntelliLink (an interactive audio system) provides the entertainment.
There are several new safety features, but the driver's seat side-mounted front center airbag was interesting to me. An industry first, this airbag provides cushioning between the driver and the front passenger in side impacts.
Enclave's power comes from a 3.6 L V-6 with direct fuel injection and variable valve timing, delivering 288 hp and 270 lb.-ft. of torque. This pairs well with an electronically controlled 6-speed automatic transmission. The Enclave has a 22-gallon fuel tank and delivers 17 city/mpg and 24 mpg/highway for EPA fuel economy.
Buick has something called QuietTuning technology which helps block and absorb road noise and vibration, leaving you with an ideal environment for conversation or whatever sound you like listening to. I enjoyed the 10-speaker Bose premium audio system, which is a standard feature of the Premium trim.
The Enclave is quiet to drive and handles well in the turn. The driver's seat is command central. The control mechanisms are easy to reach and the icons clearly labelled, while air conditioning with tri-zone auto climate control places you in the temperature zone of your choice.
In 7-passenger configuration, the first row consists of leather bucket seats and the second row leather captain's chairs. In 8-passenger configuration, the second row seats are replaced by a fold-flat 60/40 split bench.
The second row seating features SmartSlide for easier third row access. Third-row legroom is best-in-class at 33.2 inches, and the maximum cargo room is 115.2 cubic feet, which is more than Mercedes R-class, Acura MDX, Lincoln MKT, Volvo XC 90, and Audi Q7.
Stylish Interior, But Cramped Floor Space
The Enclave's interior is luxurious and filled with numerous comfort features.
However, even though front row leg room is 1,050 mm, the layout of the floor configuration leaves inadequate room for me. With the accelerator, brake pedal, foot rest, and extended high parking brake lever taking up most of the room, a driver with large feet is going to be cramped.
I would recommend doing away with or enlarging the foot rest and redesigning the parking break or relocating it somewhere else, or simply enlarging the whole floor space. It is so cramped that it is difficult to move your right foot from the accelerator to the brake without getting tangled up.
Thanks to three rows of first class seating, you and six of your friends and their cargo get to share all the space. And you can get 8-passenger seating if you choose. Even with three seat rows up, you still have 23.3 cubic feet behind the third row for personal stuff.
The Rearview Camera System located in the center-mounted information screen, the available Side Blind Zone Alert that uses radar to warn you when a vehicle is in your side-mirror blind spot, and the optional Rear Cross Traffic Alert that makes you aware of oncoming traffic when backing up, are three great safety features adding to an already beautiful comfortable vehicle.
The engine is powerful, establishing quick acceleration when needing to pass or change lanes. The seats are comfortable, and with power memory and 8-way adjustment even a long drive or a tense drive in traffic is a breeze.
Standard vehicle price is $45, 625. Rear seat Entertainment and Dual SkyScape Sunroof with second row skylight could add an additional $3,000.
Durhl Caussey writes a car column read around the world. He may be reached at this paper or [email protected]