According to the American Heart Association (AHA), there's no minimum age requirement for learning cardiopulmonary resuscitation (CPR). Depending on their body strength, children as young as 9 years old are able to perform chest compressions on others.
That being said, have you ever come across a 2-year-old toddler administering the basic emergency techniques?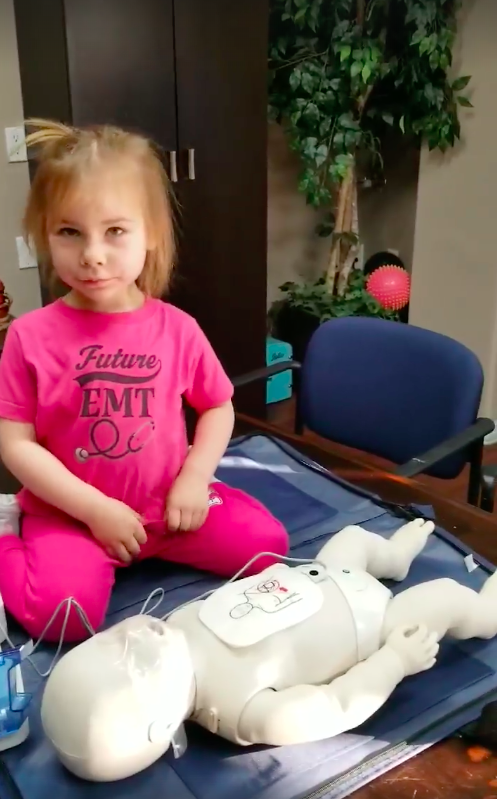 Recently, Chris Pietroforte, a firefighter and EMT for 19 years, from Tulare, California, uploaded several videos of his daughter, Saige Ella Pietroforte, performing CPR on Facebook.
In one clip, an adorable Saige, dressed in a pink T-shirt and trousers, shows us how easy it is to perform CPR. The little girl carries out chest compressions and rescue breaths on a test-dummy, all by herself.
"I tell people all the time, if a 2-year-old can learn, why can't you?" proud dad Pietroforte told InsideEdition.com.
If a 2 year can learn how to do CPR/AED and get the proper depth and rate. What's stopping you from learning? Contact us today at centralvalleycpr.us559.366.7413Disclaimer: This content is exclusively managed by Caters News. To license or use in a commercial player please contact licensing@catersnews.com or call +44 121 616 1100 / +1 646 380 1615

由 Chris Pietroforte 发布于 2019年1月26日周六
The incredible part was Saige mastered the life-saving techniques before she could even learn to walk.
Pietroforte, a CPR instructor on the side, started teaching Saige the emergency skills when she displayed an interest in the practice mannequin at one of his CPR classes, KFSN reported.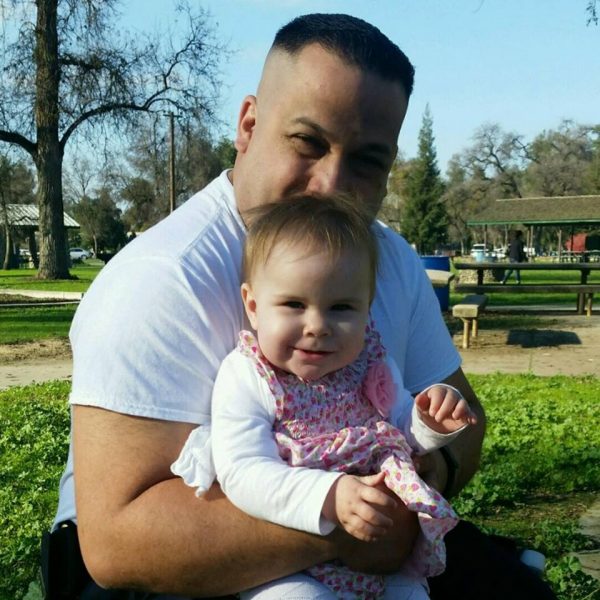 And as monkey see, monkey do!
"She crawled up to the CPR mannequin, grabbed the face mask, and put it on the mannequin," Pietroforte told YourCentralValley.com. "She watches and she learns, and ever since then, she's been just excelling in her skills."
Speaking to StoryTrender, the proud dad said, "Saige started learning at 14 months and has kept it up ever since."
"When Saige performs her skills in front of people, they're amazed and start to take pictures and videos," he added.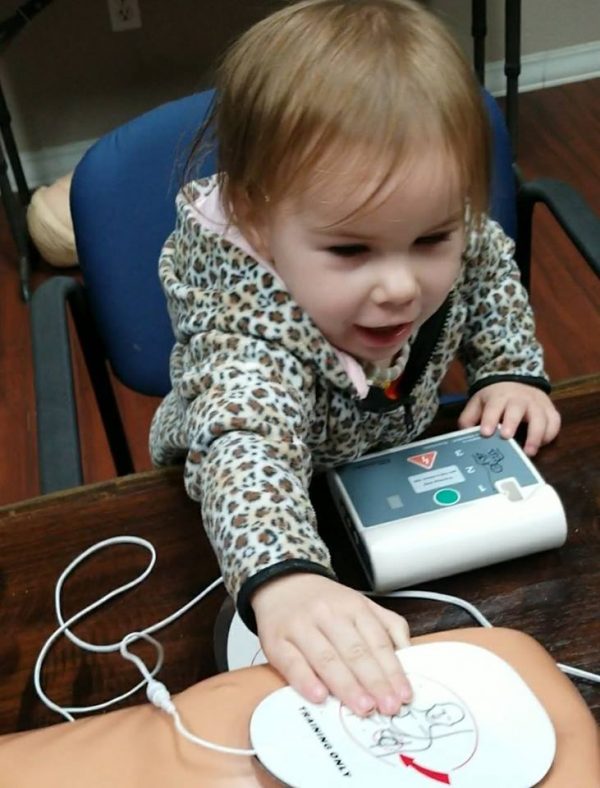 According to a New Cleveland Clinic survey released in 2018, only 54 percent Americans say they know how to perform CPR, and just 11 percent know the correct pace for administering CPR compressions (i.e. 100 to 120 beats per minute).
You may have seen adults performing CPR to the rhythm of Bee Gees, Stayin' Alive.
In Pietroforte's opinion, kids can perform the life-saving techniques to the popular children's song Baby Shark.
"Any song that's between 100 to 120 bpm, you can do it to," he said.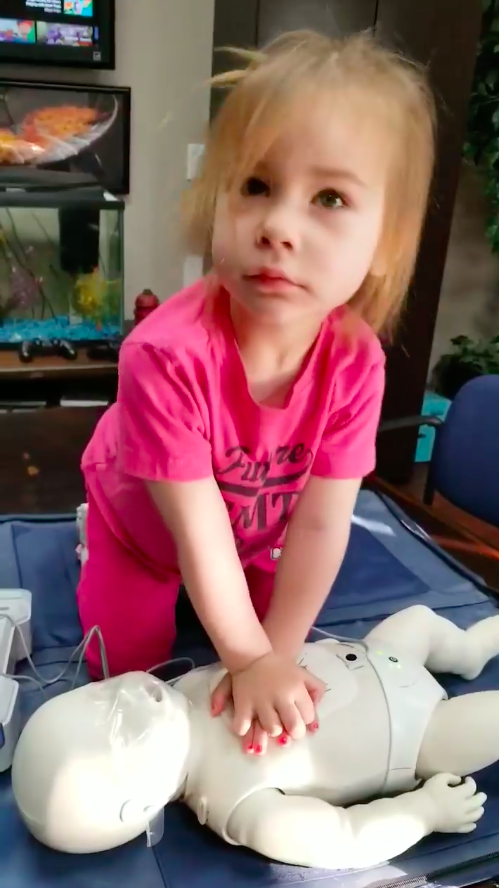 You'll be surprised to know that little Saige has outdone many adults, because she knows how to operate a defibrillator, and even the correct rate to do chest compressions.
"She actually goes to all my classes when I teach and she demonstrates how to do it. … So she's in there and I tell people that if they can't outdo her, they won't pass, and that's actually happened a couple times," Pietroforte shared.
Funnily, someone actually did drop out of an EMT class because he felt embarrassed that little Saige outdid him.
"He left because he didn't wanna be outdone by a 2-year-old," Pietroforte said.
It's no wonder Pietroforte thinks Saige will follow in his footsteps to be an EMT when she grows up.
According to Storytrender, Pietroforte said, "When asked what she wants to do when she gets older, she says 'help with big owies.'"
American Heart Association states CPR can double or triple a person's chance of survival after a cardiac arrest.
Hence, Pietroforte's goal is "to get as many people out there trained" in this emergency life-saving procedure.
In an email, he told The Epoch Times: "It is a great life saving skill to learn. When people need help and if there are a lot of people train out there to do CPR there us a better chance for survival."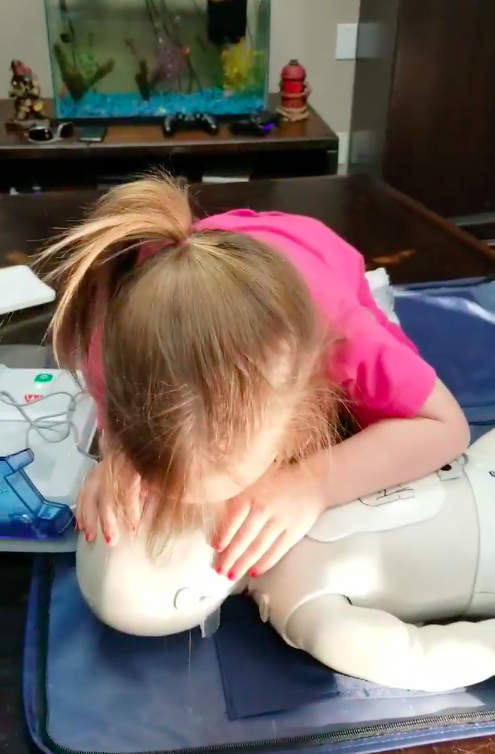 "I think everyone should learn CPR," he said. "It is an important skill for people to learn because it helps everyone in need."
"If a two-year-old can learn what's stopping adults from learning?" he continued.
Certainly, it's always handy to master these basic emergency techniques that could save anyone's life, including your parents, kids, or even a stranger. And there's no excuse for not learning it, because if a 2-year-old can perform CPR, you can too!
You may also want to watch this video
Border collie performs CPR on his owner, watch him execute those compressions