NEW YORK—Prosecutors say two more MS-13 gang members have been charged in a killing on a New York City subway platform.
Victor Lopez and Tito Martinez-Alvarenga were arraigned on Feb. 22, on charges including murder and gang assault in the shooting death of 20-year-old Abel Mosso. Video of a fight that turned into a homicide at the 90th Street subway station in Queens was circulated social media on Feb. 3.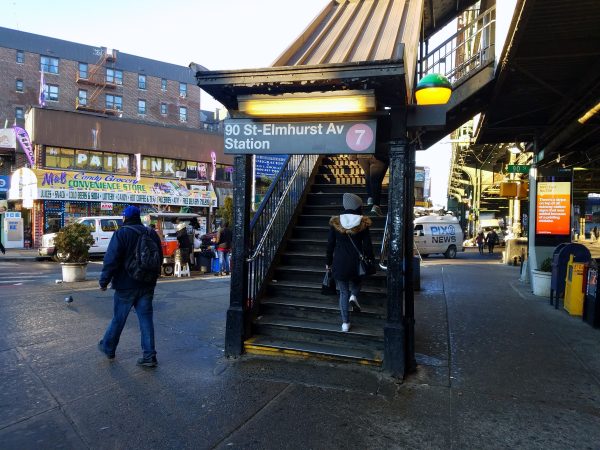 Prosecutors say two more MS-13 gang members have been charged in a killing on a New York City subway platform. https://t.co/iA4aS70oD7

— WOWT 6 News (@WOWT6News) February 23, 2019
Ramiro Gutierrez was arrested shortly after the killing. Queens District Attorney Richard Brown says all three defendants participated in assaulting Mosso before Gutierrez fired the final shot.
Authorities say all three defendants are MS-13 members. Mosso was suspected of being a member of a rival gang.
MS-13, or Mara Salvatrucha, is a notoriously violent gang that is known for its obscene methods of killing, including beheadings.
Person of interest in fatal shooting at 90th St/ Elmhurst Ave. 7 train subway station in Jackson Heights, Queens. pic.twitter.com/MfqvDKIzGi

— CeFaan Kim (@CeFaanKim) February 3, 2019
"What we know here now [is] that the individual we have in custody is an individual that is known to us," New York City Police Department (NYPD) Chief of Detectives Dermot Shea said. "He is in our criminal group database as an MS-13 gang member."
Information on attorneys who could speak for the defendants wasn't available.
Republican President Donald Trump mentioned the killing as an example of MS-13-linked violence in his Feb. 5 State of the Union address.
Two more suspects arrested in MS-13 subway shooting https://t.co/bD11uZvRLf pic.twitter.com/CralSow9lD

— New York Post (@nypost) February 21, 2019
MS-13 Committing Crimes in Queens
Shea emphasized the recent number of crimes suspected or verifiably committed by MS-13 members in Queens recently: including an incident in Far Rockaway and another that took place a few days later in Nassau County.
In an interview with The Epoch Times, Robert J. Bunker said, "MS-13 has created a brand—like Los Zetas in Mexico—based on its reputation for engaging in unspeakable acts of brutality using machete and knife attacks against those that cross it."
and here's a ms-13 video from @FoxNews from 2017 https://t.co/69CpHEmDTS #finishthewall #maga

— [o] (@occulturalism) February 16, 2019
Bunker is an adjunct research professor at the Strategic Studies Institute of the U.S. Army War College.
"There's been a number of cases specifically targeting them by our investigators and we'll continue to target any group that does violence in New York City," said Shea.
The Epoch Times reporter Miguel Moreno contributed to this report.