The Justice Department on Sunday announced two additional charges related to the breach of the U.S. Capitol building last week.
Larry Rendell Brock from Texas and Eric Gavelek Munchel from Tennessee were both charged with one count of knowingly entering or remaining in any restricted building or grounds without lawful authority and one count of violent entry and disorderly conduct on Capitol grounds. They were both charged in a federal court.
Federal prosecutors alleged that Brock entered the U.S. Capitol building wearing a green helmet, green tactical vest with patches, black and camo jacket, and beige pants. He was holding a white flex cuff, which is used by police officers to restrain or detain suspects, authorities said. Brock was arrested in Texas.
Meanwhile, authorities identified Munchel in photographs where he allegedly carried plastic restraints, an item in a holster on his right hip, and wore a cell phone on his chest with the camera facing outward.
The two cases are being prosecuted by the U.S. Attorney's Office for the District of Columbia together with the Counterterrorism Section of the DOJ's National Security Division and other U.S. attorney offices.
This comes after Michael Sherwin, acting U.S. attorney for the District of Columbia, announced on Jan. 7 that 55 people had been arrested and charged in Washington and federal courts in connection to violence that occurred when lawmakers and Vice President Mike Pence were counting electoral votes in a joint session of Congress.
Some of the rioters have been charged with crimes including unauthorized access to the Capitol and the Capitol grounds, holding firearms, and theft of property, Sherwin said during the press conference.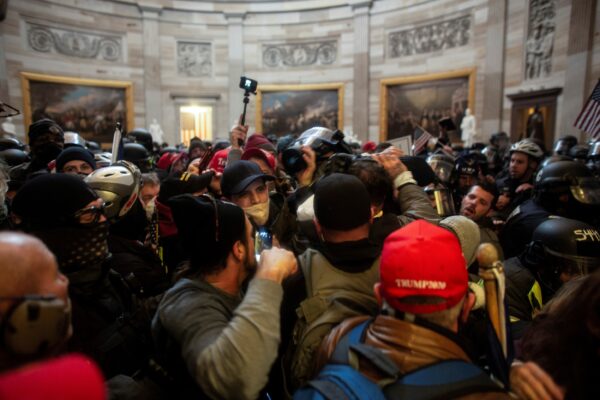 Authorities have also identified other protesters who allegedly participated in the riots on Wednesday, including Richard Barnett from Arkansas, who was allegedly photographed sitting with his foot on a desk inside House Speaker Nancy Pelosi's office; Derrick Evans, a Republican member of the West Virginia House of Delegates; and Adam Johnson, 36, who apparently appears in a widely circulated photo carrying Pelosi's podium.
This comes after a group of rioters and a minority of protesters waving American and Trump flags illegally stormed the Capitol building. The mayhem on the grounds left at least five people dead, including a police officer, and dozens of police officers injured.
The media, lawmakers, former officials, and other critics have put the blame on President Donald Trump for Wednesday's incident and have been calling for his impeachment. Earlier that day, the president addressed a crowd in Washington D.C. where he reiterated his allegations about election irregularities and fraud, and his dissatisfaction with the media and several lawmakers. At 12:16 p.m., he encouraged protesters to "peacefully and patriotically make your voices heard" at the planned protest outside the Capitol.
As thousands of protesters moved their demonstration to the U.S. Capitol, small pockets of violence were reported during clashes with police and media, while the vast majority of protesters remained peaceful. At 2:15 p.m., a subgroup of protesters began rioting, smashing windows in an attempt to enter the Capitol building as other protesters tried to stop them. Shortly after, at 2:38 p.m., Trump started posting on Twitter, urging his supporters to "Stay peaceful." He continued his urge for peace and respect for law enforcement throughout the afternoon.
Rioters ended up breaching the Capitol building, and other protesters followed. Trump has since condemned the "heinous attack" by intruders on the Capitol, saying "the demonstrators who infiltrated the Capitol have defiled the seat of American democracy."
"To those who engaged in acts of violence and destruction, you do not represent our country. And to those who broke the law, you will pay," he said.
On Sunday, Trump ordered U.S. flags across America and abroad to be flown half-staff until Jan. 13 in honor of the "service and sacrifice" of law enforcement, the U.S. Capitol Police (USCP), and the two USCP officers who died.
A second officer was reported dead on Jan. 9. The U.S. Capitol Police said Howard Liebengood died "off-duty" and the cause of Liebengood's death hasn't been released. It's unclear if his death is related to the riots on Jan. 6.
"As a sign of respect for the service and sacrifice of United States Capitol Police Officers Brian D. Sicknick and Howard Liebengood, and all Capitol Police Officers and law enforcement across this great Nation, by the authority vested in me as President of the United States by the Constitution and the laws of the United States of America, I hereby order that the flag of the United States shall be flown at half-staff at the White House and upon all public buildings and grounds, at all military posts and naval stations, and on all naval vessels of the Federal Government in the District of Columbia and throughout the United States and its Territories and possessions until sunset, January 13, 2021," the president said in a proclamation.