The Taliban regime in Afghanistan has arrested five men, including two Chinese citizens. They are suspected of smuggling about 1,000 tons of lithium-containing stones out of the country.
The regime's Ministry of Mines and Petroleum said on Jan. 21 that it had seized about 300 tons of these stones in Nangarhar province, and about 700 tons in Kunar province. Both provinces border Pakistan.
Mohammad Rasool Aqab, a head of the Ministry's Department of Revenue Regulation, said it was proven that the stones contain 30 percent of lithium.
The arrests were made by the Taliban's security and intelligence agencies. Dr. Bashir, the intelligence department's chief of operational affairs, told a news conference on Jan. 21 that they had uncovered a plan to smuggle the uncontracted and secretly extracted "precious stones."
"In order to arrest the main perpetrators, we gave them a chance to reach Jalalabad city," Bashir said. "Five people were arrested, two foreign smugglers who are Chinese and three Afghans who were their collaborators and did most of the buying."
Afghanistan has about $1 trillion worth of untapped rare earth minerals, including huge deposits of lithium, yet decades of war have hampered the development of the country's mining industry. Its lithium and many other minerals are known to be smuggled into Pakistan, refined, and exported to other countries in the name of Pakistan.
Lithium is a rare metal mainly used in modern technology, including smartphone batteries, electric motors, computers, and drones.
The Taliban has banned the mining and sale of lithium since the withdrawal of all U.S. and NATO troops from Afghanistan in August 2021.
The Taliban regime is not officially recognized internationally due to human rights issues, especially restrictions on women's access to jobs and education. The United States and Western countries have imposed economic sanctions on Afghanistan after the Islamic Emirate took power.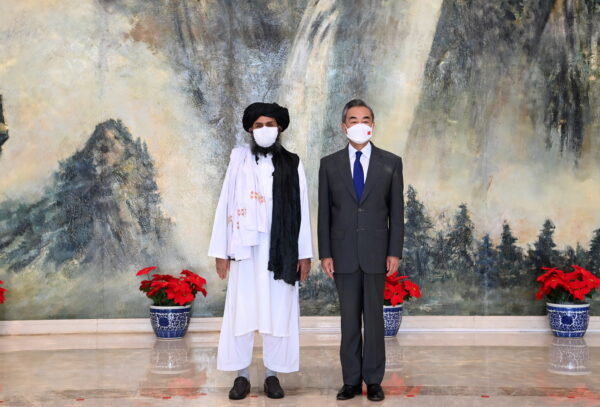 Despite trading with Afghanistan, the Chinese Communist Party (CCP) has been carefully dealing with the militant regime without offering formal diplomatic recognition.
When the Islamic rulers regained power in 2021, they repeatedly said they wanted Beijing to play a big role in helping rebuild Afghanistan. However, instead of handing over lithium mining rights to the CCP, the Taliban offered the olive branch first to South Korea.
"Afghanistan has natural mineral resources such as lithium, and South Korea leads the development of the global electronics manufacturing industry," Abdul Kahar Balkey, a member of the militant group's Cultural Committee, told Yonhap News Agency on Aug. 23, 2021.
Balkey said he believes the two sides can achieve mutual benefit and win-win results in this field, adding that the Taliban hopes to meet with South Korean leaders and business people and deepen economic and cultural exchanges with South Korea.