Five children have died and four more critically injured after falling from a jumping castle when it was blown into the air by a wind gust at Hillcrest Primary School in Australia's southern island state of Tasmania on Thursday morning.
The children who died included two boys and two girls in year 6, which would make them 10 or 11 years old, said Tasmania Police Commissioner Darren Hine. Police later Thursday confirmed a fifth child died in the hospital.
Police and emergency services were called to the scene around 10 a.m. on Thursday after a wind gust picked up the jumping castle and inflatable zorb balls.
First responders administered first aid to the Year 6 students on the scene, with the injured carried by helicopter to hospitals.
"On a day when these children were meant to be celebrating the last day of primary school, instead we're all mourning their loss," Hine told reporters on Thursday afternoon.
"Our hearts are breaking for the families and the loved ones, schoolmates, [and] teachers of these young people who were taken too soon."
Commissioner Hine could not say how many children were on the jumping castle when the incident occurred, but said an investigation is underway and a report will be delivered to the coroner in conjunction with WorkSafe Tasmania.
"That will take some time to complete and once it's completed it'll be handed to the coroner for an inquest," Hine said.
Premier Peter Gutwein offered his thoughts and prayers to those affected and said all of Tasmania would stand ready to support them.
"On a day when schoolchildren was celebrating at the end of term so close to Christmas, it's simply inconceivable that this shocking incident has occurred," he said.
"I know that this is a strong and caring community that will stand together and support one another. I know that they will do that with love and kindness to get them through this. I know I speak for all Tasmanians when I say that we will stand with this community through this difficult time as well," he added.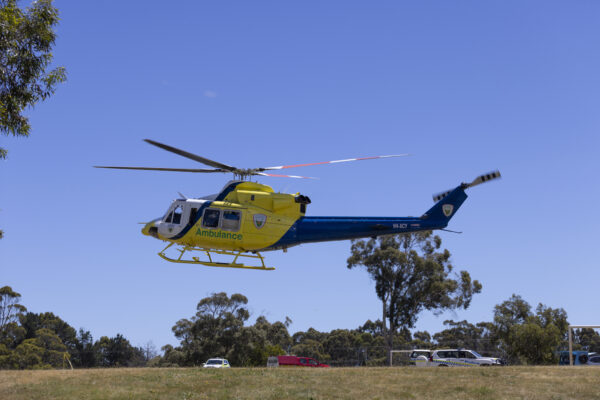 Earlier, Prime Minister Scott Morrison described the tragedy as "unthinkingly heartbreaking."
"My heart is breaking for those families and children impacted by the tragedy at Hillcrest Primary School in Devonport, Tasmania today," he wrote on Facebook.
"Young children having a fun day out at school and it all went horribly wrong. I cannot begin to imagine what those families are feeling. It's just shattering."
Morrison said he was in regular contact with Tasmanian Premier Peter Gutwein and extended condolences from his family.
"On behalf of Jen and I, my deepest condolences and prayers are with the family and friends of the children who lost their lives, as well as with the injured and all those who witnessed this terrible event, including the school staff.
"I'd also like to extend my thanks and support to the first responders to this deeply distressing event," he said.
The Associated Press contributed to this report.