Two illegal immigrants accused of raping children were set loose after authorities declined to hold the suspects in jail for Immigration and Customs Enforcement (ICE) to pick up.
The cases are the latest highlighting the breakdown of cooperation between ICE and local jurisdictions, some of which have so-called sanctuary policies that force law enforcement to stop working with ICE when handling illegal immigrants who have committed a crime while in the United States.
One man, Luciano Trejo-Dominguez, was arrested on Aug. 12 in New Jersey for aggravated sexual assault, sexual assault of a victim between 13 and 15, criminal sexual contact, and other charges, according to ICE.
ICE lodged detainers, or requests with the Cumberland County Jail to hold the suspect until federal officers arrived, on Aug. 13 and Aug. 14, but Trejo-Dominguez was released on Aug. 23 and remains at large.
The other man, Joaquin Quiroz Rodriguez, was arrested on Sept. 6 in Westchester County, New York.
He was charged with rape in the third degree of a victim under 17 years old, a class E felony under New York law.
The next day, ICE lodged a detainer.
"Westchester County Jail declined the detainer and Rodriguez Quiroz posted a bond. He is currently at-large," the immigration agency said.
Both men are from Mexico and are listed on ICE's "most wanted" list.
The agency didn't respond to a request for additional information.
Anyone with information on the suspects was urged to contact their local ICE office or call the national hotline at 1-866-DHS-2-ICE as soon as possible.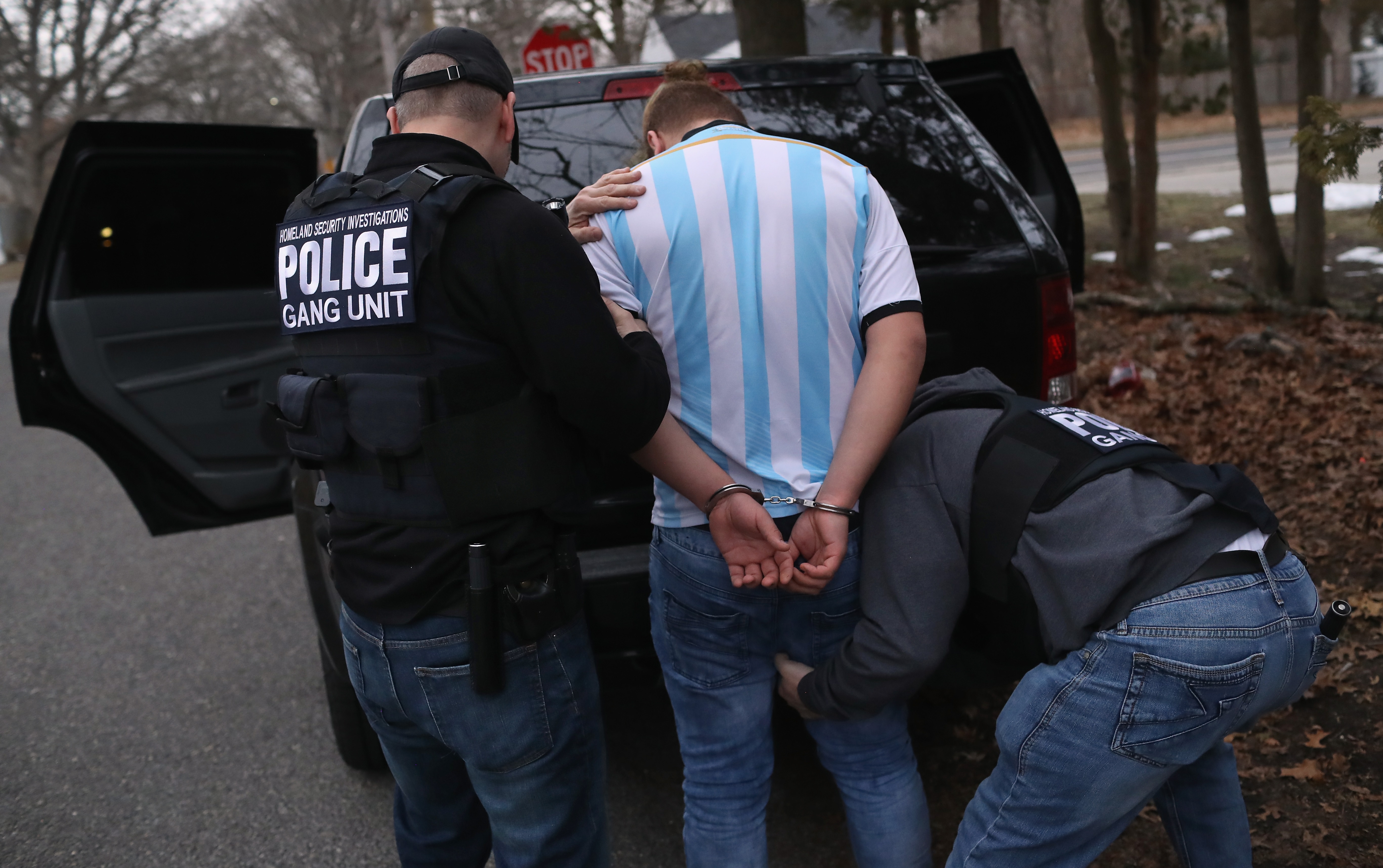 Sanctuary Policies
Top officials in both New York and New Jersey have both criticized ICE. New Jersey has a slew of sanctuary policies.
New Jersey's top prosecutor, Democratic Attorney General Gurbir Grewal, issued guidance (pdf) in Nov. 2018 telling law enforcement officers that they cannot ask people about their immigration status in most cases and ordered jails not to hold people charged with crimes for ICE.
"Put simply, New Jersey's law enforcement officers protect the public by investigating state criminal offenses and enforcing state criminal laws. They are not responsible for enforcing civil immigration violations except in narrowly defined circumstances. Such responsibilities instead fall to the federal government and those operating under its authority," wrote Grewal.
The guidelines included ordering law enforcement and jails not to provide notice of a detained person's upcoming release unless the detainee was charged with or has ever been convicted of "a serious of violent offense."
The directive went into effect on March 15.
An ICE official blasted state's sanctuary policies while announcing the arrest of over 50 illegal aliens on Thursday, Sept. 27.
"Enough is enough. We want jurisdictions to rethink their policies and laws they've enacted. That it really comes down to public safety," said ICE Deputy Executive Assistant Director Henry Lucero, reported News 12.
"Who are these sanctuary policies really protecting? The answer, sadly, criminal aliens."
In New York, there's been a push for sanctuary policies from some lawmakers but the state as a whole does not have such policies as of yet. Gov. Andrew Cuomo, a Democrat, sent a cease-and-desist letter (pdf) to ICE in April, saying arrests the agency made were illegal and accusing officers of using "aggressive tactics."
The operation Cuomo was responding to saw agents arrest 225 people for violating immigration laws. More than 180 of them were convicted criminals or had criminal charges pending.