Two boys were killed and one was injured after a sail boat struck a power line on Saturday, Aug. 5 in Marion County, Texas, according to officials.
The boys, who were with the Hallsville Boy Scouts, were seemingly electrocuted when their catamaran sailboat was sailing on Lake O' The Pines near Hallsville, about 30 miles west of the Texas-Louisianna border. The boat caught on fire as a result, and scouts onshore could be heard shouting for help, The Washington Post reported.
"Preliminary investigations and observations indicates the vessel, a Catamaran sailboat, collided with an overhead transmission power line and those onboard may have been electrocuted as a result," the Texas Parks and Wildlife Department said in a release.
All of the boys were wearing their life jackets.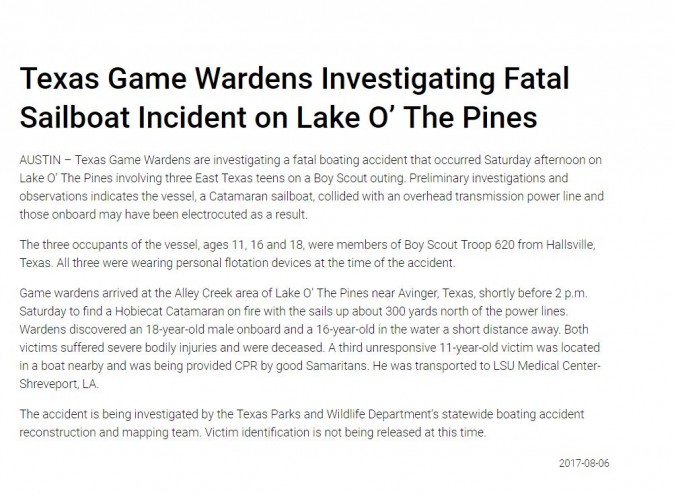 The three occupants of the boat were aged 11, 16, and 18.
"Wardens discovered an 18-year-old male onboard and a 16-year-old in the water a short distance away. Both victims suffered severe bodily injuries and were deceased," officials said in the release.
The 11-year-old boy scout was found injured and unresponsive nearby and was given CPR by good Samaritans on the scene.
He was then taken to LSU Medical Center-Shreveport in Louisiana.
"It was a tragic scene," Texas Game Warden Quint Balkcom told ABC affiliate KLTV 7.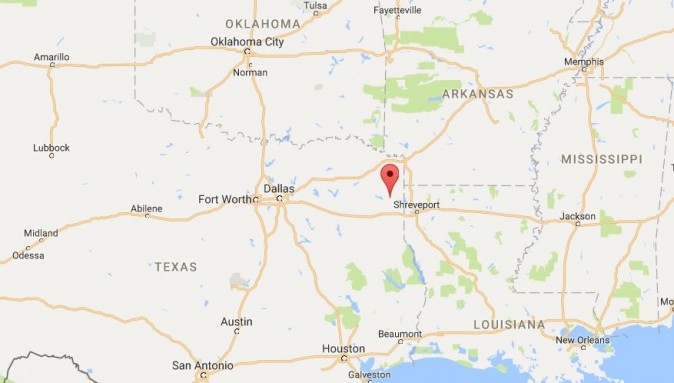 "We have to come together as a scout family and make sure we are supporting those who are carrying quite a weight right now," Daniel Anderson, chief operating officer for the East Texas Boy Scouts of America, told the Washington Post.
"You're talking about great young men, men of integrity," Sherri Morgan, the Hallsville band director, said at a candlelight vigil for the boys, according to the Longview News-Journal. "We're heartbroken, we're devastated."
"All is not lost, they leave a legacy," she said. "So they are going to live on forever."
The incident is s being investigated by the Texas Parks and Wildlife Department.