2,000 Chinese Sign Petition to Free Falun Gong Practitioner
November 21, 2012 1:20 pm Last Updated: October 1, 2015 11:48 am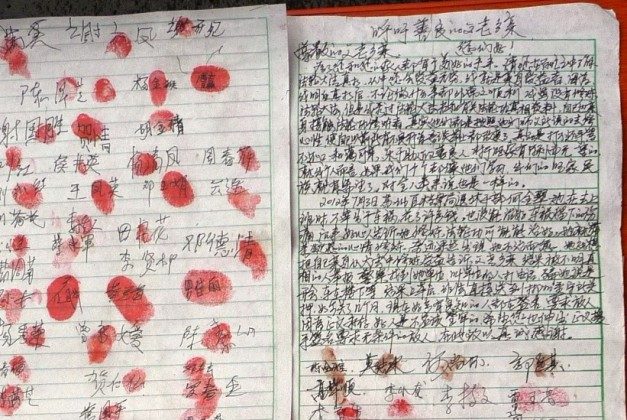 More than two thousand residents in China's Hunan Province signed an appeal for the release of a detained practitioner of Falun Gong in a continuing show of public support for the persecuted spiritual movement.
He Jincui, 56, of Chenzhou City was arrested in July after distributing pamphlets about the Chinese regime's ill-treatment of Falun Gong practitioners. Falun Gong is a type of slow moving, meditation exercise that was outlawed in 1999.
After He was abducted, several members of her community launched a petition to demand her release, ultimately garnering more than 2,000 signatures as of Nov. 17, according to Minghui.org, a website maintained by Falun Gong practitioners to document cases of persecution in China along with other Falun Gong activities around the world. 
"Did the communist Party seize another Falun Gong [practitioner]?" one woman asked while contributing her signature, adding: "Please hurry up and find more people to sign for her rescue." 
An elderly man, who signed the petition, described He's arrest as a "simply lawless" move carried out by Chinese authorities, saying he hoped that more people would sign.
"It's not a crime at all to practice Falun Gong," another woman said. "It's total nonsense for the police to seize good people rather than criminals!"
Thousands of Falun Gong practitioners have been killed by Chinese authorities' torture and mistreatment while in detention, according to Minghui. In addition, tens of thousands are believed to have become victims of state-sanctioned organ harvesting, according to independent reports. 
Leading up to the 18th Party Congress, Chinese authorities have intensified the persecution in an attempt to "maintain stability," with several practitioners in Chenzhou and other parts of Hunan losing their lives.
In early September, Minghui reported the death from torture of 65-year-old Falun Gong practitioner Jiang Meilan in Xintian County in Hunan Province. Jiang died 23 days after being taken to the Laodaohe brainwashing center. 
An examination at the hospital revealed that her internal organs were smashed and she had burn marks from electric batons on her mouth and all over her body.
Another practitioner, Xu Chenseng, who worked for the Chenzhou Cigarette Factory, was abducted on the street on May 16 and interrogated for 12 hours. During the entire time she was not allowed to drink, eat, or use the toilet. 
Later, Xu was taken into a police car where she died on the way to the detention center. Beihu Public Security Bureau notified Xu's family two days later and told them that she had died of "sudden illnesses." 
The family asked for an autopsy, but government officials and staff from the public security and prosecution units deterred them from it. At the present time Xu's body is still held in the mortuary's freezer.
Editor's Note: When Chongqing's former top cop, Wang Lijun, fled for his life to the U.S. Consulate in Chengdu on Feb. 6, he set in motion a political storm that has not subsided. The battle behind the scenes turns on what stance officials take toward the persecution of Falun Gong. The faction with bloody hands—the officials former CCP head Jiang Zemin promoted in order to carry out the persecution—is seeking to avoid accountability for their crimes and to continue the campaign. Other officials are refusing to participate in the persecution any longer. Events present a clear choice to the officials and citizens of China, as well as people around the world: either support or oppose the persecution of Falun Gong. History will record the choice each person makes.
Read the original Chinese article.
The Epoch Times publishes in 35 countries and in 19 languages. Subscribe to our e-newsletter.
Click www.ept.ms/ccp-crisis to read about the most recent developments in the ongoing crisis within the Chinese communist regime. In this special topic, we provide readers with the necessary context to understand the situation. Get the RSS feed. Who are the Major Players?