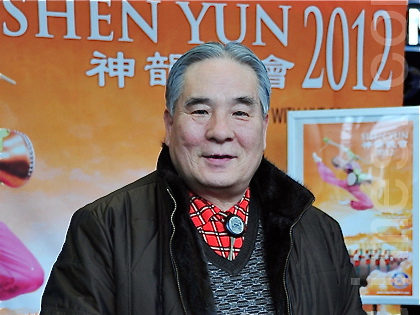 DAEGU, South Korea—The second day of the five-day extravaganza at Daegu Suseong Artipia was buzzing with excitement as Shen Yun Performing Arts New York Company continued its Korean tour. After the performance, Kim Seong Hwan, President of Korea Performing Arts Community said: "It was a very touching performance. People became so emotionally charged. Such a performance will bring much inspiration for anyone in attendance."
A former dean of the College of Music at the Catholic University of Daegu, Mr. Hwan has been a regular attendee at Shen Yun performances for many years. He expressed his gratitude that Shen Yun continues to come to South Korea, bringing such wonderful programs. As a vocalist, he praised the high musical standard of the Shen Yun award-winning vocalists.
Mr. Hwan said emotionally: "It was a very touching performance and people became emotionally charged. … This show will fulfill one's needs, both mentally and spiritually."
Mr. Hwan was accompanied by his wife, Pak Yeon Jin, a dancer and treasurer in the city government of Daegu. As a professional dancer in traditional Korean dance, Mrs. Jin said that the extremely hard work and training by the performers had paid off, giving the audience a sense of blessing.
Ms. Jin said she adored the handmade costumes of Shen Yun: "The couturiers that made these costumes must be very knowledgeable about the materials and the fabrics."
Most residents of Daegu are rather quiet and introverted, keeping their emotional passion to themselves. Mrs. Jin said, "If such an excellent performance were held in Seoul, the passion of the audience would explode through the roof."
Deputy Speaker: 'I seem to have gone to a divine world'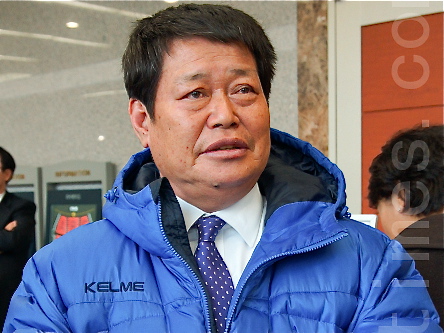 After attending the performance, Mr. Kim Yong-sik, Deputy Speaker of Gunbuk-myeon Assembly in Korea's Haman-gun, said: "I seemed to have gone to a divine world, and I was deeply moved; my eyes were brimming with tears."
Mr. Kim Yong-Sik was elected as member of the Gunbuk-myeon's Sixth Assembly on July 1, 2010, and he was further elected as Deputy Speaker after he initiated the enactment of the statute governing the prevention of jerry-built projects. He also won the local assembly member dedication award. He said that it was his first time to see the performance of classical Chinese dance.
He praised Shen Yun, saying: "I felt it was so colorful … The choreography is perfect, and the performance was marvelous."
Mr. Kim Yong-Sik said that he was especially impressed with the dance The Choice, which depicts Falun Gong practitioners' steadfast faith in their belief, despite the brutal persecution by the Chinese Communist regime. He commented, "Though Falun Gong has gone through various kinds of persecution, it has been practiced by many people in other countries, such as South Korea and the United States, etc. It is really remarkable."
Overwhelmed by the wonderful performance, Mr. Kim concluded by saying, "All in all, it is really perfect."
'Humans should live with kindness and compassion'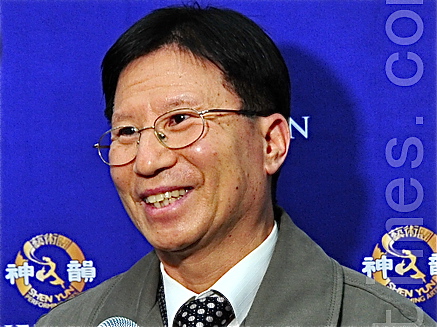 President of the Korean Society of Green Manure Crop Research, Mr. Xi Zhungxu (translation name), said Shen Yun contained the Oriental cultural characteristic of guiding people to be good and helping people to have right concepts.
He emphasized, "Don't people in our country (Republic of Korea) also believe in the principle that good begets good, and evil leads to evil? What impressed me most was the Oriental-specialized message implied in the program, that is that humans should live with kindness and compassion."
"As we all live in the Oriental community, there are many similarities between Korean culture and Chinese culture. We all should be clear about the direction of our lives. If the audience can learn from the show and find the right direction for their lives, it would be great. It would be perfect, if a lot more people could come to see the Shen Yun show," he continued.
Mr. Xi also noted, "China is a very big country, and its geographic area is much larger than that of ours. It is great to appreciate the programs with different cultures. What we saw today were all new programs that I had never seen before."
Reporting by Li Daina & Frank Fang, Li Yuzhen and Billy Shyu.
Shen Yun Performing Arts, based in New York, tours the world on a mission to revive traditional Chinese culture. Shen Yun Performing Arts New York Company will perform in various cities in Korea until March 4 and then continue to top venues in Taiwan, Australia and New Zealand.
For more information visit ShenYunPerformingArts.org
Read the Chinese article
Read the Chinese article
Read the Chinese article