A 19-year-old Bangladeshi girl has died after being doused in kerosene and set alight by four burka-clad assailants on the roof of her madrassa school after she refused to withdraw allegations of sexual abuse.
Nusrat Jahan Rafi two weeks earlier had accused the headmaster of touching her in an inappropriate manner at the Islamic school in Bangladesh, where women often don't speak out against sexual abuse for fear of reprisals.
News of her death on April 11 sparked widespread protests and the public has closely followed the investigation, which has, so far, led to 18 arrests.
Eight people are currently facing charges over conspiring to fake her suicide, allegedly at the request of the headmaster, according to the New Age Bangladesh.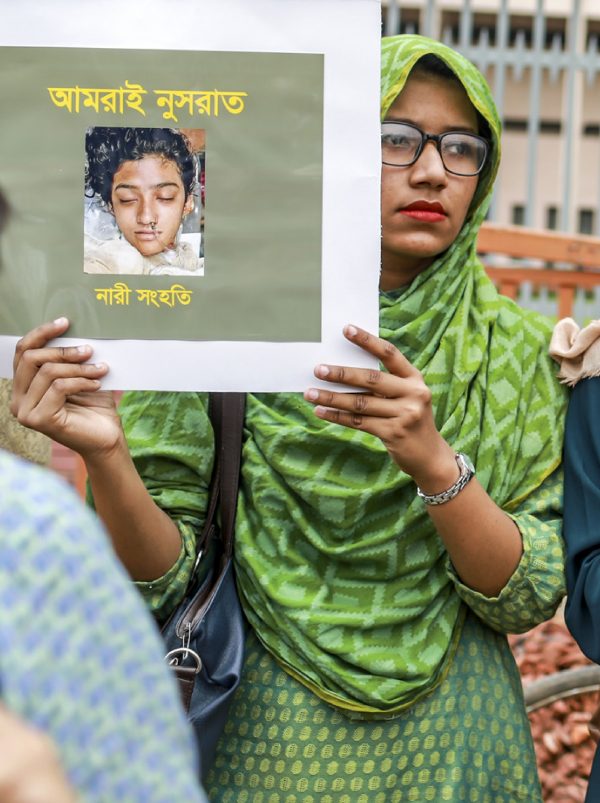 Rafi survived for five days after being set on fire on April 6 at the Sonagazi Islamia Senior Fazil Madrassah.
Her assailants tried to make Rafi's death appear as a suicide, according to police, the BBC reported, but they were thwarted when she was rescued and recorded a defiant message on her brother's phone in the ambulance.
"One of the killers was holding her head down with his hands, so kerosene wasn't poured there and that's why her head wasn't burned," Police Bureau of Investigation chief Banaj Kumar Majumder told the BBC.
She returned to the school on April 6 to take her exams, despite threats that followed the arrest of the headteacher in Feni, a small town 100 miles south of Dhaka.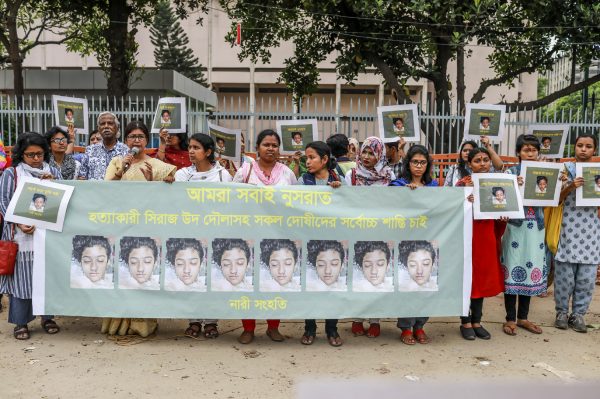 Rafi filed a complaint with police on March 27, accusing the headmaster of calling her into his office and repeatedly touching her in an inappropriate manner. She said she ran out before things could go further.
According to Bangladeshi media reports, other students have since reported that the headmaster sexually assaulted them.
The headmaster was arrested, prompting a protest outside the police station organized by locals.
The man tried to molest Nusrat alone at least three times before her family filed the sexual harassment case last month, which reportedly led him to hatch a plot and have his cohorts kill the girl.

Posted by Dhaka Tribune on Thursday, April 11, 2019
According to Rafi's own statement, she was led to the roof of the school by a female student, who told her a friend had been beaten up, the Bangladesh Independent reported. But instead, she found herself surrounded by four people hidden under burqas who demanded she withdraw her allegations.
When she refused, they tied her hands, doused her with liquid, and told her to run. Only once she began to run, did she realize she had been set on fire.
According to local media reports, the headmaster, Siraj-ud-Daula, was very well-connected politically. The Dhaka Times quotes sources as saying he was protected by at least 15 "influential politicians "in exchange of money and gifts for the last 18 years."
According to the Daily Star, two of the men charged in the case have confessed in court to setting Rafi on fire, claiming they did so at the instruction of the headmaster.
Following a national outcry over the case, the prime minister of Bangladesh has promised stern action against the killers.