One person died after an 18-wheeler flattened a tow truck on Interstate 35 in San Antonio.
.@SATXFire working to pull person out of vehicle on Interstate 35. Highway is shutdown at Somerset. pic.twitter.com/1bfwIbOhP3

— Jacob Beltran (@JBfromSA) November 30, 2017
The accident happened around 9:30 p.m. west of Somerset Road, San Antonio Police Department Sgt. Arthur Lindley told San Antonio Express-News.
Can hear lots of grinding coming from wreck where @SATXFire is working to remove victim on I-35 South. @mySA pic.twitter.com/cujIlsDqaS

— Jacob Beltran (@JBfromSA) November 30, 2017
There are conflicting reports about how the accident happened—whether the tow truck pulled into the fast lane in front of the 18-wheeler or the 18-wheeler pulled into the right lane behind the tow truck.
A tractor trailer rests atop a vehicle on Interstate 35 South at Somerset Road in San Antonio on Wednesday, Nov. 29, 2017. One person is known dead in the accident. @ExpressNews #Texas story by @JBfromSA soon @ExpressNews @mySA pic.twitter.com/6khSiRx3wW

— Billy Calzada (@BillyCalzada) November 30, 2017
"My understanding is the tow truck was going slower," Lindley said.
Regardless, the 18-wheeler crashed into a big rig towed by the truck, and rode over the tow truck, smashing the cab.
"He ran right over the top of it, couldn't stop," Lindley said.
The 18-wheeler was driving the 70 mph speed limit, investigators said.
The passenger in the tow truck was trapped in the wreckage and pronounced dead at the scene.
Drivers of both the 18-wheeler and the tow truck were taken to hospitals, Brooke Army Medical Center and the University Hospital. They were in stable condition, police said.
The crash "sounded like a firework," said Jackie Cooremans, 25, who was in a nearby residence with her boyfriend.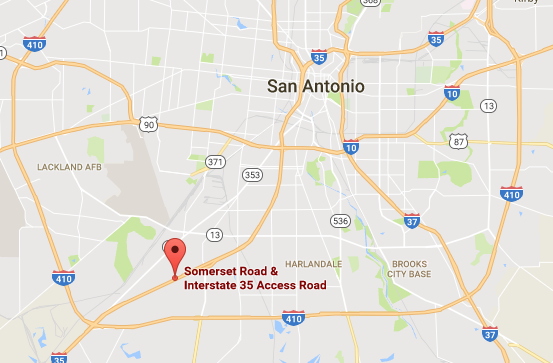 They walked to the scene and saw that some people stopped to help free the drivers.
"The driver from the bottom (vehicle) had a head injruy," Cooremans said. "He had a lot of blood."
"King Kong" tow truck just arrived on scene. @mySA pic.twitter.com/LBFyfCiabX

— Jacob Beltran (@JBfromSA) November 30, 2017
San Antonio Fire Department hazmat crews were at the scene to clean up oil that spilled on the road.
Authorities had shut down the southbound lane of I-35 during the night, but it has since been reopened.
While you're here… Share!
We work hard to deliver the most important and interesting news every day for you, but would like to ask a little favor in return: Would you please share this story with your friends? You can just click the share button below. Thank you!