A teen from Texas spent 10 days on a ventilator after his lungs failed, and doctors think vaping is to blame.
"I woke up just throwing up everywhere, and my heart was beating out of my chest going 100 miles an hour," Tryston Zohfeld, 17, told ABC affiliate WFAA.
His family rushed him to the Cook Children's Hospital in Fort Worth, where he was taken to the ICU and placed in a medically induced coma. He was then hooked up to a ventilator for about 10 days.
"The day they intubated him was the worst day of my life," Matt Zohfeld, Tryston's father, told the local news station. "We walked into this hospital very naive about what we were dealing with."
"We had no idea if he was going to make it through or not," his father noted. "That was very difficult to come to terms with."
X-rays showed that the teen had a total blockage in his lungs.
"We eliminated everything that we could possibly think of that could have caused it," Dr. Karen Schultz, a specialist in pediatrics and pulmonology, told the station.
Another family member revealed that Tryston had been vaping since he was in the 8th grade, and his parents reportedly didn't know about it.
"The lightbulb started coming on," his father explained. "It started making sense why we weren't finding anything else."
Tryston was released from the hospital after spending 18 days.
"I was definitely given a second chance, and as soon as I woke up from that coma I knew what I wanted to do," he explained to WFAA. "This is really what could happen and it's not something to look over. They're not as safe as you think."
Vaping on the Rise
According to CBS News, health officials are investigating a sharp increase in severe lung illnesses that have been linked to vaping.
"There has been an astronomical increase of teens and young adults who are using e-cigarettes," University of Alabama at Birmingham pediatrician Dr. Susan Walley told the broadcaster. "We're also seeing a lot more teens with use that implies they have very high levels of addiction."
The U.S. Centers for Disease Control and Prevention (CDC) reports no specific vaping product has been linked to all the illnesses.

Top vape pen manufacturer Juul says that it is "monitoring these reports and we have robust safety monitoring systems in place … Reporting also suggests the teenagers were vaping both nicotine and THC, a schedule 1, controlled substance that we do not sell," CBS reported.
The CDC says many patients told health officials that they used vaping products along with THC.
"The major point that I would like to get across to parents is that e-cigarettes are not safe," Walley said. "We're seeing some very, very concerning health effects and we really don't know exactly what the long-term data is going to show."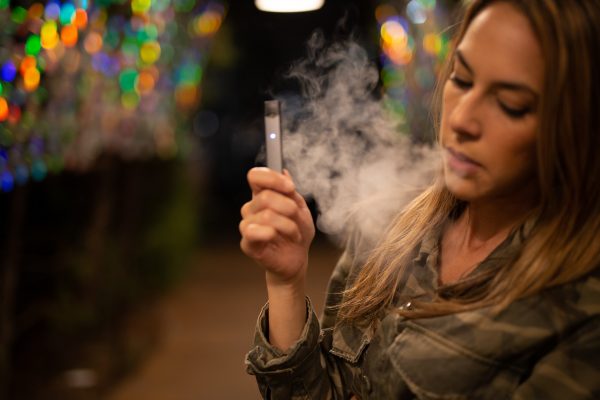 Last week, the CDC said that it is investigating 153 possible cases of severe lung disease across 16 states that might have been caused by vaping, CNN reported.
"While some cases in each of the states are similar and appear to be linked to e-cigarette product use, more information is needed to determine what is causing the illnesses," the CDC said.