16,000 Cases of Hand, Foot and Mouth Disease in China, 28 Deaths
May 12, 2008 12:00 am Last Updated: May 12, 2008 12:00 am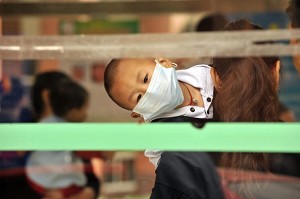 Enterovirus, better known as Hand, Foot and Mouth Disease (HFMD) has become an epidemic in mainland China. As of Wednesday, May 7, at least 16,000 children are known to have become infected with HFMD and at least 28 deaths have occurred as a result.
According to local provinces and cities, increasing numbers of HFMD cases are sprouting up.
As of May 6, the Guangdong Province's health department reported 3,100 cases of HFMD, 1,408 more cases than one day ago. No death has been reported.
As of midnight May 5, the numbers in Fuyang City, Anhui Province's health department showed 738 new cases of HFMD. A total of 5,667 cases of the disease were reported in with 22 deaths.
At the same time, scattered reports of cases from 17 cities in Anhui totaled 6,445. 3,166 of these cases had been treated and cured, 104 of which were severe.
1,988 cases of HFMD were reported to the Shanghai health department as of May 5. No severe cases or deaths were reported.
HFMD has continued to spread in Beijing which will be hosting the Olympics. According to health officials in Beijing, as of three days ago there were 1,482 cases of HFMD. However the department did not reveal any new cases since. Outbreak hotspots have been discovered in two children nursery schools in Beijing. The nurseries have been closed.
As of 1 p.m. on May 6, the health department in the Guangxi Autonomous Region in southern China reported 169 cases of the HFMD. One death was reported.
The Chinese health department and the World Health Organization held a press conference in Beijing on May 8. Both Chinese and foreign media paid close attention to the situation with many foreign media correspondents continuously asking questions.
However, health spokesman Qunan Mao didn't reveal any information regarding the HFMD epidemic that everyone was most concerned about. After the press conference as journalists continued to ask Mao questions, he would only say that new information would be forthcoming.
In the press conference, Mao said that there were no significant changes in the HFMD situation. He said that based on the nature of the disease, there will most likely be more cases in June and July. "Experts estimate that there may be more outbreaks in other areas as well."
Mao assured that China will further strengthen the monitoring and containment of the disease, and that the epidemic will not affect the Olympics Games in Beijing.