More than $140,000 has been raised to support a California teacher who was seen on video punching a student in class last week.
A GoFundMe for Marston Riley, a music teacher at Maywood Academy High School in Los Angeles, had raised $146,000 as of Nov. 7.
The video shows Riley hitting a student, 14, in the head before hitting him again.
Cecilia Diaz Jimenez, who started the GoFundMe page, is a former colleague. "We all may have mixed feelings about what happened. But please do know that this is not the first time that Mr. Riley is attacked; physically or verbally. He is a great person and a great teacher," Jimenez said.
Reports said that Riley was called a racial slur before he punched the student, who was not identified.
Riley was arrested and taken to the sheriff's office on child abuse charges, CBS Los Angeles reported. He was booked on $50,000 bond.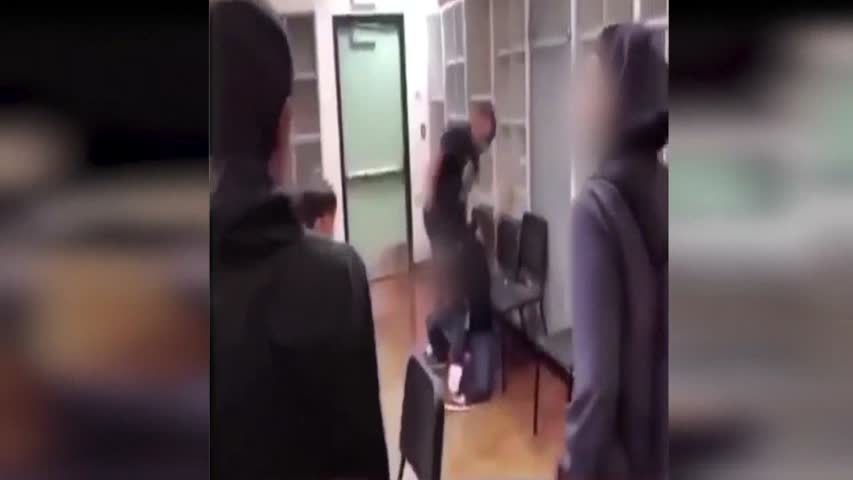 But parents were furious about the incident.
"That's really disrespectful. It's a teacher, so that's not OK, you know," Maywood resident Jenni Chavez told CBS. "But however, it's still not OK for the teacher to have punched a student either."
Another woman said that it's not right that a teacher hit a child. "Just the fact that he's hitting a child—it's not right," one woman told the station.
"I think something needs to be done. That's way out of hand," a parent told CBS Los Angeles. "I send my kids [to] school to learn, not to hit," another parent told the outlet.
A student who saw the fight told local media outlets that they were terrified.
"It was just back and forth, back and forth, and then the teacher just decided to throw a punch and that's when everything happened," the student told CBS Los Angeles about the incident.
Another student described Riley as a "nice teacher," KTLA reported.
"I had this teacher before and I had no problem with him," the student was quoted by the network as saying. "He was a really nice teacher, I always respected him. He always had a really good relationship with every student."
'Extremely Disturbed'
Los Angeles Unified School District said they were "extremely disturbed" by the fight, the Los Angeles Times reported.
"We take this matter very seriously and do not condone violence or intolerance of any kind," a spokeswoman said, Yahoo News reported. "Los Angeles Unified is cooperating with law enforcement in investigating this incident. Crisis counselors and additional school police patrols will be at the school on Monday to support our students and staff."