Fourteen dogs died in a box truck after the vehicle lost its power, The Humane Society of St. Joseph County announced on its Facebook page on Sunday. 
The Humane Society of St. Joseph County in Mishawaka, Indiana, is currently investigating what led to the malfunction in power that occurred on July 22 in Roseland, Indiana. 
According to The South Bend Tribune, the dogs, who were there for an American Kennel Club dog show at the St. Joseph County Fairgrounds, were found dead in a box-style truck that belonged to Lakesyde Kennels and Handling of Wellington, Ohio.
The vehicle was parked outside of a hotel, and the truck's air conditioning was turned on and plugged into the hotel, providing power to the truck's air conditioning—which worked without incident days prior.
The kennel worker fed, watered, and exercised the dogs, and went into the hotel to nap for about two hours, the article states.  At some point a circuit breaker was thrown inside the truck, shutting off the power to the air conditioning.
When the kennel worker returned about two hours later, the dogs had died.
"I felt it was just a tragic accident," Lt. William Redman said.
The Humane Society released a statement on July 24 following Friday night's incident:
On July 22, 2016 tragedy struck in Roseland, Indiana. Humane Officer Hellums and myself met St. Joseph County Police Officers at the Quality Inn on Dixie Hwy in Roseland to discover that 14 canines had died when there was a power failure to a vehicle housing the animals. All of us here at the Humane Society of St. Joseph County are heavy-hearted over the loss of these fourteen beloved companion animals and our thoughts and prayers go out to their owners in this time of grief. We are continuing our investigation into this incident but nevertheless this is a tragic and devastating situation for all those involved. I just ask that we all respect the seriousness of this incident and show compassion to the nine owners who have lost their beloved pets.
The average body temperature for a dog is between 101 and 102.5 degrees F.  If the temperature reaches 104 degrees or more, it is very likely heat stroke will set in.
To get more in depth information on how to keep your pets safe in extremely hot temperatures visit this website: PetMD.com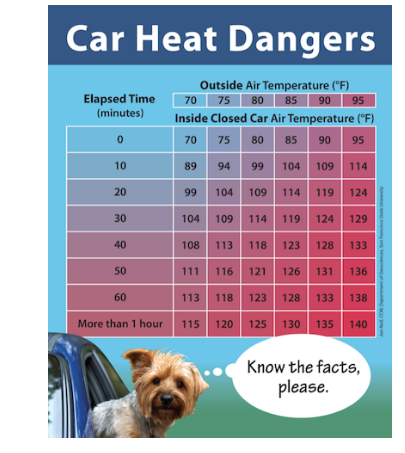 According to Sunday's statement issued by the Humane Society, owners should place the palm of their hand on the sidewalk or road before taking their pet for a walk.
"If you can't stand to keep your hand pressed onto the sidewalk or pavement for longer than 10 seconds, then it is too hot for you to walk your pet on it," the statement reads.
It is imperative for pet owners to keep walks and outside play times to a minimum on hot days or choose cooler times of the day for activities instead.