Thirteen-year-old Laura Kamhuber made waves during her audition for "The Voice Kids Germany."
The girl chose to sing Whitney Houston's "I Will Always Love You," which in turn, was a cover of an earlier Dolly Parton song.
After she was done, two of the judges felt that it wasn't enough to hit the button once, and continued to smash it as the last notes trailed off.
One of the judges, Henning Wehland, asks Laura to take a seat on Tim Bendzko's chair. He said that she wasn't supposed to sing the song because it's "unsingable," but added that she nailed it.
Ultimately, the Austrian teen didn't make it all the way, but it's hard to deny her talent.
Since then, Kamhuber has recorded three albums.
Golden Buzzer Hit After Teen Cancer Survivor Sings 'Fight Song'
Calysta Bevier, a teen battling Stage 3 ovarian cancer, managed to beat the cancer. A year later, Caly was stepping up to the stage of America's Got Talent, staring at the tough judges panel with Simon Cowell at its head.
As the brave teen said in her audition video: "A year ago there were moments when I would lay in my hospital bed, and thinking 'Will I make it? Will I get through this?'" One of the things that kept her going was her friendships with other kids and teens fighting cancer. "A lot of the kids I met in the hospital, they didn't make it. And I was one of the lucky ones who got out."
"I kind of came here today to show people that whatever you've gone through, keep chasing your dreams," she said. After that, it was Bevier's turn to show the judges, and America, what she could do with her voice.
Bevier chose Rachel Platten's inspirational anthem Fight Song, which the singer-songwriter had originally created to talk about her struggles in the music industry. But sung by a teen who fought off cancer, lyrics such as "I'll play my fight song / And I don't really care if nobody else believes / 'Cause I've still got a lot of fight left in me," took on a whole new meaning.
Typically known for tough criticism of performers, Cowell surprised everyone with his amazingly kind words for this young survivor. "I predict great things are going to happen for you. There's something about you."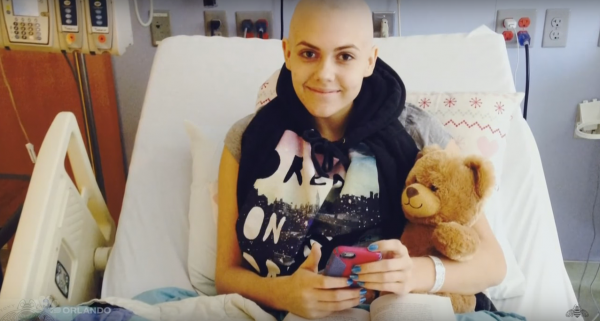 After hesitating a moment, Cowell got up on his feet and reached over to hit the golden buzzer, automatically advancing Caly to the main competition, regardless of the other judges' verdicts.
As Caly broke into tears, Cowell went up on stage to give her a big hug and tell her, "I think you're really special." A fairy tale come true for this impressive young woman.
Robert Jay Watson contributed to this report