121 Human Skulls Found in China
April 7, 2006 12:00 am Last Updated: April 7, 2006 12:00 am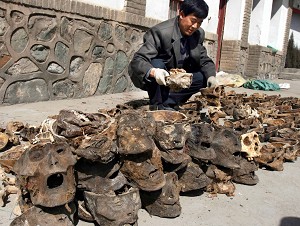 On March 27, police found 121 skulls 1 km away from a highway and 10 km from the southern Tanshanling Town in Tianzhu Tibetan Autonomous County in Gansu Province. The skulls were found near the boundary of Gansu and Qinghai provinces. The skulls were subsequently sent to College of Life Science at Lanzhou University and identified as human skulls.
Scattered in a Brook
According to Lanzhou's news report, on March 25, a herdsman from Tanshanling discovered the skulls scattered along a brook while he was driving his cows to the Dawankou area, 10 km away from the town. On March 27, the local police reported the case to the Tianzhu County Public Security Bureau.
Mystery surrounds these skulls, and the discovery shocked the police. The police force in Tianzhu rapidly pursued investigation.
On the spot the police revealed six or seven woven bags and flour bags filled with skulls. The open bags were abandoned in the canal at Dawankou.
Expert: Skulls were Human Heads
The local villagers thought the skulls were monkey heads. At 6 p.m. on March 31, the case investigators sent part of the bones to the College of Life Science at Lanzhou University for identification. After observing the specimens, Professor Liu confirmed these were human skulls.
Heads of Men and Women of Various Ages
Professor Liu said, "None of the skulls are monkey heads, but all are human. These skulls are of young and old persons, and male and female. The nose bones of the young ones have not closed up yet and old men's tooth are worn out badly."
A droopy mustache was left on the upper lip of one head. This evidence shows that he was killed after short detention. False teeth [denture] can be found in both upper and bottom jaw of one skull, and the crown is clearly visible and in good shape.
Facial Expressions are of Terror
During investigations, the skulls were noted to have been sawed off from the eyebrows with the edges cut cleanly.
The faces still contained grave expressions that remained even after death. The brows were contracted, mouths were opened widely and some heads had protruding tongues. The investigators determined that the people were slaughtered and did not die of natural causes.
Evidence in Unusual Location
The location where the skulls were found is nowhere near a village and is in a virtually uninhabited area. The skulls could have been thrown from the highway directly. The evidence on the scene indicates it is not where the crime was committed. It is possible the criminals threw away the skulls in a different place to destroy evidence.
Different Skull History
From analyzing the different saw edges in skulls, the case investigators determined they were not killed at the same time. Some of the skulls found were several years old while others were very recently sawed off, which raises the possibility that the slaughtering is still taking place.