12-year-old Arrested for Prank Call: Other Recent 'SWATing' Pranks
March 21, 2013 11:05 am Last Updated: April 2, 2013 3:39 am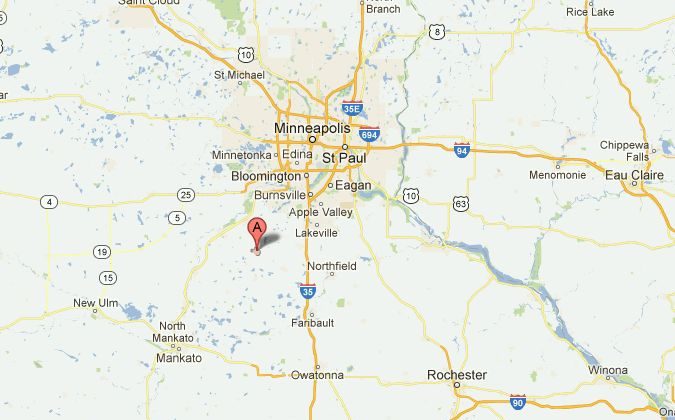 12-year-old boy arrested for an alleged prank phone call reporting a gunman at New Prague Middle School in Minnesota. One of a few high-profile prank calls within the past several months in the United States that got police out to investigate on a false report.
A 12-year-old boy was arrested on Wednesday for allegedly making a prank phone call claiming a gunman with an AK-47 had shot several people at New Prague Middle School in Minnesota.
Police locked down the school and conducted an investigation, finding the report to be a hoax, according to the Associated Press (AP).
Such prank calls are known as SWATting, because a SWAT (Special Weapons and Tactics) team is called to the scene of a non-existent crime.
On March 11, a 12-year-old admitted in court that he had SWATted actor Ashton Kutcher's Los Angeles home in October 2012. The boy made similar claims of gunshots on teen pop star Justin Bieber's home in October, according to Reuters.
The same boy, whose name was not released because he is a minor, made a false bomb threat on a Wells Fargo bank location in Los Angeles. A Los Angeles County District Attorney's Office report states that the minor faces two felony counts—making false bomb threats, and computer intrusion. The computer intrusion charge was placed because he made the call through a computer.
In January 2013, a SWAT team arrived at the California home of "Keeping Up with the Kardashians" stars Kris and Bruce Jenner after a false report.
A Daily Mail article from that time quotes tweets made by Kim Kardashian: "Just got a call from my mom telling me about this prank call that someone was shot in their home & 15 swat team & 3 helicopters showed up!"
"These prank calls are not funny! People can get arrested for this! I hope they find out who is behind this. It's dangerous & not a joke!" Kardashian wrote.
On March 15, Internet security reporter Brian Krebs was allegedly SWATted by hackers angry that he had exposed one of their attack methods.
Krebs recounted in a blog post what happened when he stepped out his door that day: "I heard someone yell, 'Don't move! Put your hands in the air.' … I saw a Fairfax County Police officer leaning over the trunk of a squad car, both arms extended and pointing a handgun at me. As I very slowly turned my head to the left, I observed about a half-dozen other squad cars, lights flashing, and more officers pointing firearms in my direction, including a shotgun and a semi-automatic rifle."
"I was instructed to face the house, back down my front steps, and walk backwards into the adjoining parking area, after which point I was handcuffed and walked up to the top of the street," Krebs wrote.
He had filed a report at an earlier date with police, having suspected the hackers might SWAT him. He had written about a service called absoboot.com that hackers use to shut down websites.
Krebs writes: "I knew some of the young hackers who frequented the forum on which this service was advertised had discussed SWATting someone as a way of exacting revenge or merely having fun at the target's expense."
The Epoch Times publishes in 35 countries and in 21 languages. Subscribe to our e-newsletter.