An 11-year-old girl scout was killed and three others hospitalized after becoming trapped by a tree that fell on them during a camping trip in Indiana.
A popular place for girl scouts in the summer, Camp Koch lies on the Ohio River in Cannelton where it borders Kentucky and Indiana.
On June 24 just before midday, tragedy struck when a tree fell on the campers in the wooded 500-acre site, which has now been closed while authorities investigate.
The girl was named by law enforcement on the morning of June 25 in a press conference streamed by 14News as 11-year-old Isabelle Meyer from Jasper, who died after being taken to a hospital in Evansville.
A 10-year-old girl and two women in their 50s were also struck by the tree.
The 10-year-old had a hand injury and has been treated and released.
Perry County Sheriff Alan Malone described the incident as a "freak accident" to reporters, saying that the 35-45-foot-tall tree had fallen on the four as they walked along a gravel path to the dining hall after a morning hike.

"This was a tragic accident," Malone said. "Unfortunately, a little girl has died."

A Girl Scout died after a tree fell on her at Camp Koch Monday morning. https://t.co/Uhvn4BrIuY

— Courier & Press (@courierpress) June 24, 2019
The Sheriff's Office had issued a warning of thunderstorms earlier in the day.
Powerful storms passed through the area which knocked down trees and cut power to hundreds of homes. However, Malone said that there was no indication of reports of a lightning strike, speculating that the tree may have been uprooted due to large amounts of groundwater.
"It looked to me that when the tree fell, that it uprooted."
"Our thoughts and prayers are with all of the victims, their families, staff, and campers during this tragic time," said the Sheriff's Office in a statement.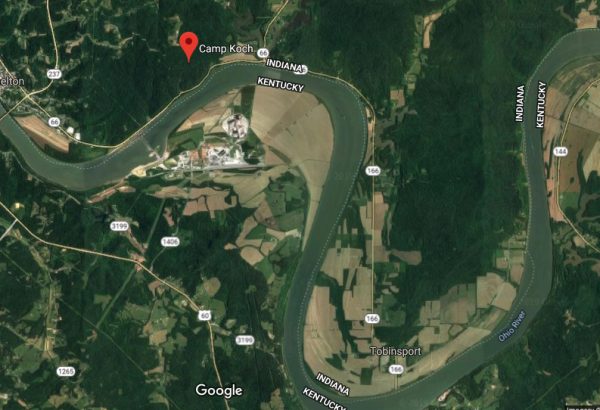 A spokesperson for Indiana State Police described the events as "an absolute tragedy" to reporters. "It's every parent's worst nightmare," he said.
Girl Scouts of Southwest Indiana released the following statement, according to 14News:
"Girl Scouts of Southwest Indiana was deeply saddened to learn of the terrible incident involving a fallen tree that took place at our Camp Koch property today, resulting in serious injury to several campers and volunteers, and the tragic death of one of our Girl Scouts attending camp.
"There is nothing we take more seriously than the safety and well-being of our girls and volunteers. We have closed Camp Koch while we work with our camp officials, as well as local law enforcement to investigate the incident, and will release more information as available and appropriate.
"During this difficult time, the entire Girl Scout family mourns the loss of one of our girls, and we ask for privacy for the individuals and their families as they grieve and mourn this tragic loss."
Fallen tree kills Girl Scout, injures 3 others at Indiana's Camp Koch: https://t.co/UJW0nU87r7

— World News Tonight (@ABCWorldNews) June 25, 2019
According to the Camp Koch website, the site is a 500-acre wooded area in Cannelton right on the Ohio River.
"Since 1942, girls and adults have been enjoying all that Camp Koch has to offer," says the website. "Several hiking trails to points of natural beauty within the camp provide an opportunity to explore nature. The developed area of the camp includes a small lake, divided into swimming and boating areas, a dining hall, a play field, and indoor and outdoor sleeping accommodations."