Two deaths were confirmed as caused by Hurricane Michael, as the storm was downgraded after inflicting widespread destruction in Florida and some surrounding states as a Category 4 hurricane.
The hurricane killed at least two people in the United States, officials said, after leaving 13 people dead in Central America earlier in the week.
Authorities said a man in Greensboro, Florida died late on Oct. 10, after a tree, felled by the hurricane's high winds, crashed into his home.
Gadsden County Sheriff's Office spokeswoman Anglie Hightower told the Tallahassee Democrat that the man was trapped in his residence due to downed power lines and blocked roads.
The second death occurred in southwest Georgia, near the border with Florida.
Seminole County Emergency Management spokesman Travis Brooks told WALB that an 11-year-old girl was killed in Seminole County after the high winds picked up a mobile carport and slammed it through the roof of her house.
The carport hit the girl on her head, killing her around 3 p.m. on Wednesday. Initial reports had indicated a falling tree killed the girl, who has remained unidentified.
The girl was inside a mobile home, Brooks said, noting that the hurricane wreaked devastation upon the area. "It looked like a war zone," he told the Washington Post.
Emergency personnel couldn't reach the house until around 1:50 a.m. on Thursday due to the conditions.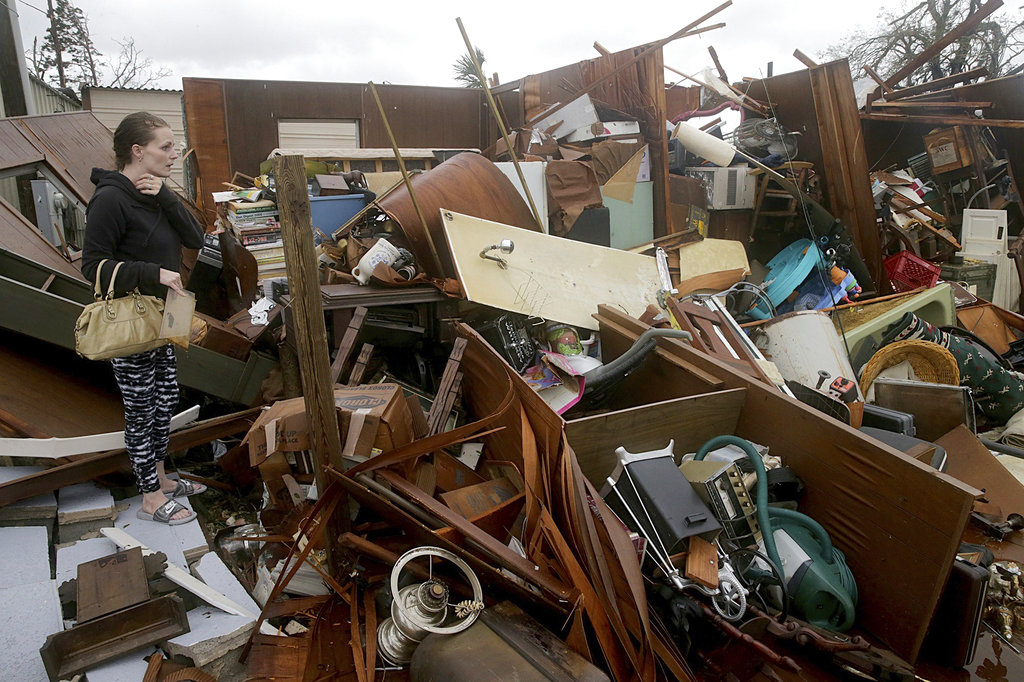 Michael Left Path of Destruction
Hurricane Michael finally weakened to a tropical storm on Thursday, no longer a Category 4 monster packing 155 mph winds. But it was still menacing the Southeast with heavy rains, blustery winds and possible spinoff tornadoes, soaking areas swamped by epic flooding last month from Hurricane Florence.
By 5 a.m., Michael's eye was about 45 miles west of Augusta, Georgia, packing top winds of 50 mph and moving at 21 mph into South Carolina, the National Hurricane Center in Miami said.
Thousands of law enforcement officers and search and rescue teams rolled out in its wake to find survivors amid the wreckage of homes where people defied evacuation orders. Michael washed away white sand beaches, hammered military bases and destroyed coastal communities, stripping trees to stalks, shredding roofs, toppling trucks and pushing boats into buildings.
Many homes were ripped apart or washed away altogether in Mexico Beach, a town of 1,000 where the hurricane made landfall and the storm surge pushed lead-grey water up to the rooftops.
It will take some time for residents of north Florida to take stock of the enormity of the disaster. Reaching the worst-hit areas wasn't easy: Authorities closed Interstate 10, the main east-west route along Florida's Panhandle, for 80 miles to clear debris, the Florida Highway Patrol said.
Damage in Panama City, just west of where Michael came ashore Wednesday afternoon, was so extensive that broken and uprooted trees and downed power lines lay nearly everywhere. Roofs were peeled away, sent airborne, and homes were split open by fallen trees. Twisted street signs lay on the ground. Palm trees whipped wildly in the winds. More than 380,000 homes and businesses were without power at the height of the storm.
Gov. Rick Scott said search and rescue efforts would be "aggressive."
"Hurricane Michael cannot break Florida," Scott vowed.
The Associated Press contributed to this report
From NTD.tv