Japan has launched an investigation to 11 ghost ships containing the remains of sailors, which have washed up on the country's coastline.
The ships contained the bodies of around 25 sailors who were decomposed and skeleton-like, rescuers told Japanese broadcaster Tokyo Broadcasting System and NHK. 
According to maritime expert Yoshihiko Yamada, the vessels bear a resemblance to those used by defectors from North Korea. "They are made of wood and are old and heavy. They can't travel very fast and the engines are not powerful enough to turn the ships against the currents," he told NHK.
A Fleet Of Ghost Ships Has Appeared Off The Coast Of Japan https://t.co/OhTK8Ck8Lv pic.twitter.com/JgME6Otazs

— Inquisitr News (@theinquisitr) November 29, 2015
A Fleet Of Ghost Ships Arrive On The Coast Of #Japan Like A Scene Out Of A #horror Film https://t.co/5rvvxGE72l pic.twitter.com/us3RcSzjCp

— zombieapocalypse.net (@ZADF_ORG) November 29, 2015
Four of the ships washed ashore in early November. The other seven appeared in recent weeks, drifting in the Sea of Japan. One was found off the coast of Fukui.
Authorities said it has been impossible to identify the bodies, and they're not sure where they came from.
One of the boats had scrap material that appears to have come from a North Korean flag. There was also writing on one of the boats that read, "Korean People's Army." There also was Korean writing on the sailors' clothes, according to NHK.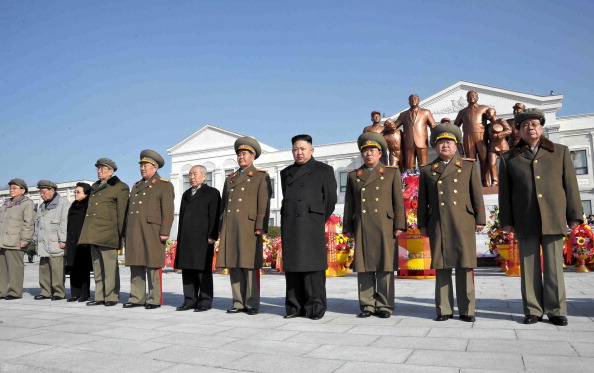 As a result, some people believe the vessels are fishing boats from North Korea as the country tries to expand its fishing industry amid food shortages and famine.
Satoru Miyamoto, an associate professor at Seigakuin University, told NHK: "Under Kim Jong-un, the country has increased efforts to ensure self-sufficiency. This is one of the reasons why consumption of marine products has been increasing."
Real ghost ships!? Eleven ships containing 20 dead sailors are discovered off the coast… https://t.co/2FgsJUfZ0m pic.twitter.com/TLixCvWBGU

— Adrian R. (@Firstscreamto) November 29, 2015
Others believe that the sailors might have been trying to flee oppressive rule under North Korean dictator Kim Jong Un and got caught in a storm, as the Daily Mail notes.
The boats also did not have a Global Positioning System, or GPS, and radar, meaning they could have easily gotten lost, some have speculated. Experts say the boats may have capsized and were drifting for months.