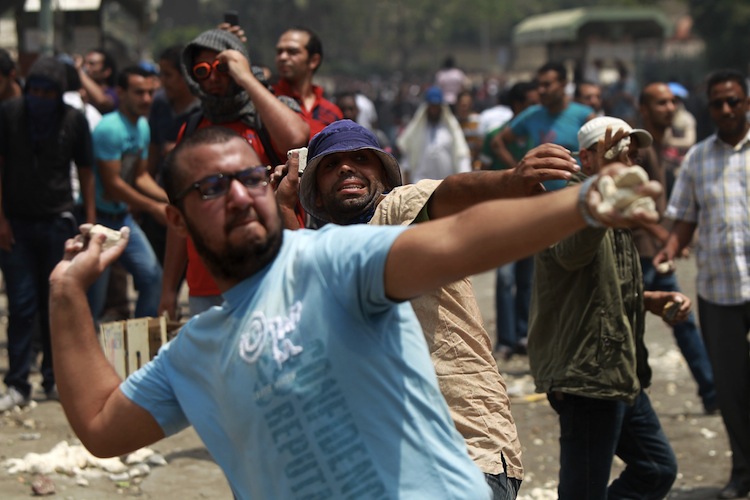 Clashes between protesters and unknown assailants left more than 11 people dead in front of the Egyptian defense ministry building in Cairo on Wednesday, it was reported. Another 50 people were wounded in the clashes.
The Tahrir Doctors, a group of volunteer doctors who treat protesters, said that gas bombs and live ammunition were used against demonstrators in the Abbassiya district, the Al-Ahram newspaper reported.
Other hospital officials told Al Jazeera that nine people who were killed suffered gunshot wounds in the head and two were stabbed.
The clashes were between local residents and supporters of Salafist presidential candidate Hazem Abu-Ismail. The army and government security forces attempted to put an end to the fighting.
"Eight armored personnel carriers from the military central zone entered the Abbassiya area to disperse the fighting between protesters, and not to disperse the peaceful demonstrators," the Egyptian army told Al Jazeera.
It added, "However, protesters attacked the armed forces. The armed forces have orders to hold their ground."
State-run MENA was quoted as saying that "thugs" armed with guns assaulted the protesters, according to Al Jazeera. However, the Bikya Masr publication quoted activists as saying in a local newspaper that "army sponsored thugs" attacked the demonstrators.
Egypt's Supreme Council of the Armed Forces, which took over the country after it forced longtime President Hosni Mubarak out of power, said it would hand over power to a civilian government by the end of June. Elections are scheduled for May 23 and May 24.
Due to the clashes on Wednesday, two presidential candidates said they would temporarily suspend their campaigns, Al Jazeera reported.