Beijing has closed 101 subway stations in the capital city due to the worsening of a new wave of COVID-19 outbreak. Infection clusters occurred in universities under lockdown, and many neighborhoods have been locked down without any official announcement.
The epidemic in Beijing continues to heat up since late April, with official daily reports of infections in the dozens. The authorities have upgraded control measures, locking down universities and many areas in the city, causing public criticism and protests.
On May 17, the authorities closed Dayayao subway station and Qilizhuang subway station due to the spread of COVID-19, bringing up the number of closed subway stations in Beijing to 101 in May, among a total of 459 stations in the city. All subway stations in Fangshan District, Shunyi District, and the southern part of Chaoyang District are also closed. Meanwhile, more than 158 bus lines have been suspended due to the outbreak since May 5. Many citizens have to ride bikes to work, making Beijing's streets look like how it was in the 1980s.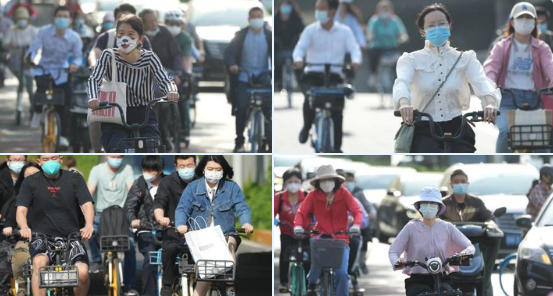 On May 19, Liu Xiaofeng, deputy director of the Beijing Center for Disease Control and Prevention, said that from May 18 to May 19, there were 64 new cases of local infection reported. Among them, 7 were college students located in Yancun town, Fangshan district. According to an official announcement, a total of 11 cases have been confirmed at the Fangshan campus of Beijing Institute of Technology.
China's official data released throughout the pandemic has been deemed highly unreliable, as political pressure compels authorities to underreport deaths and cases.
Since early May, universities in Beijing have been put in a "closed-loop" pandemic control system by the authorities, triggering student protests against the lockdown.
Students living on campus are not allowed to leave, while students who commute are transported in specially assigned buses.
The Epoch Times obtained a video showing students in Beijing University protesting against the lockdown on May 15.
Since May 17, a 7-day lockdown has been implemented in areas in Fengtai district; during which all residential communities in the areas are closed, residents are ordered to stay at home, and all indoor cultural entertainment, sports and fitness, and various training venues in the areas are closed for business.
The authorities stated that the specific time to lift the lockdown "will be dynamically adjusted according to the COVID-19 nucleic acid test results and the epidemic situation."
Meanwhile, mass testing has been conducted across the city. Beijing citizens also revealed in posts on social media that many more areas in the city have been locked down than officially announced.
One post reads, "So many people lining up to do nucleic acid tests is like a large site for cross infection!" Another complains, "The subway closed, the buses pass without stopping, how could we go to work?"
Another post reads, "the area I live in has been locked down, but the government didn't announce it. My workplace thought I made it up to skip work."
Residents in other areas of the city also complained about the unannounced lockdowns: "I live in the Beidajie near Fengtai Garden. The area has been locked down without any announcement. The government is so powerful, they lock down the whole district, and the common people couldn't say anything. But why did they lock it down but not announce it to the public?"
Xia Song contributed to the report.