Over 100,000 people have volunteered to take part in COVID-19 vaccine trials in the UK, Britain's business ministry said on Monday.
The government are calling for even more volunteers to register to make sure possible vaccines being trialed "work for everyone."
No single COVID-19 vaccine candidate has yet been proven effective against the CCP (Chinese Communist Party) virus, commonly known as novel coronavirus, which causes the disease, but around 20 possible vaccines are currently in clinical trials.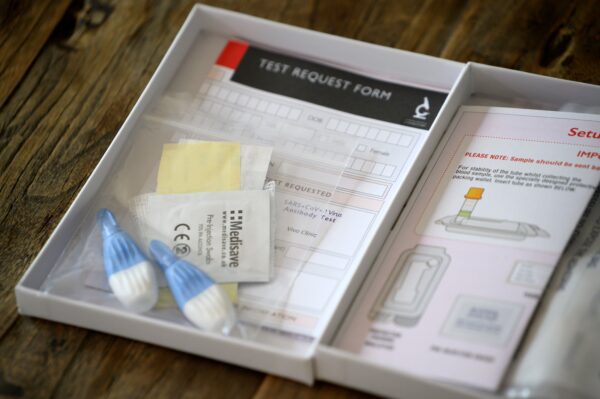 The government said it was particularly keen for over 65s, frontline health-care workers, and people from Black, Asian, and minority ethnic backgrounds to sign up.
"Clinical studies with a diverse pool of volunteers will help scientists and researchers better understand the effectiveness of each vaccine candidate and will considerably speed up efforts to discover a safe and workable vaccine," the ministry said in a statement.
The call for more volunteers comes following a study by Imperial College London published on Aug. 13 that tested more than 100,000 people across England for antibodies to the virus.
The study identified some groups of people had greater levels of infection compared to other groups.
Minority ethnic groups were two to three times as likely to have had the virus compared to white people in England, according to the study.
A higher proportion of people from minority groups have also died from the disease compared to other groups.
People living in London and people in large households were also among those more likely to have been infected.
Ethics and Safety
Dinesh Saralaya, consultant respiratory physician and director of the National Institute for Health Research (NIHR) Patient Recruitment Centre in Bradford, said in the government statement that trials and studies are "strictly regulated for ethics and safety."
As a safety measure, some appointments will be in settings like sports halls and locations close to where people live and work rather than in hospitals, Saralaya said.
A number of trials in the UK are expected to begin in the autumn, the government said.
There are currently two national coronavirus vaccine studies being run by the University of Oxford and Imperial College London approved by the NIHR in the UK.
Chief Medical Officer Chris Whitty praised the NIHR and the government's Vaccines Taskforce for the speed of their work setting up the vaccine trials and the "selflessness" of the British public for signing up to them.
The vaccine research registration is completely voluntary, and people, once registered, can withdraw their registration at any time if they wish to.
Reuters contributed to this report