Around 100,000 people attended a candlelight vigil at Hong Kong's political headquarters on Nov. 9 to mourn for the loss of a student protester, who became the first confirmed casualty connected to police actions since the citywide unrest began in June.
A 22-year-old computer science student, Alex Chow Tsz-lok, died one day earlier in hospital after falling one story from a parking lot in Tseung Kwan O, where police had just fired tear gas to disperse protesters.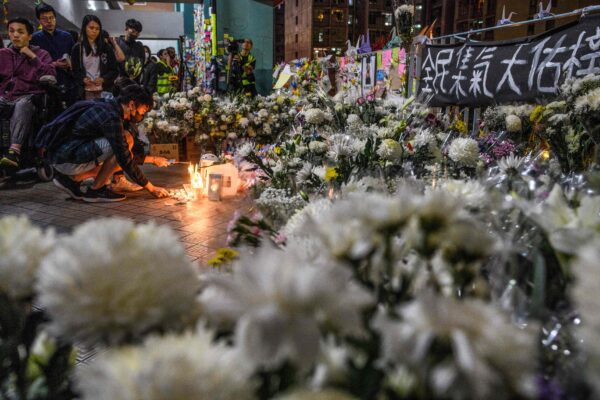 Chow's death has deepened public anger against the police, who have been widely accused of using violent and heavy-handed tactics to disperse protesters during the ongoing protests.
For five months, the city has been wracked by demonstrations in opposition to Beijing's growing influence in the city's affairs.
The mood at the rally was a mix of grief and anger as crowds donning black peacefully gathered at Tamar Park next to the central government offices for prayers and mourning. Themed "Heaven Bless Martyrs," the rally had secured rare permission from the police.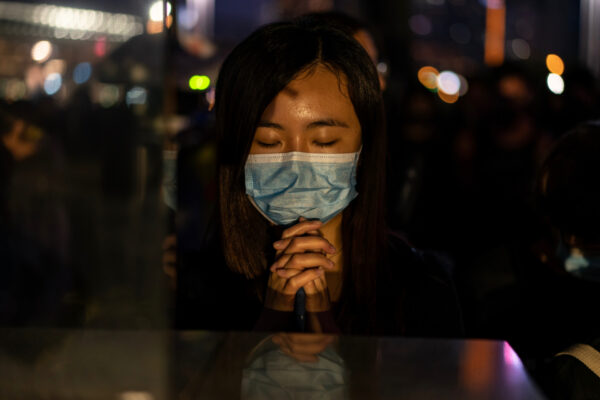 "Death is not an end, but rather the beginning," preacher Roy Chan from the Good Neighbour North District Church said at the rally, after attendees observed a moment of silence. The stage around him was laced with white wreaths and paper cranes, a symbol of peace and hope. Shouts of "revenge" occasionally arose from the crowd as he spoke.
Chan said that the prayers were not just meant for Chow, who was a Christian, but also for the city's future.
"Hongkongers won't just let this go, Hongkongers will remember all of these," he said.
A masked volunteer first aider broke down in tears as he relayed his experience treating protesters with serious injuries following clashes with police at Tsuen Wan on Aug. 5. He said in multiple cases, the protesters sustained deep wounds that revealed their bones.
"It angers me that I could do so little," he said.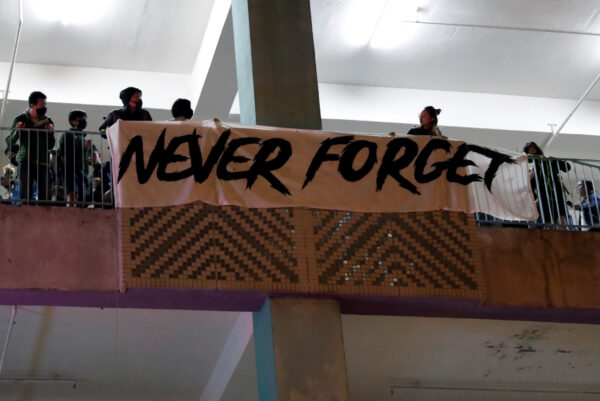 'Stand United'
Joshua Wong, who rose to prominence as a student leader during pro-democracy protests in 2014, encouraged people to persist by standing together in anticipation for "greater adversity ahead."
"During this protest movement, we have learned how to stand united, to share joy and sorrow, even though today it's difficult for us to imagine what classmate Chow had gone through before he departed from this world," he said.
Local police have been accused of delaying emergency treatment to the student by blocking a road leading to the parking lot, resulting in paramedics having to walk to Chow's location. Police in a statement on Nov. 8 denied those allegations and announced it would launch an investigation into Chow's death.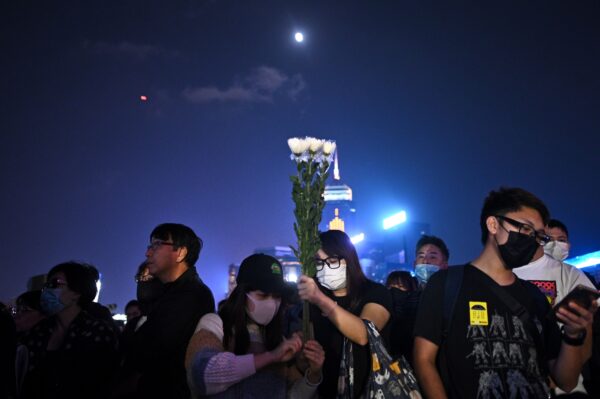 On the same day, seven pro-democracy legislators were arrested or put on notice that they would be arrested for allegedly interfering with a Legislative Council meeting on May 11, during which several lawmakers got into a scuffle during a debate about the now-shelved extradition bill that triggered the widespread protests. The bill would have allowed people in Hong Kong to be transferred to the mainland for trial in courts controlled by the Chinese Communist Party.
The charges could bring a maximum sentence of 12-months in prison and $10,000 fine.
Alarmed by the arrests, 24 pro-democracy lawmakers issued a joint statement calling it an act of political suppression that amounted to "pouring oil into the fire."
Police have arrested over 3,000 since the protests erupted in June.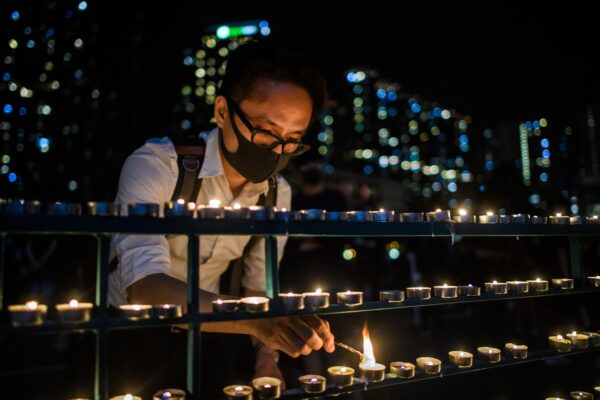 A music student from mainland China, Chen Zimou, was sentenced in Hong Kong on Nov. 7 to six weeks in prison after he pleaded guilty to possessing offensive weapons during a protest in July. He was carrying a retractable baton during that protest. This marked the first case of a mainland Chinese person being punished in association with their participation in the movement.
A Hong Kong court also found a 16-year-old student guilty of the same charge for carrying a laser pointer and a modified umbrella at a metro station in the vicinity of a protest site on Sept. 21.
Protesters also use their cell phones to light up #HongKong's Tamar Park in the vigil in memory of the young student. #HongKongProtests pic.twitter.com/A5YNMyFwgZ

— Eva Fu (@EvaSailEast) November 9, 2019
At the Nov. 9 Citizen's Press Conference, a group representing Hong Kong protesters, a convenor criticized the Hong Kong police for "cold-bloodedly" trying to "explain away their part in [Chow's] death."
He vowed that Chow would not die in vain and called on protesters to channel the grief to further the "resistance against tyranny."
Towards the end of the rally, the preacher led participants to sing the song "Hallelujah." The attendees then lit up their phones and waved their hands in the air, turning the park into a sea of light.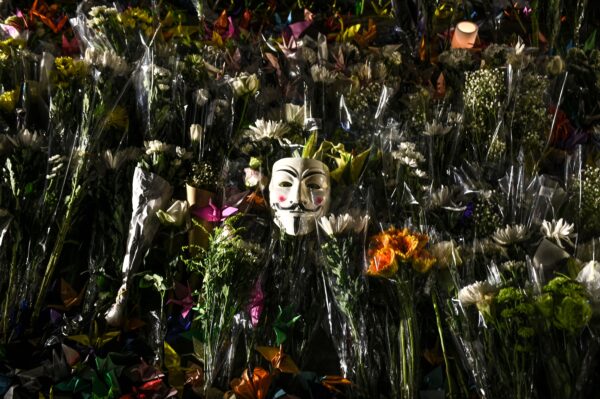 "In a time where the judicial system is no longer just, we Hongkongers shall never be defeated," a protester wearing a guy fawkes mask said, adding that they will continue to "reject the illegitimacy of the communist rule."
"Behind this mask there is more than just flesh. Beneath this mask there is an idea … and ideas are bulletproof," he said, citing a line from "V for Vendetta."