As a boy growing up in Southern California in the 1920s, Ed Reeder didn't have a clue that his fascination with aviation would one day find him flying over occupied Germany with a Soviet fighter jet on his tail.
"That was scary as hell," he said as he recalled the Russian fighter pilot that buzzed his Douglas C-47 Dakota transport plane during the Berlin Airlift in 1947 in the aftermath of the Second World War.
Born in Capistrano Beach on Sept. 5, 1921, Reeder celebrated his 100th birthday over the Labor Day weekend.
His First Flight
Reeder recalled how he felt after his first flight when he was still in grade school. "I took a ride in an old tri-engine aircraft with an old famous guy flying it."
Though the name of the pilot escapes him, he'll never forget how he felt being "in the air" over Santa Ana. "It was a great feeling to me," he said.
He's been hooked on flying ever since.
"It was my life. I loved it. I had big ideas of going far and near flying, whatever I could get into," Reeder said. "But my real flying started when I was in junior college in Santa Ana."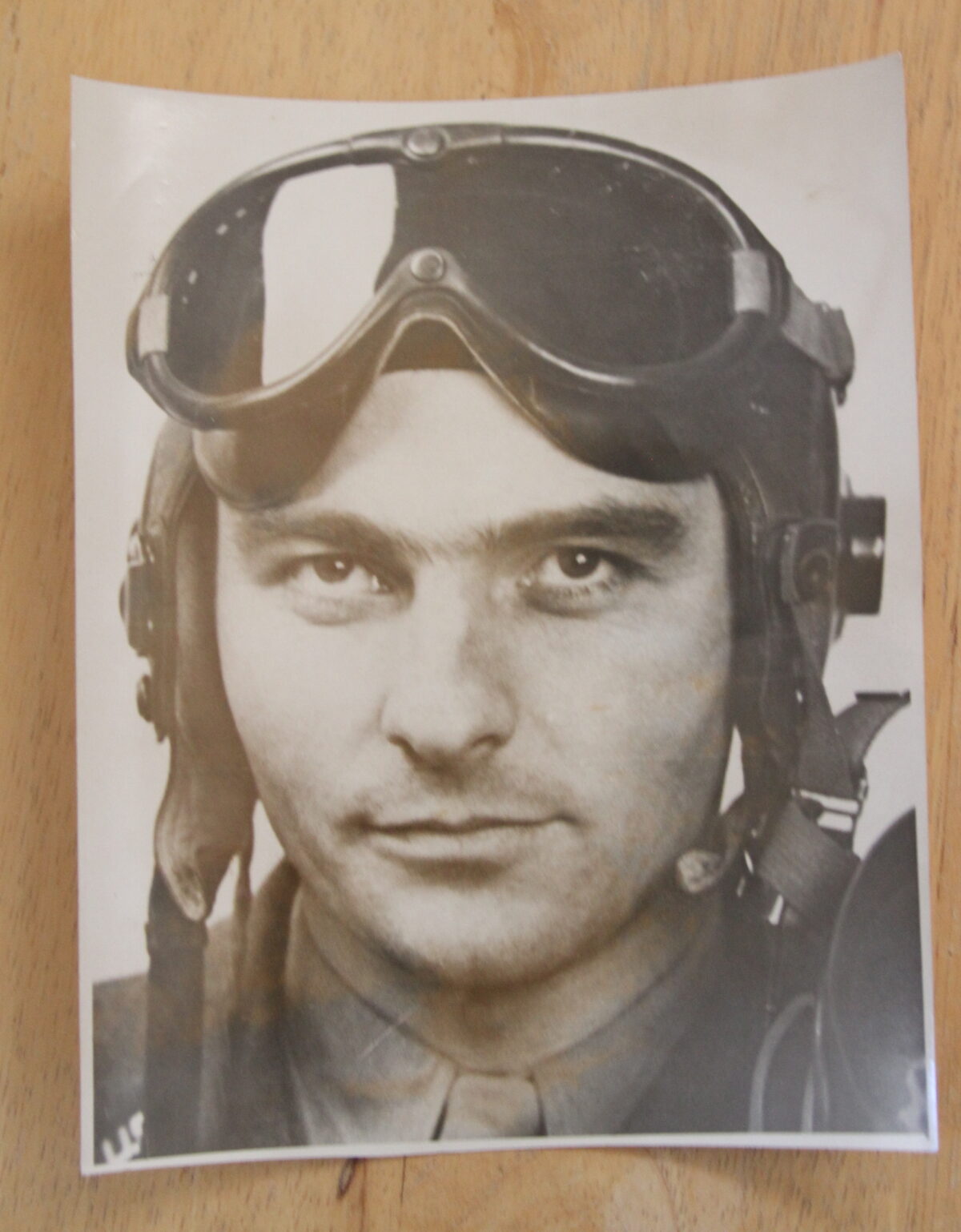 Flight Training
Reeder and other civilian cadets from Santa Ana and Pasadena were trained to fly biplanes in the desert near Baker, Calif. The young pilots were later hired by a privately owned flight training school in Twentynine Palms.
"Because we had some flying time in these old biplanes, we were highly wanted as instructors in gliders," Reeder said.
In 1941, the Army Air Corps chose Twentynine Palms for a glider training base.
Then, on Nov. 27, 1941, just 10 days before Japan attacked Pearl Harbor, U.S. Secretary of War Henry Stimson announced that "a group of 126 army air force fliers would be trained as glider pilots at Twentynine Palms," according to an Associated Press article, "Desert to Get Glider School," published the next day in the San Bernardino County Daily Sun.
"The training represents the first definite step toward adoption experimentally of the use of gliders in the way motorless planes have been employed by the Germans. Stimson said the students would be air force officers selected from volunteers among pilot training instructors. Barracks, school buildings, hangars and shops are being built at Twentynine Palms," according to the article.
When the U.S. declared war on Japan, the demand for pilots soared and Reeder enlisted.
"I was an Air Force instructor in gliders and later in primary trainers at Twentynine Palms," he said.
The two-seater gliders were towed behind C-47s and then released, but ultimately proved unsuccessful in military operations, and the Air Force abandoned the training program.
"There were some bad things happening to the glider pilots. They lost a lot of them in combat," Reeder said.
"I wanted to fly in the war. I had a quite a bit of flying and I wanted to become an Air Force pilot flying fighter planes," he said.
But his hopes were grounded when the Air Force decided experienced pilots were needed to train new recruits. "They pulled us into back into primary training as instructors," Reeder said.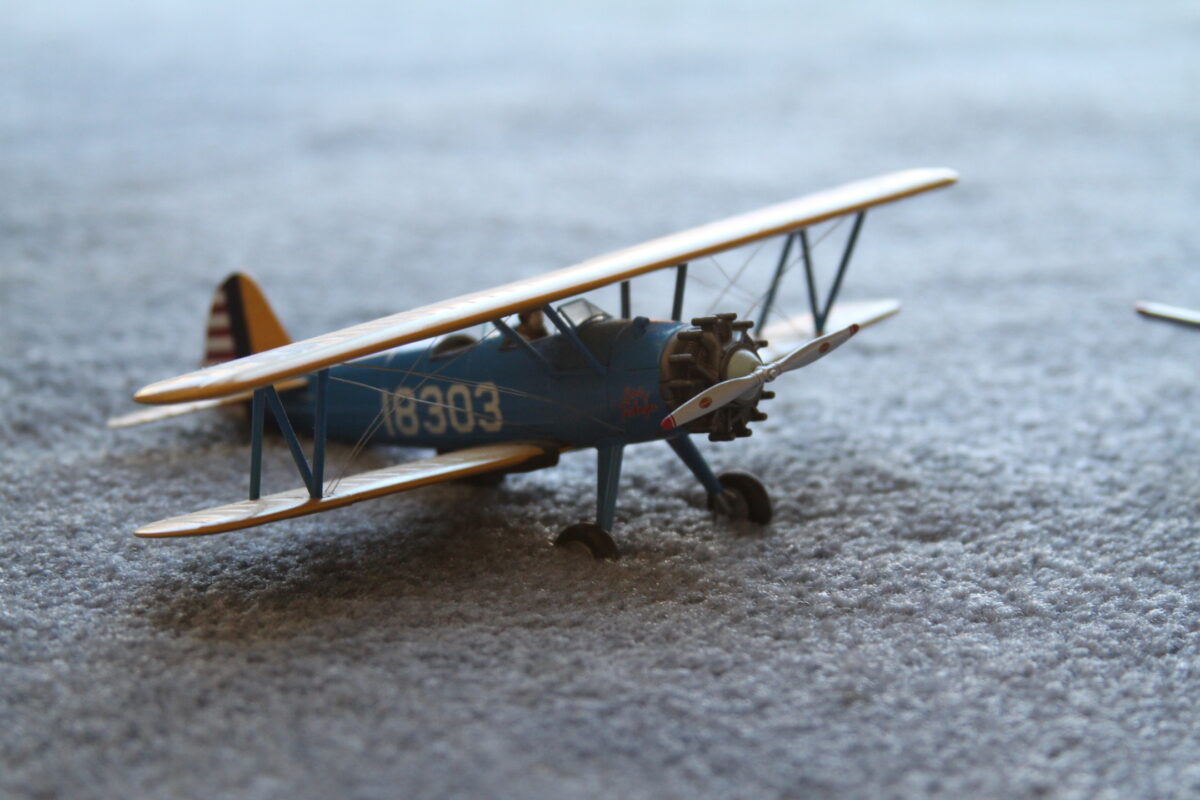 "In World War II, our primary trainers were basically biplanes. They were Stearmans," Reeder said, reaching for a model airplane on an end table in his living room. "That's the Stearman."
Stearman Aircraft Corporation in Wichita, Kansas made a range of other aircraft but was best known for the Model 75 Boeing Stearman.
Reeder flew other planes, too. One day, while flying a P-51 Mustang, he switched fuel tanks and the single-engine plane stalled.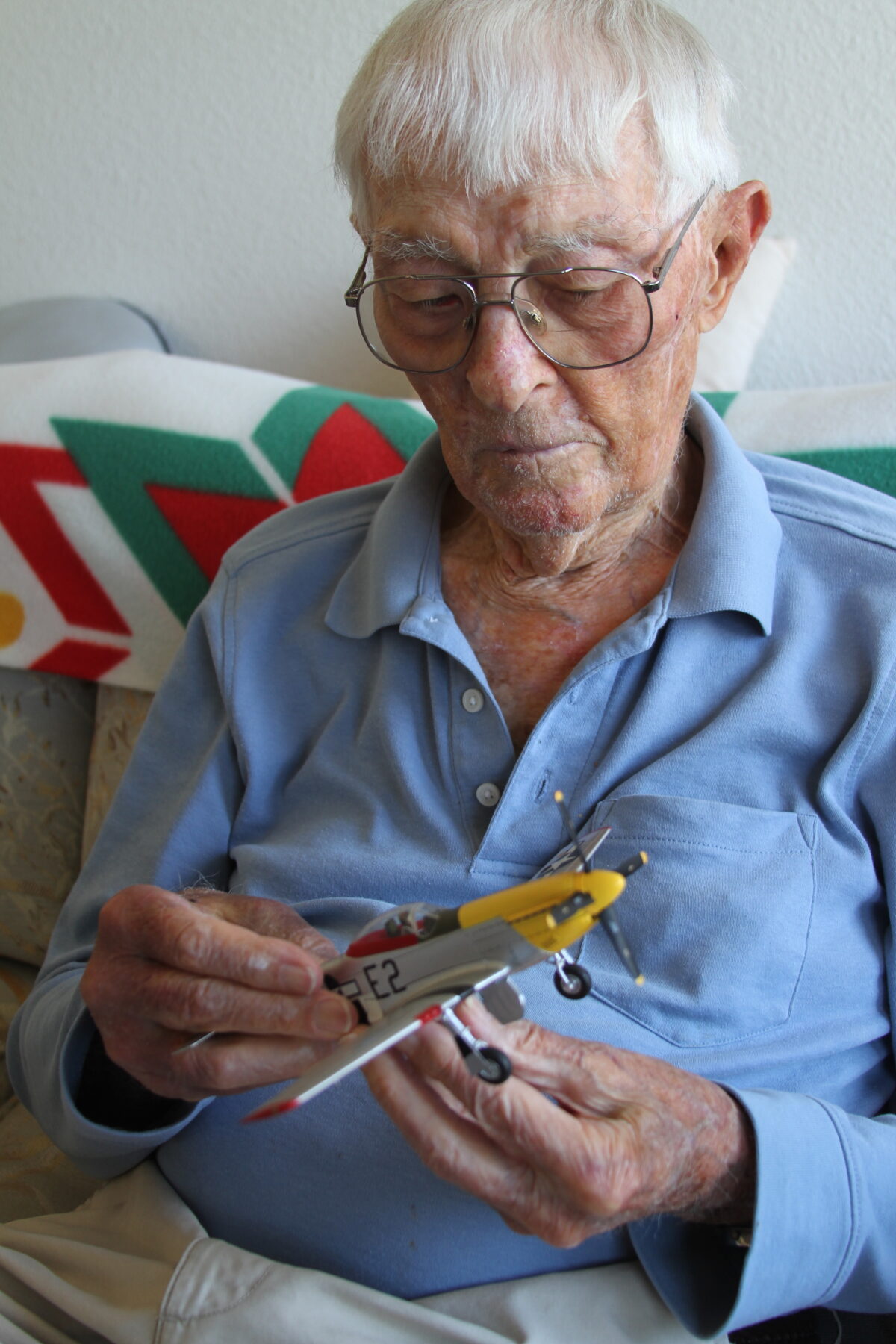 "My airplane stopped running," he said. "We were many miles out at pretty high speeds, and I decided to make it back to the base. I flew it as smartly as I could, thinking about gliders, and I was able to get it back and put it down on the ground."
"I landed smoooooothly. You bet! That's why I love that airplane," he said.
But, he admitted, "I had to sit down at the end of the runway for quite a while. Then, I started it up and taxied it in."
Berlin Airlift
At the end of World War II, Allied military forces—American, British and Soviet—divided Germany into occupation zones. Berlin, located deep within Soviet-controlled East Germany, was zoned into communist and free sectors. The Soviet Union controlled the communist eastern sectors of the city, while the U.S. Britain, and France controlled the free western sectors.
Just as British Prime Minister Winston Churchill had predicted long before the end of the war, the wartime alliance between the Western Allies and the USSR dissolved quickly after Germany and Japan surrendered. The Soviets, under the leadership of brutal communist dictator Josef Stalin, turned hostile.
On June 24, 1948, Stalin ordered Russian forces to blockade rail, road, and water access to Allied-controlled areas of the city, cutting off food and essential supplies to West Berliners. The Berlin Blockade marked the beginning of the Cold War.
The Soviet Union had signed agreements with the Western Allies in 1945. The agreements allowed the Western Allies access to air corridors from West Germany to West Berlin. So, in response to Soviet aggression, the U.S. and Britain airlifted food, fuels and essential supplies to the people in the blockaded western sectors of the city. The United States launched "Operation Vittles" on June 26, and the United Kingdom followed with "Operation Plainfare" two days later.
Reeder, who was stationed in Austria, was one of the pilots selected to fly those missions from airbases in West Germany to the people of West Berlin.
Soviet fighter jets routinely invaded Allied airspace and "buzzed" Allied transport planes to harass the American and British pilots who flew supplies to the people of West Berlin.
"We had a corridor that we flew up and back in. It was 10 miles wide or something like that, and they would come into it," he said. "They were not very friendly."
Looking back on his encounter with the Soviet fighter jet, Reeder believes it was more nerve-wracking than frightening.
"I shouldn't say scary," he said. "I didn't think he was going to shoot at me."
When the Russian pilot pulled up to his wing, he got close enough that Reeder could see him in the cockpit, but not close enough to make eye contact.
The American pilots weren't above some tricks of their own, he said. "We were doing a lead down through a little hole and we would come out right over an airbase that belonged to the bad guys, that type of thing," he said.
While it was "quite thrilling" in some ways, it was "not much fun," he said. And, it was dangerous flying in all kinds of adverse weather conditions.
Reeder would fly missions into West Berlin every other week. He flew more than 40 missions during the airlift operation, he said.
Though the Soviets didn't appreciate the presence of American pilots, the people of West Berlin certainly did.
"They were glad to have us," he said, recalling crowds of desperate West Berliners waiting for the planes to land and supplies to be unloaded.
"People in Berlin loved us because we saved them. When the Berlin Airlift came along, they were cut out completely—all their transportation to and from everywhere," he said. "Our Air Force, our rugged ol' airplanes, saved them."
The U.S. also sent in C-54 transport planes, four-engine aircraft that carried much heavier loads, Reeder said.
On May 12, 1949, Soviet forces lifted the blockade and allowed land access to West Berlin, ending the Berlin crisis and the airlift.
The Marshall Islands
During the early Cold War, the U.S. prepared for the possibility of a nuclear war.
Reeder was stationed in the Marshall Islands for several months where the U.S. began testing nuclear bombs in the western Pacific north of the equator, between Hawaii and Australia.
The tests were conducted from 1946 to 1954 under operations Crossroads, Greenhouse, Ivy, and Bravo. Mostly Navy servicemen were present at these tests. They were on observation ships about 15 to 30 miles away from ground zero, according to the Atomic Heritage Foundation.
Reeder denied he was sworn to secrecy about the nuclear tests, but many U.S. servicemen have claimed they were. If people were getting sick from radiation poisoning, Reeder said he "didn't know about it."
"We were doing the big atomic tests," he said.
Though his memory is becoming foggy, he recalls wearing a "patch" around his neck. It was a crude Geiger counter that would warn him if radiation levels got too high. He also remembers U.S. servicemen were told to look away from blinding nuclear blasts as they happened.
Many young, civilian doctors were all too eager to visit the contaminated detonation sites and so they were closely monitored, he said.
"We were there to help keep them from getting sick. When our exposure got to a certain point, they sent us home, you might say," he said.
"Some of them were very young and we tried to keep them alive. Young MDs were hard to protect. Right after the testing, they wanted to charge right in," he said.
"They weren't very good card players either," he joked. "I lived off of 'em."
Australian Exchange
Before war broke out in Korea, Reeder was stationed on a base in Australia as part of an exchange tour.
"I was lucky," he said. "It was great to serve with them," he said of the "Aussies."
"They're great people."
"They had 10 officers from our Air Force over there and they sent 10 of theirs over here visiting, you might say, but for a regular tour. I was there a year-and-a-half or two years, something like that," he said.
"I was flying with Australian pilots. We flew great big twin-engine aircraft. It was good flying and good duty. I really enjoyed that," he said. "We did have a few British there, too."
The Korean War
The Korean conflict began on June 25, 1950, when more than 75,000 troops from the communist North Korean People's Army invaded the Soviet-backed Democratic People's Republic of Korea to the north and the pro-Western Republic of Korea to the south.
The invasion marked the first military battle of the Cold War and the U.S. fight against communism. The U.S. feared the alternative to this battle would end in a much bigger war with Russia and China, or even lead to World War III.
The conflict ended in July 1953 and has been dubbed the "The Forgotten War" because it didn't receive as much attention as the World Wars and the Vietnam War.
Reeder wasn't stationed in Korea and doesn't remember much about the conflict, but he recalls that he was an Operations Officer in charge of pilots who were flying sick and injured servicemen to medical facilities in San Antonio, Tex.
"We had nurses aboard to fly with them, and it was quite an experience," he said.
Vietnam War
Though the conflict in Southeast Asia was rooted in French colonialism in the 1800s, the Vietnam War started in the 1950s, according to most historians. The United States, France, China, the Soviet Union, Cambodia, and Laos were later drawn into the war which ended in 1975 with the fall of Saigon, now Ho Chi Minh City, to Viet Cong communists.
Reeder retired from the Air Force long before the Vietnam War ended, but he remembers when it began.
"I was out on an island when it was started, but everything wasn't on the books. There were things going on though—not really secret, but things went on," he said. And, those things, Reeder said he "probably shouldn't" talk about.
He was disheartened to see many veterans disrespected by their own countrymen during the peace movement of the late 1960s.
"I never liked it, of course," Reeder said.
He retired with the rank of major after 21 years of service.
"I feel quite distanced from it now," he said of his time in the military. "I've been away from it for so long. It doesn't follow me around. I got out in '64. That's a long time ago."
Today, too many Americans "probably" take their freedom for granted, he said.
It's a shame World War II history is hardly mentioned, if taught at all, in most American schools, Reeder suggested. "I don't think it's right. I think it should be taught," he said.
Reeder has no regrets about fighting against the tyranny of fascism and communism.
"I loved that," he said.
His only regret is he never got a chance to fly a fighter jet in combat.
"I had a lot of confidence in my ability to fly airplanes. I thought I could do a good job," he said.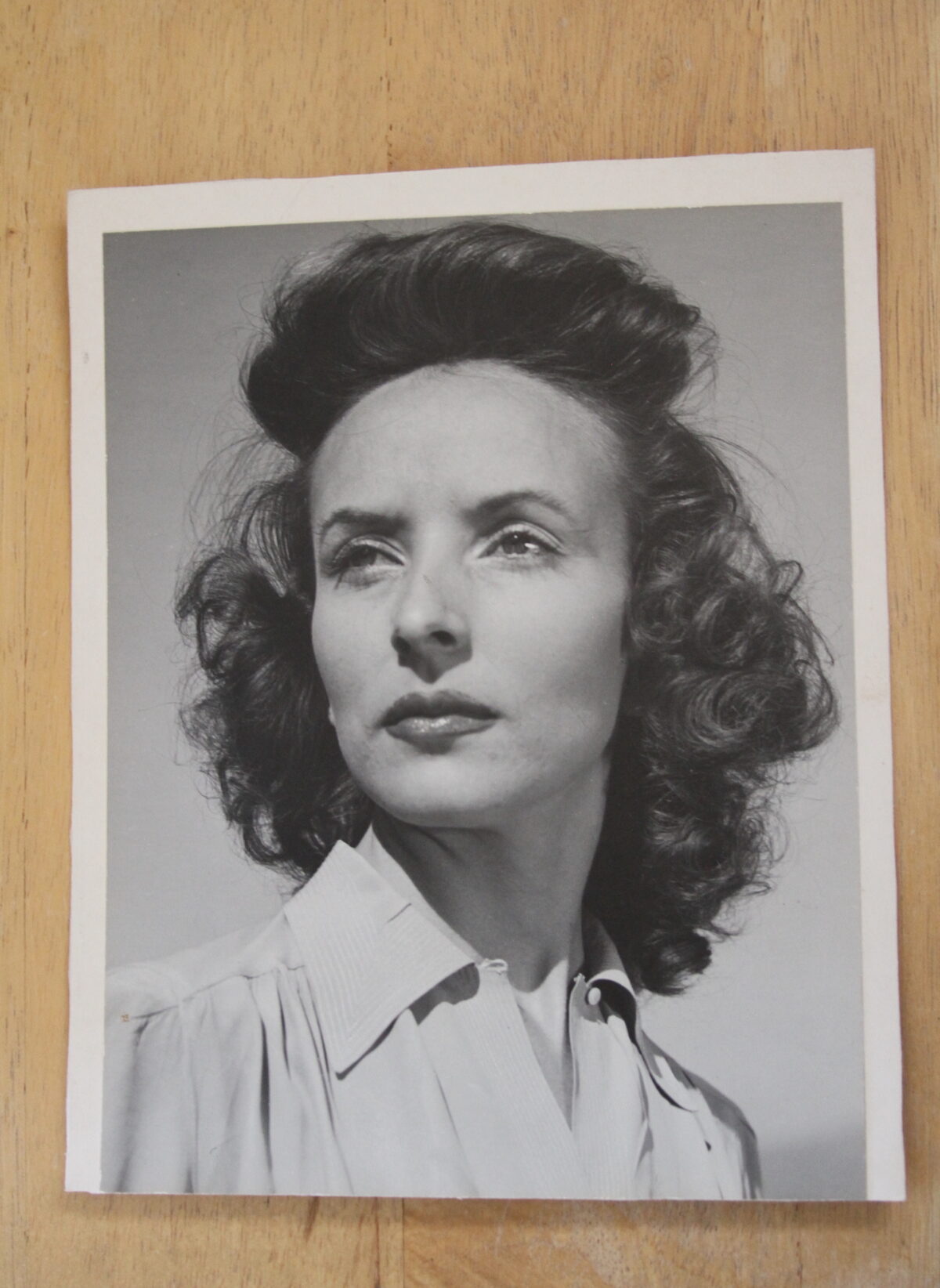 Married Life
While he was in basic training, Reeder met the love of his life, Liz, who shared his passion for flying.
"I met her in a bar down in Arizona when I was in basic training. She had a light aircraft then, and she flew it a lot," he said. "It was so much different then. The costs didn't amount to what they do now."
The two were wed soon after WWII ended.
"We got married when I was stationed in Texas. She flew in and she had her advance pay. She didn't know she'd be with me very long at all, but she was," Reeder said.
"We had times when we were separated, like when I first went to Germany. It took almost a year to get her over there, he said. When he was in the service, Reeder spent more time outside of California than he did inside of the state.
Liz worked before the two were married, but not after.
"That's one reason we were married so long, I think," he said. "She liked being a military wife. She liked everything about it and the things we did. It was good for her."
About 13 years into their marriage, the couple had one son, Dana, who died of lung cancer when he was just 35, and the couple struggled to cope with their grief.
A man of few words, Reeder said the secret to a long, happy marriage is simply "loving and living."
They were married for 65 years until Liz passed away about 10 years ago. She was almost 90.
When he retired, Reeder sold real estate. The Reeders lived in San Clemente for about a year before moving to San Juan Capistrano where they stayed for 25 years. Eventually, they moved to Menifee to get away from "the traffic" on Southern California's congested coast.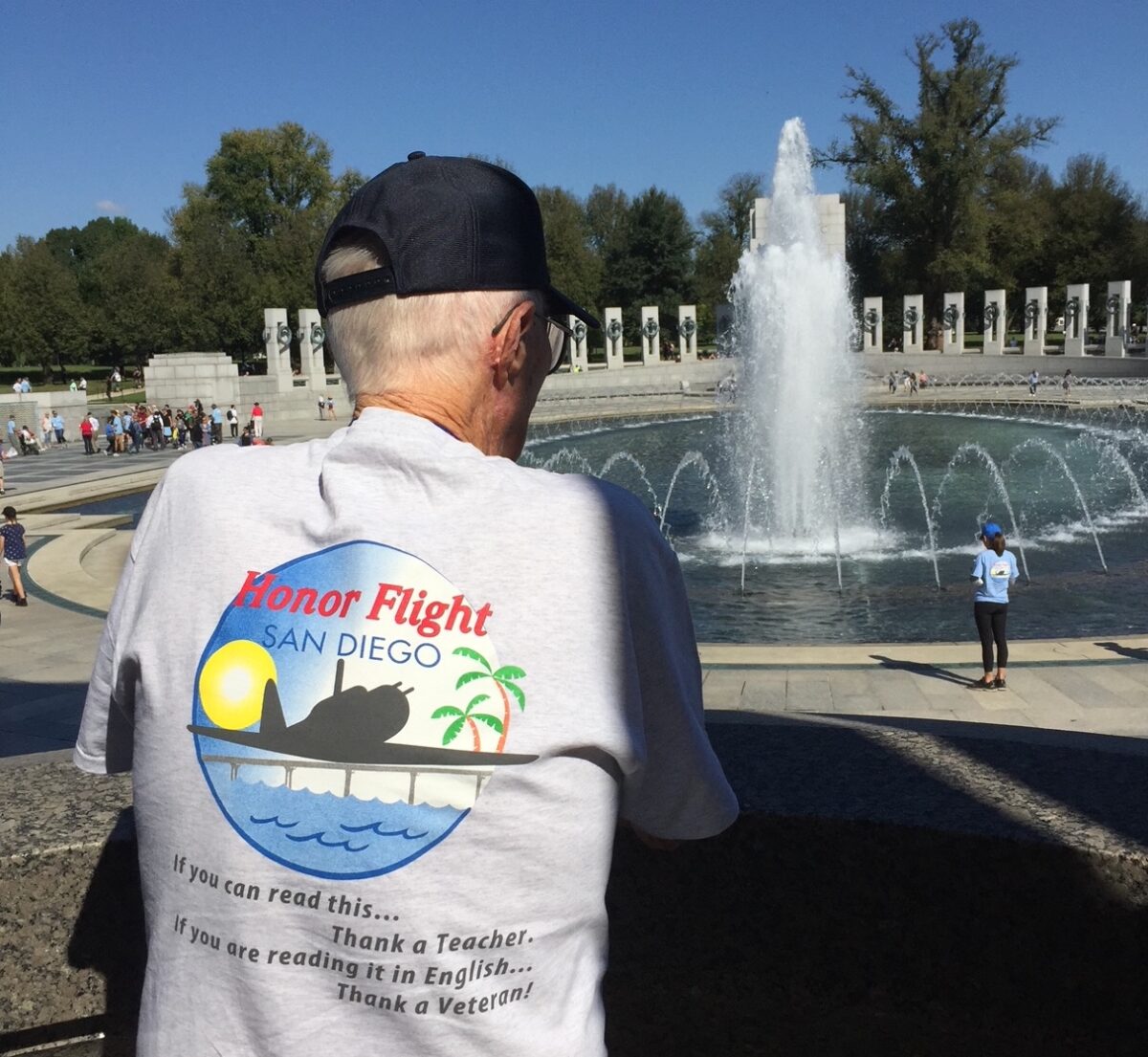 Honor Flight San Diego
In September 2018, Honor Flight San Diego escorted Reeder and 20 other veterans on a free tour of Washington, D.C. to see memorials dedicated to the service and sacrifice of veterans.
Reeder toured the changing of the guard at the Tomb of the Unknown Soldier as well as the Air Force, Iwo Jima, Lincoln, and Korean memorials and the Vietnam Wall. The vets also toured the WWII Memorial and the Navy Yard Museum.
"It's too much walking for a vet so we encourage them to ride in a wheelchair," said Jane Ballek, the Honor Flight team leader who organized the trip. "It's a long day, but so rewarding."
"Vets go for free," she said.
Their trip includes round-trip flights, two nights in a hotel, all meals, a special T-shirt, a bus tour to eight memorials, "and priceless memories of a lifetime," Ballek said.
Reeder thoroughly enjoyed the trip, and the chartered flight. On the way there, the pilot asked if there were any WWII pilots on board and invited them into the cockpit.
"I took Ed into the cockpit," Ballek said. "Ed absolutely loved doing that—just loved it. He loved the whole weekend. We spoil our vets just rotten from beginning to end. They are so honored. They leave as men, and they come back as young boys."
Reeder wholeheartedly agrees.
"It's a great program. That was just something that came out of thin air. I had never heard of it before, and somehow, I got onto it. They were really looking for people from World War II," he said.
"That's the first time I'd ever really been on the ground there," he said of D.C. "I flew in there once long ago, but for the first time, I really got to see it. We saw a lot of things."
Reeder became pals with Ballek and her husband, Dave, who was assigned to be his guardian on the trip. Last weekend, the couple traveled from Reno, Nev. to surprise him for his birthday. They showed for dinner at a restaurant in Temecula, Calif. with two of Reeder's close friends, Lafayette and Kathy Parks.
"They're great people," Reeder said. "We're good friends."
That evening, Reeder invited his dinner guests back to his home only to find another surprise. Friends and neighbors threw a surprise birthday party, complete with elaborate 100th birthday decorations centered around his love for flying and a 1921 theme.
Another friend, Jean Stiffler, and her family from Colorado helped decorate and attended the party.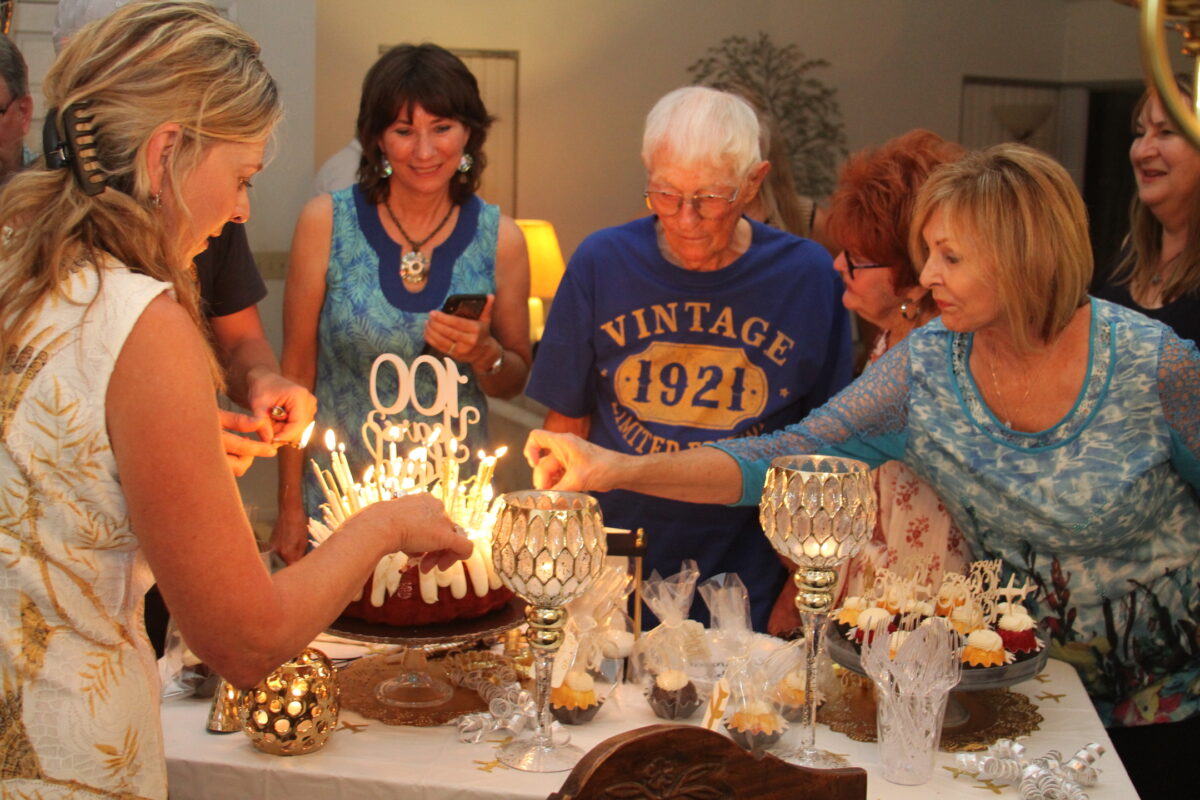 Of Golf and Martinis
Reeder can often be seen riding his three-wheeler through the neighborhood, and most every evening he takes a stroll with his close friends Lil Johnson, and Kathy, who walks her dog, Jasmine. The trio used to walk their dogs together until Lil's dog, Panda, and Reeder's dog, Charlie, passed away recently.
He wants to get another dog. He's tried a few replacements, but none have worked out so far. He knows he'll never find another Charlie, his live-in companion for many years.
Besides family, and Charlie, Reeder misses his old neighbor and fellow vet, Jim, who moved overseas years ago but recently passed away.
"We were very good friends. I flew with him over Hemet. We flew gliders over there," he said.
A community newsletter recently revealed Reeder's secret to longevity is "two Martinis before dinner," but Reeder admits he's slowed down on the Martinis over the years.
Reeder lives next to a golf course and still plays "nine holes twice a week," he said.
He also credits his doctors.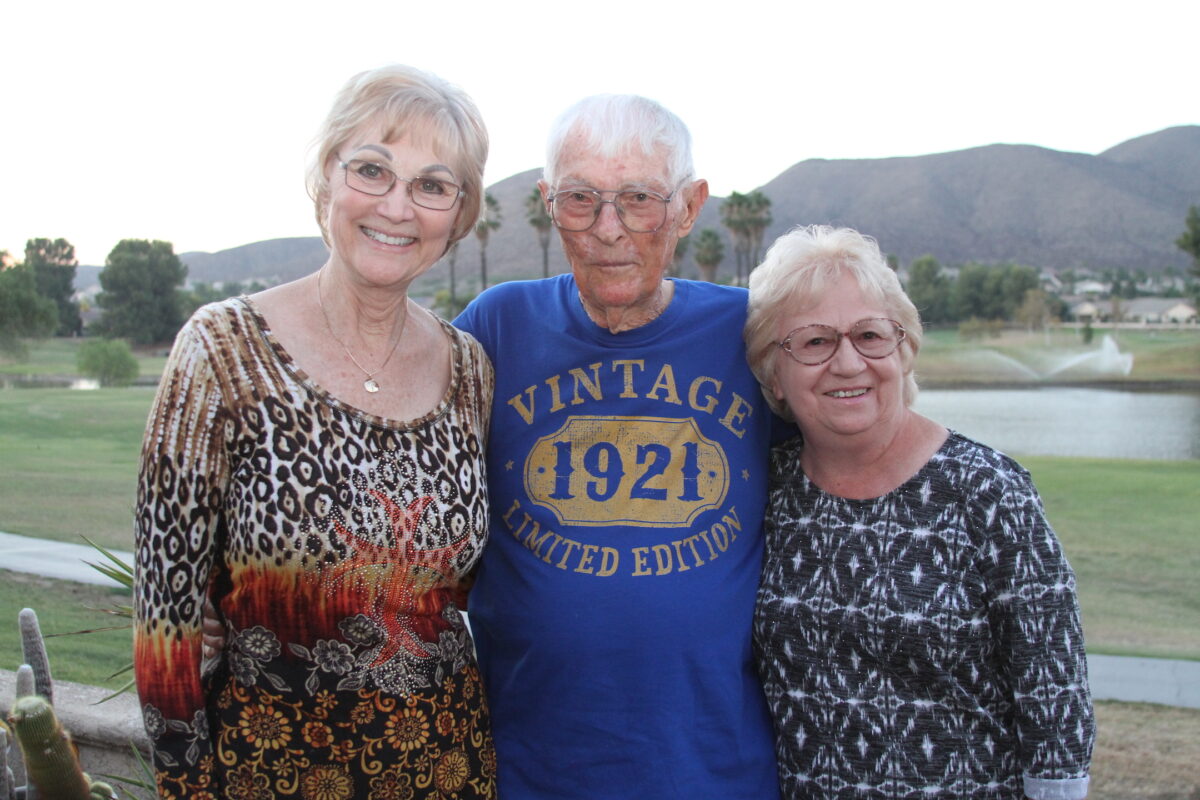 But, perhaps, the key to living more than a century is Reeder's good-natured disposition. He remains young at heart, keeps a positive attitude, and is always willing to share a laugh or two.
When asked why he's such an optimist, Reeder replied "because I don't want to be a pessimist."
After heart surgery five years ago, he pondered the idea of assisted living arrangements, but decided "to wait until he gets a little older," Kathy said.
Though he's had some health issues and taken a few tumbles, he's gotten back up on his feet every time.
As Reeder likes to say to his friends and neighbors in the 55-plus community when they complain about their aches and pains, "Imagine when we start to get old!"