World War II veteran James Bradley celebrated his 100th birthday on Nov. 5 at his Yorba Linda home in California. When asked about his secret to longevity, the centenarian replied with a smile that he always keeps himself young in spirit and upholds traditional values—believing in God and cherishing family.
Bradley participated in the Normandy invasion, also known as D-Day, that occurred June 6, 1944. He told The Epoch Times that he went to the war because he is a patriot.
When the U.S. Navy Reserve Lieutenant Colonel and Brea Mayor Steven Vargas handed an American flag to Bradley at his birthday celebration, he held the flag dearly to his chest.
Secrets to Longevity
Having lived for a century, Bradley has witnessed many changes. But there is one thing he will never change—traditional values that emphasize "God and family."
"I don't know what brought me along that far," he said. "I think that brought me a long way by believing what God believes, I honor all those things."
In addition, Bradley said with humor that he always felt young and never felt like he was old.
Bradley valued his parents very much. They lived through the Depression and had hard times. Bradley said he learned a lot through them and their experiences.
Bradley and his late wife Bette spent 58 years together until she passed away eight years ago.
"She was a great lady. I met her during the war," Bradley recalled.
"I was stationed in Kansas City. I was doing some training there, some schools they sent me to. And they put us up in a hotel," he recalled. "It was Saturday night, we had been out in the town a little bit, and I looked up at the front door and three beautiful ladies walked in. She was the most beautiful of the three … She's the mother of these three daughters I have."
At the birthday party, Bradley told friends and relatives that Bette's soul is still with him to this day.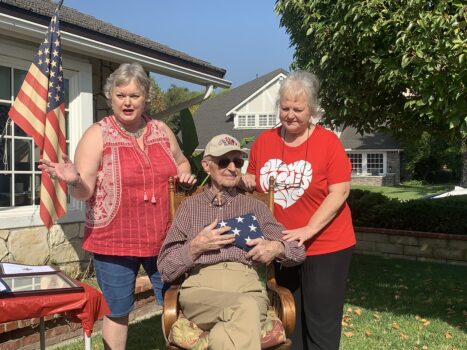 Bradley's daughter Tama said she was fortunate to have great parents.
"We are just very thankful for our parents. He (dad) was a very good provider," Tama said adding that his belief in God was always taught in their home.
"He always believed in marriage until death do us part," she said. "He was married to my mom for almost 60 years. So that's something that's been taught to us throughout the years.
"And they had their rough patches in life, but you just worked your way through it. You know, you stayed strong, stayed the course, you never veered," she added.