Warning: A photo in this article might be disturbing to some readers.
A 10-year-old girl with special needs was allegedly bitten on her arm by another student in Green Bay, Wisconsin, this week, it was reported.
WBAY reported that her parents are speaking out about the incident after they found bruising on her arm. The alleged bite attack occurred on a school bus.
Lillian Waldron, 10, goes to Langlade Elementary School, and her mother describes her as developmentally delayed, saying she can't speak and has the mannerisms of a 2-year-old child.
When Lillian got off the bus, her mother, Lynn, said she was crying and inconsolable. Her mother gave her a bath.
"She loves baths and that's soothing to her, so I brought her home, and I was getting her ready for the bath and I took her sweatshirt off and that's when I noticed the major bruising on her upper arm," explained Lynn Waldron-Moehle told the news outlet.
A photo of the bite marks was sent by her parents to local news outlets, showing the girl crying with red welts on her arm.
Her father, Chad Waldron, said Lillian takes an all-special needs bus.
"The seat was right behind the bus driver and he couldn't hear anything going on or see anything? Come on," he said. "She can't tell them to stop, she couldn't get away, because she's in a five-point harness car seat. She just had to sit there and take it and the bus driver wasn't stopping," said Lynn.
The school principal then viewed the footage.
According to her mother, the principal said it was "was gruesome and horrifying to look at, and that the girl was brutally biting my daughter's arm."
As a result, Superintendent Michelle Langenfeld stated that "administrators and myself immediately reached out to the family and met with them to address their concerns and provide support to ensure the physical and emotional well-being of our student."
Newsweek reported that the child responsible for the biting is no longer attending the school.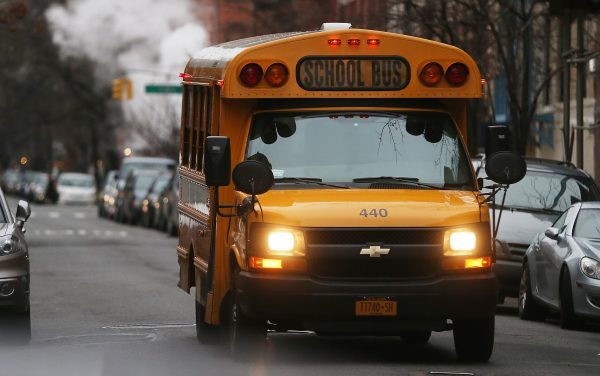 The Waldrons are now seeking a legal avenue over the incident.
The girl's father noted that the incident could have been avoided.
"If you can't keep an eye on these kids and they are special needs, then you need to bring somebody in you know to be watching if the bus driver can't do it," Chad said, Fox59 reported.
Other details about the incident are not clear.
Boy Thrown from Bus
About a week ago, in Maryland, a father was forced to take action after his daughter was thrown out of a moving school bus by another student.
Brian Kight told WBFF that he has quit his job and is planning to pack up and take his six children to West Virginia in hopes to provide them with a better school environment.
PROJECT BALTIMORE | A 6-year-old Baltimore County student says he was thrown out of a moving school bus. Now, the family is now taking extreme steps to stop the bullying.

MORE: https://t.co/MrxeeXxHqE

— FOX Baltimore (@FOXBaltimore) April 30, 2019
"I just wish this would've never happened. It has turned our world upside down," Kight told the news station.
Jacion told WBFF that an older student, who had been bullying him, made him go to the back of the bus. There, the older student pushed the emergency button to open the window, and threw Jacion out the window.
The 6-year-old landed on his head and was knocked unconscious.
Kight said when he learned about the incident he was "scared to death."
"I show up, and he's already in the back of the ambulance," the father said.
Epoch Times reporter Janita Kan contributed to this report.