1. Cut flowers from your yard to decorate the table.
You're already outside. The flowers are right around the corner. Just snip off a few blooms or greenery or leaves or branches, or whatever your yard tells you to.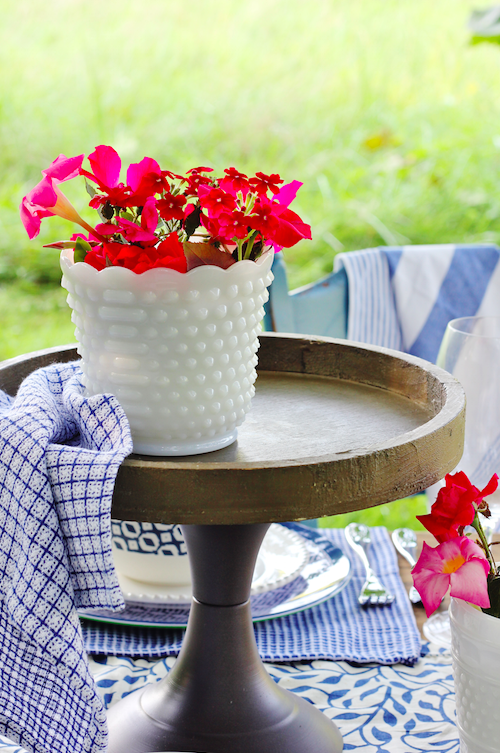 2. Choose sturdy non-matching seating.
You are outside. The grass and trees don't care if your chairs match. When we eat in the backyard, everyone just grabs a chair and heads outside. Every eater for him (or her) self.
3. Bring along music.
Nothing fancy, just a cell phone. Stream music or just play from your playlist. It's amazing how a little music makes the corn taste better.
4.  Use dish towels as linens.
If you've tried paper outside before and it just blows away, dish towels are a great option. Then use them to clean up the table afterward.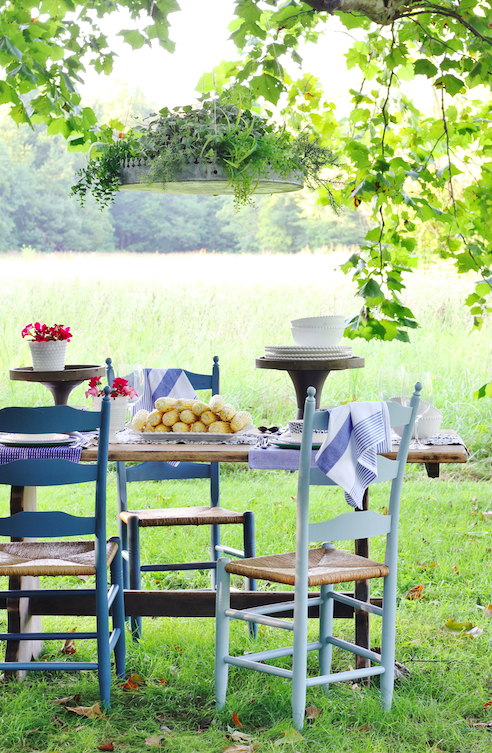 5. Create an overhead display.
This is reserved for fancy parties only. It takes a little work, but it's so worth it. I took an old tray that had with holes on the sides, hung it from jute twine and then just filled it with greenery from the yard.
6.  Add outdoor games.
You always want to talk after dinner. My teenagers don't. With a little planning, you have outdoor games ready for them like horseshoes or croquet or whiffle ball to play after dinner.
7.  Simple white dishes are a great option.
They go with everything, especially the country.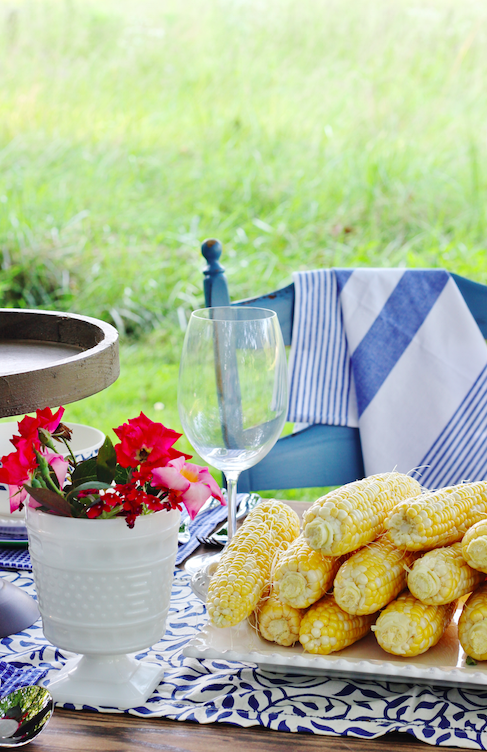 8.  Think fresh.
There's just something about eating fresh vegetables outside that reminds me of summer. Shop farmers' markets, roadside stands, or even the organic section of the grocery store for the freshest options around.
9.  Add a few throws and pillows.
Add a couple of throws in a basket. That way, if it gets chilly as the sun goes down, you can just wrap up. It's a great way to encourage more talking.
10.  Enjoy.
Don't stress. Don't worry. That's the joy of eating outside. If something spills, there's no need to clean it up. Just sit back, relax and enjoy family and friends and dancing sunlight. …
KariAnne Wood writes the award-winning lifestyle blog Thistlewood Farms, a tiny corner of the internet where all her stories and DIYs hang out and drink sweet tea. She is the author of "The DIY Home Planner" and "The DIY Style Finder." She lives in the Dallas area with her husband and four children. Her website is ThistlewoodFarms.com