More than 10 million people watched President Donald Trump's reelection rally in Tulsa, Oklahoma, on June 20, according to Gary Coby, the campaign's digital director.
The total doesn't include television viewers. More than 2.5 million people watched the rally prior to Trump's speech, according to Tim Murtaugh, the campaign's communications director.
The campaign noted the viewership numbers amid media reports spotlighting the fact that not all of the seats inside the venue were filled. The campaign had celebrated receiving 1 million ticket requests. Some 12,000 people attended the rally, based on a count of those who passed the metal detectors.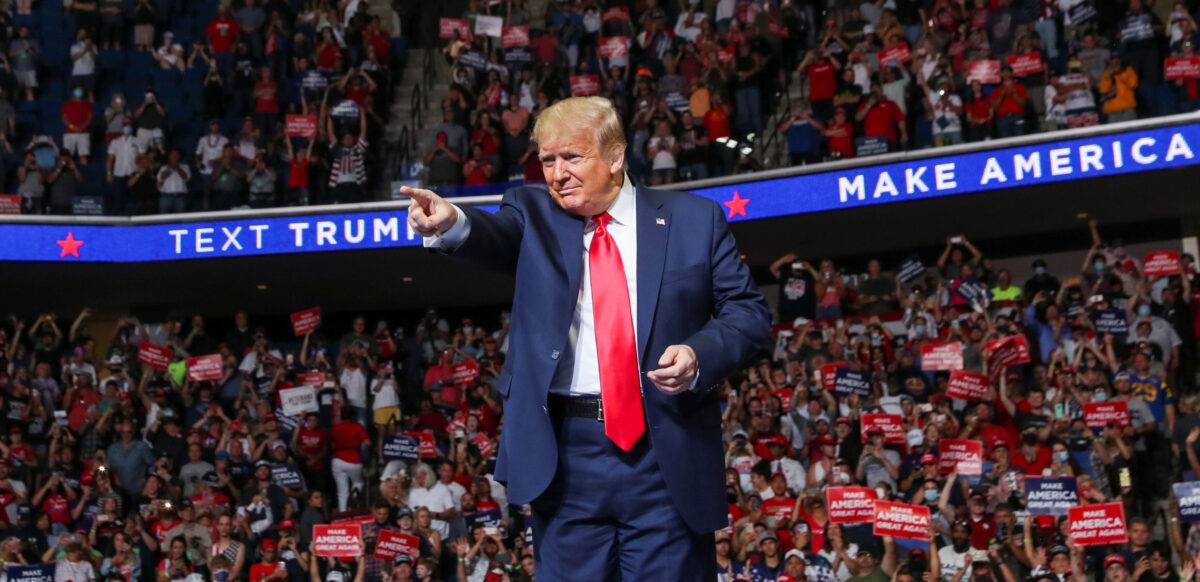 Murtaugh noted that the media's coverage prior to the event may have contributed to the lower turnout.
"The news media, which encouraged protesters and bombarded Americans for more than a week with dire warnings against attending a Trump rally, are still unable to prevent President Trump from reaching the people," Murtaugh said. "These numbers represent unmatched enthusiasm behind the President's reelection and a massive audience that Joe Biden can only dream of."
Presumptive Democratic presidential nominee Joe Biden hasn't held a rally since the beginning of the CCP virus pandemic.
As of June 21, Biden led Trump by nearly 9.5 points in an average of polls maintained by Real Clear Politics. Trump held a $78 million lead in fundraising at the end of May. The president raised a record-breaking $14 million in a single day on his birthday, June 14.
As is customary, Trump covered a range of topics at the rally, including the COVID-19 outbreak, the nationwide riots, the media, and socialism.
"Biden is a very willing Trojan horse for socialism," the president said.
Members of the Biden campaign shared stories and comments on Twitter about the lower-than-expected turnout at the rally. 
The Biden campaign also formally responded to a portion of Trump's speech in which Trump recalled jokingly suggesting that testing for COVID-19 should be slowed due to the high number of cases turning up due to increased testing. The Biden campaign treated the anecdote as an actual policy directive.
"In an outrageous moment that will be remembered long after tonight's debacle of a rally, President Trump just admitted that he's putting politics ahead of the safety and economic well-being of the American people," Biden campaign communications director Kate Bedingfield said in a statement.
A White House official told Reuters that the president was "obviously kidding." 
"We are leading the world in testing and have conducted 25 million + in testing," the official said.