The number of American workers filing initial unemployment claims has come in at more than 1 million for the 20th straight week, suggesting that despite green shoots in the economy, the dynamics of recovery continue to be clouded by uncertainty.
The Labor Department stated in a release (pdf) on Aug. 6 that nearly 1.2 million laid-off Americans applied for state unemployment benefits last week, yet another sign that the pandemic keeps forcing companies to slash jobs.
The total number of people claiming jobless benefits in all federal and state programs for the week ending July 18 rose by 1.3 million compared to the previous week, bringing the total to more than 32 million.
The jobless claims figures come just as a critical $600 weekly federal jobless payment lapsed while lawmakers remain in deadlock over its extension. Top congressional Democrats and White House officials appeared to harden their stances on new relief legislation on Aug. 5, as negotiations headed toward an end-of-week deadline with little sign of an agreement.
President Donald Trump, in an Aug. 4 interview with Gray Television, said that he's prepared to get personally involved in negotiating an extension of the $600-per-week enhanced unemployment insurance benefit to make it happen.
"I'm going to have to, because we have to take care of our people," Trump said, adding that Americans should continue to receive the enhanced pandemic-related jobless benefit because "it's not their fault. It's China's fault that this whole thing happened."
"We were setting records. We were doing unbelievable business. It was an incredible thing."
Following lockdowns amid the pandemic and a plunge in consumer spending, the United States' economy contracted by a staggering 32.9 percent annualized rate in the second quarter, more than triple the previous all-time gross domestic product drop of 10 percent in the second quarter of 1958. The unemployment rate shot up from a 50-year low of 3.5 percent in February to 14.7 percent in April.

Bright spots in the Aug. 6 jobless numbers release include the fact that the number of newly filed jobless claims dropped by 249,000 in the week ending Aug. 1 from a week earlier, after rising for two straight weeks. Also, the number of continuing jobless claims dropped by 844,000 to 16.1 million for the week ending July 25.
It follows mixed reports from the Institute for Supply Management this week, showing that while overall business activity in both manufacturing and services is growing, employment continues to shrink.
Rubeela Farooqi, chief U.S. economist at High Frequency Economics, called the drop in the weekly jobless claims "a move in the right direction," but warned in a research note that risks to recovery remain.
"Repeated shutdowns for virus containment remain a threat to the labor market, which is already weak. The possibility of mounting layoffs that could become permanent is high. Without effective virus containment, the recovery remains at risk from ongoing job losses that could further restrain incomes and spending," she wrote.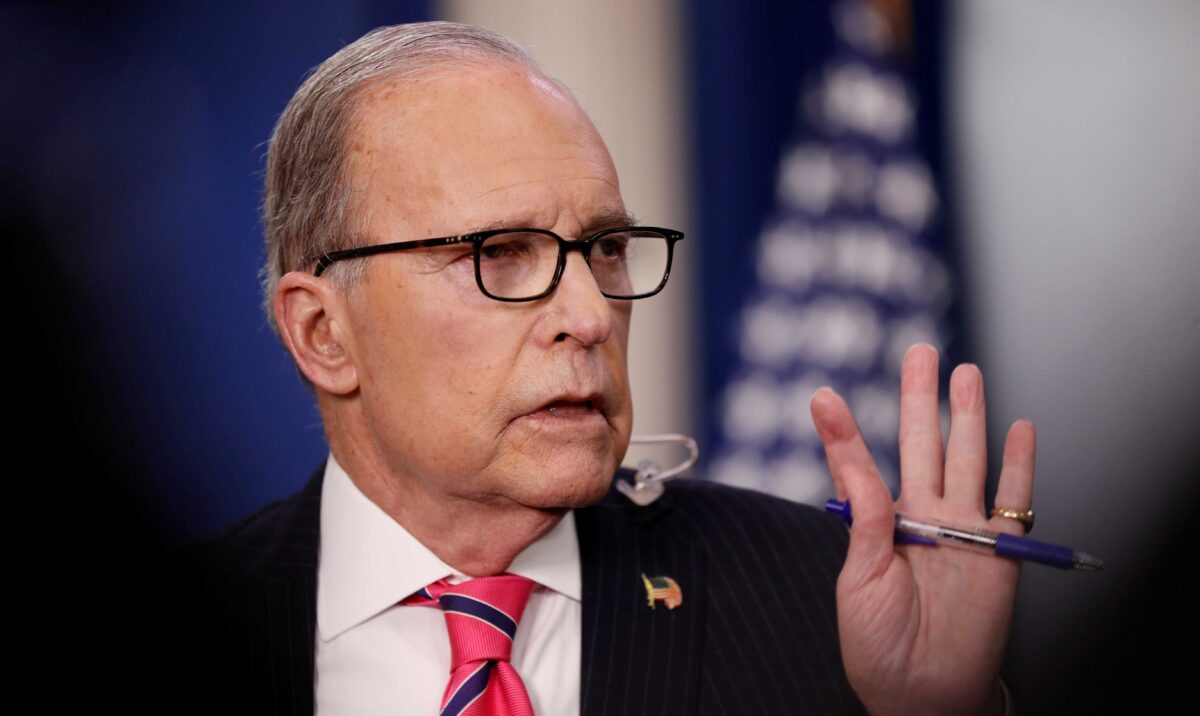 Top White House economic adviser Larry Kudlow said in an interview that key to a robust economic recovery is no further lockdowns when moving to reopen businesses, while maintaining common-sense precautions such as social distancing, mask-wearing, and sanitizing.
"Let's get America moving again. You'll get your 20 percent; the V-shaped recovery, I think, is still in place," Kudlow told Fox News in an Aug. 4 interview.
Kudlow's reference to "20 percent" relates to an earlier comment he made about the Atlanta Fed's latest estimate of U.S. economic activity for the third quarter of this year. The Atlanta Fed's third-quarter-growth prediction stands at a seasonally adjusted annualized rate of 19.6 percent, updated on Aug. 3, according to a so-called nowcast statistical model that uses high-frequency economic data-points to estimate the country's gross domestic product.
Since March, Congress has authorized about $3.6 trillion in new spending to help American families and businesses weather the fallout, with economists widely crediting the relief for minimizing the damage to the U.S. economy.