A female college student in Tianmen, Hubei Province became an internet celebrity for exposing the lack of care she received at a hospital while being treated for the coronavirus. However, her social media posts were later removed by authorities, and netizens believe that she was coerced into making a "confession" video in which she told her followers not to "spread false rumors" and to respect the country and its communist leaders. The video angered many social media users.
Hubei, the epicenter of the coronavirus outbreak, has the most number of infections and deaths in China and remains under lockdown.
Chinese netizen "Bomaner" was infected with the coronavirus on Jan. 24. She revealed in her blog post that she was diagnosed after being hospitalized with a fever.
Bomaner disclosed through live videos on Chinese video app TikTok and the Twitter-like social media platform Weibo on Jan. 29 that, despite her high fever and pain, medical staff at Tianmen hospital only offered two pills of oseltamivir every day. Oseltamivir, also known as tamiflu, is a common oral antiviral drug used to treat the symptoms of influenza. The hospital did not arrange for a CT scan and blood test. She began to feel physically weak and started to vomit and have loose bowels. On the brink of collapse, she even penned a farewell letter.
That same evening, Bomaner revealed in another post that police went to talk to her parents, accusing her of spreading negative information (on the coronavirus) on social media.
"I was in the hospital's isolation ward when this happened. Every word I said on social media was true. I really don't know which of my statements is considered a wrongdoing. Please come talk to me, instead of talking to my parents," she wrote.
At midday on Feb. 1, Bomaner again updated her post: "The doctors joined together to murder me by cutting off my oxygen supply. My parents still have no idea about this. The doctors promised to provide the best treatment solution for me, yet they did nothing … I am sincerely asking for help desperately. I shall turn in my grave if I die!"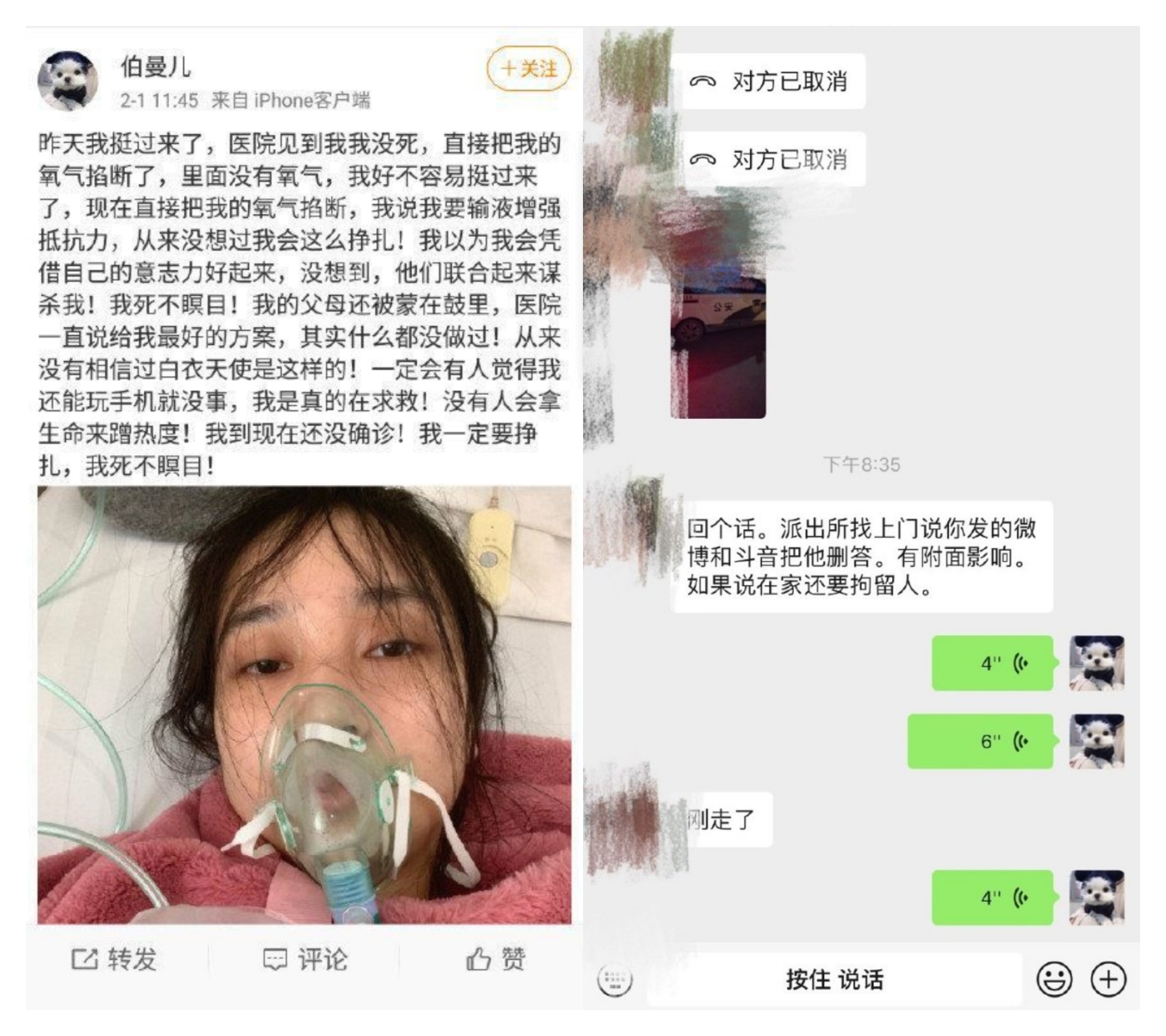 Bomaner's plight got a lot of attention on the Chinese internet. Her parents revealed on WeChat that they were threatened by authorities as a result of her post.
The Chinese regime has ramped up censorship measures to suppress information on the virus outbreak, and has hired trolls—known as the 50-cent army in China—to monitor online speech 24/7. This has led to local authorities cracking down on people for "spreading rumors" on the internet about the outbreak.
On Feb. 12, Bomaner posted a "confession" video as she laid down on a hospital bed. In front of the camera, she said, "I hope my followers on social media will not spread rumors. My family is waiting for me to go back home [after I fully recover from the virus]. "
She continued, "We should also believe in our country and our government."
伯曼儿:李文亮第二!

李文亮被训诫;
伯曼儿被迫进行"视频认错"!

李文亮揭露了被官方刻意隐瞒的疫情!
伯曼儿揭露了武汉封城之后的人道灾难! pic.twitter.com/29zihFDRz0

— 阿里妞妞 (@aliniuniu) February 12, 2020
Chinese netizens expressed outrage when the video went viral.
One netizen shared the video on Twitter and commented: "She [Bomaner] was persecuted and forced by the Chinese Communist Party to pledge allegiance to the party and to the country, otherwise she would not be given medical assistance. She only said those things out of despair."
Another netizen believed that she was forced by authorities to make the "confession" video. "She [Bomaner] mentioned previously on her Weibo blog that she was under threat … as a resident in the epicenter of the coronavirus outbreak, I understand how hopeless and desperate she was in struggling to survive."
The authorities deleted most of her social media posts.