Police Commissioner Calls Out Candidates
September 9, 2013 10:09 am Last Updated: July 18, 2015 5:19 pm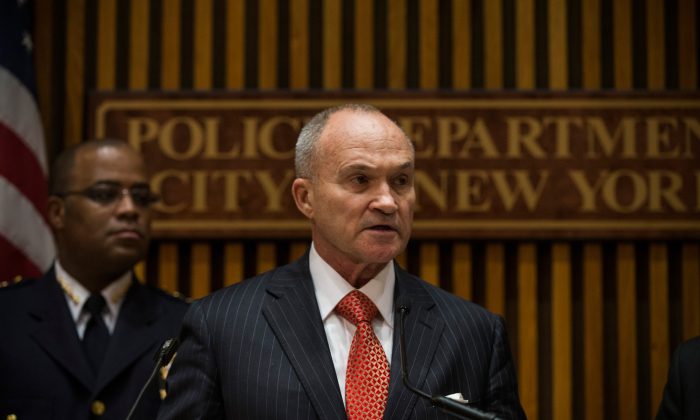 NEW YORK—New York Police Department (NYPD) strategies have long been a topic in the mayoral election. The primary will be held Tuesday, Sept. 10. The discussions have focused on stop, question, and frisk, but terrorism has hardly been mentioned.
With the 9/11 anniversary just days away and Syrian leader Bashar al-Assad threatening retribution if attacked, terrorism is once again on the minds of New Yorkers, including NYPD Commissioner Raymond Kelly.
Kelly called out the mayoral candidates, who have spent much of their campaigns criticizing not only him but also police department practices for their lack of focus on terrorism.
"I can tell you that none of the candidates has requested a briefing from the Police Department on this topic," Kelly said, speaking at an Association for a Better New York (ABNY) breakfast Monday morning.
Kelly said that while New York City has not been attacked in the 12 years since 9/11, New York City remains a prime target for terrorists.
"Don't be lulled into complacency by our success in forestalling another attack on the city," Kelly said. "In the minds of al-Qaeda and its acolytes, New York is the symbol of all they hate about America and the West."
Kelly said Mayor Michael Bloomberg's defense of the department was a major reason crime had decreased.
The Epoch Times will be reaching out to the mayoral candidates throughout the day. Check back for updates to this story.