World's Tallest Flying Bird Might Become Extinct
14 found dead recently near Delhi
April 29, 2013 12:35 am Last Updated: April 29, 2013 2:12 am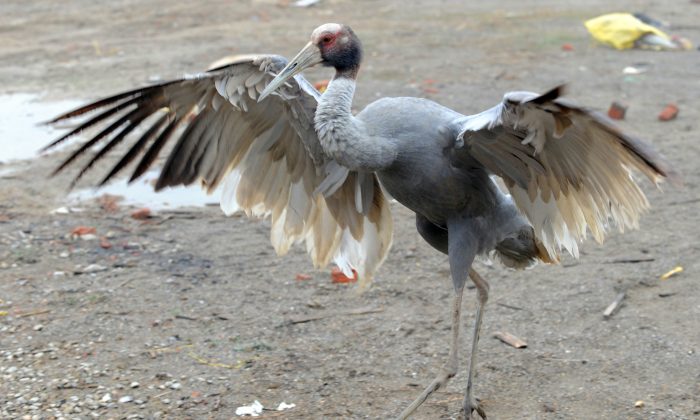 The world's tallest flying bird, Sarus Crane (Grus antigone), is listed as a vulnerable species by the International Union for conservation of Nature (IUCN), as the bird population has shown a steady decline over the past few decades.
India is the permanent habitat for this non-migratory bird, which stands 6 feet (1.8 m) tall—towering over even the average Indian human male. The bird is under threat due to habitat loss resulted from increased need of agricultural land, indiscriminate use of pesticides, and drastic climatic changes due to pollution.
Alok Kumar Mishra, a member of the IUCN Commission on Education and Communication, wrote in his article titled "Sarus Crane: On its way to Extinction," that apart from these causes, high tension electric wires are a main danger for them. These high tension poles are usually located everywhere in the landscape, and result in many deaths of Sarus Cranes each year.
Poaching of adult birds for meat, egg stealing, capture of adult birds for pet–trade, and disturbance by the farmers in the fields during the nesting period are some of the other factors that contribute in escalating the imposed threat to its survival.
"It has been observed that the Sarus crane flourishes at those places which are away from urbanization and industrialization," Mishra wrote in his article.
In India, Sarus Crane is known for its incredible cultural contribution and the bird is held as the symbol of unconditional love and eternal devotion. As a tradition, a newly-wed couple is viewed as a "sarus pair" in some parts of the country.
"It is believed that if one bird of the pair were to die, then the other follows the path toward starvation by refusing any food or water."
At a time when the Sarus Crane population is rapidly decreasing, 14 of these birds were found dead on the outskirts of Delhi, in the month of January, conservationists also found that these birds are apparently poisoned by excessive use of pesticides, according to a report by The Hindu, a daily Indian newspaper.
Fifteen species of the crane are found in different places of the world. The total population of Sarus cranes in India is approximately between 8,000 to 10,000. These are distributed principally in the Gangetic planes of the north some can also be found in the water-logged areas of Nepal.
"For preventing it from becoming extinct, we have to take care of the whole ecosystem, besides just the Sarus crane, and this cannot be achieved without a global awareness about nature and its conservation," he concluded.