Many countries have been struggling to keep up with the pace of people receiving their first vaccine doses against the CCP virus.
Israel is now leading the world in having the most people inoculated against the CCP (Chinese Communist Party) virus per capita, with currently more than 30 percent of the countries' population having administered at least their first COVID-19 vaccine dose, amounting to over 2.8 million of its 9.3 million citizens.
The fight seems long from over, however, as the Middle Eastern country is reporting a surge of the more infectious variants currently overwhelming its hospitals.
"We see a wave of infection that refuses to decline, apparently because of the mutation," Health Minister Yuli Edelstein told reporters at a press briefing on Thursday, Bloomberg reported.
The new CCP virus variant, known as B.1.1.7, is believed to be 50 percent more contagious. The variant of the virus was first found in the UK in September 2020 before scientists sounded the alarm about it being more infectious. It has also been found in at least 28 U.S. states so far, according to Centers for Disease Control and Prevention (CDC) data.
Israel has been using the COVID-19 vaccine from Pfizer-BioNTech as the countries' main method of inoculation, the Times of Israel reported. The vaccine hasn't been tested on children yet and was approved by the United States and EU for emergency use for adults and people above the age of 16.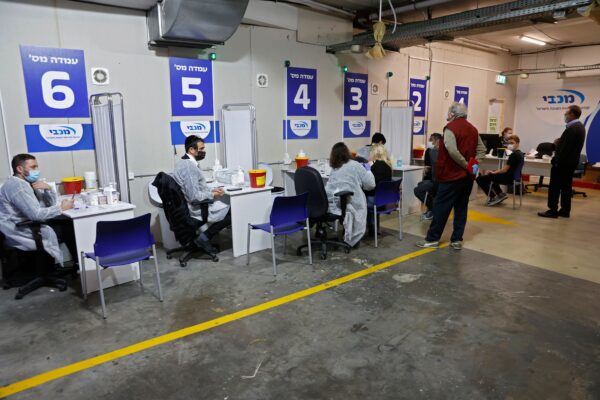 In a study published earlier this week, the German pharmaceutical company concluded its COVID-19 vaccine appears to be effective against the fast-spreading variant of the CCP virus, commonly referred to as the novel coronavirus, first recovered in the UK.
However, it seems the variant's more contagious nature can result in more people getting infected and lead to more hospitalizations. Israel's health ministry announced it now has now a new goal to vaccinate everyone over 35 and bring the numbers of seriously ill people down, who are overwhelming hospital wards.
Prime Minister Benjamin Netanyahu talked via videoconference on the World Economic Forum on Wednesday to warn about the virus' mutations, claiming a vaccine-resistant strain of the CCP virus is inevitable.
"It's just a matter of time until we hit a strain that the current vaccines are not susceptible to," he said.
Besides the fast-spreading UK variant, health officials announced Thursday a total of 30 South African mutations have been found in Israel so far.
From NTD News