Yiwu County in Zhejiang Province is part and parcel of China's reputation as a manufacturing powerhouse.
After all, the small city houses the world's largest wholesale market for small commodities, according to official pronouncements by the United Nations and World Bank in 2005.
The Yiwu International Trade City operates like a mega-warehouse, where vendors representing factories from all over China sell their wares—mostly inexpensive household items such as shoes, toys, hardware, and clothing—to customers from around the world.
The 4-million-square-meter (about 43 million square feet) Trade City has room for 75,000 vendors within five shopping districts. But this once hustle-and-bustle hub is now shrinking as more and more merchants exit, vendors told the Chinese-language Epoch Times.
There are various reasons for the decline in business—demonstrated vividly in photos that netizens recently posted online of the Trade City, looking barren and deserted. For one, the Trade City's second district sent out a notice on Oct. 16 notifying vendors that their rents will be going up.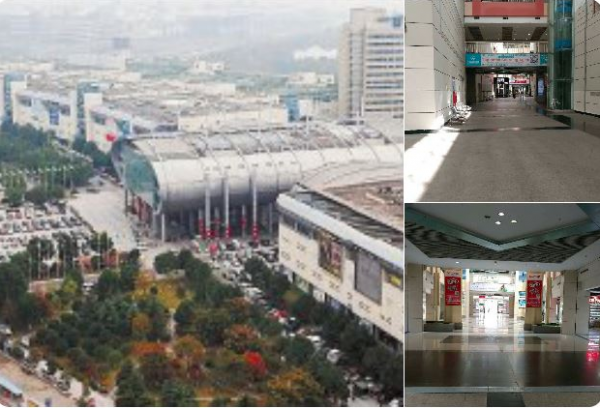 A jewelry vendor in the Trade City's fourth district, Ms. Liu, told The Epoch Times that rent is roughly 300,000 yuan (about $43,000) per year for a 20-square-meter (215 square foot) storefront.
"In the jewelry district, for a nice storefront … taxes would be roughly 100,000 yuan [about $14,300]. Business is really hard. It's been very quiet around here," she said.
Zhejiang China Commodities City Group Co., the publicly listed company that operates Trade City, released a report in April with the latest numbers: Cash flow from operations declined by 7.5 billion yuan ($1.07 billion) year-on-year.
A business manager in the handicraft industry, who frequently travels to Yiwu for business, told The Epoch Times that a downturn in Yiwu started about three years ago.
"The export volume of small commodities dropped by about 60 percent between 2013 and 2015. It's mostly because the overall economy wasn't good. It continued going down. Plus, there were some policies put out by the authorities—and the current trade war, too," said the business manager, who only identified himself by his surname, Lu.
According to statistics released by Zhejiang China Commodities City Group, the Trade City saw about an average of 1,039 stores close monthly from September 2014 to August 2016, while adding only about 700 new stores during that period.
A former commodities trader, Mr. Chen said business has been lackluster because the Trade City keeps adding vendors who sell similar goods—resulting in overlap.
Meanwhile, a string of government regulations has further restricted business. Last year, Chinese authorities launched a crackdown on environmental pollution by auditing factories across the country.
In August, Zhejiang factories involved in "environmentally impactful" manufacturing activities, such as die-casting, painting, plating, and printing were shuttered in order to comply with government regulations. Because these factories supplied parts to hardware and jewelry vendors, many were forced out of business.
Others believed it was the advent of e-commerce that has rendered the Yiwu Trade City obsolete.
Mr. Ji, who works in the handicraft business, said there were more customers who visited the Yiwu shops to look at goods before e-commerce became a popular platform.
"Now, my old customers all make orders directly through the phone or the computer. It's no wonder the Trade City is empty these days," he said.
Meanwhile, the Chinese regime has been pushing policies to upgrade its manufacturing sector to produce higher-tech devices, instead of cheap goods.
China has lost its competitive edge as the "world's factory" as laborer wages, taxes, property prices, and other production costs increase. Many companies have begun moving their production lines out of China and into Southeast Asia or back home.
Epoch Times reporter Yi Ru contributed to this report.